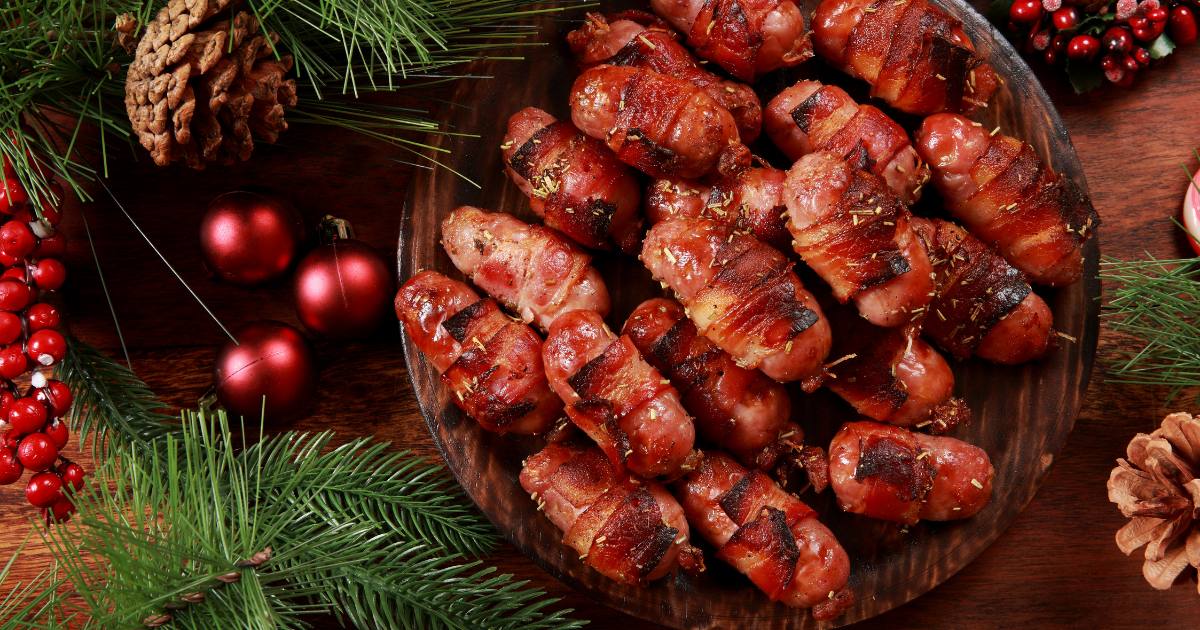 Christmas Whisky Pigs in Blankets
December 10, 2021
/ 2 mins
Sausages. Bacon. Whisky. What more do you need for Christmas? These are super easy to make and super-duper easy to eat. And if you want to make them vegan or vegetarian, just replace the chipolatas and bacon with the veggie version!
What's that? You want to know some fun facts about pigs in blankets? Say no more. Pigs in blankets are also known as devils on horseback, kilted sausages and wiener winks. In the US, there's even a National Pigs in a Blanket Day on April 24.
Bonus fun fact, adding a splash of whisky to any recipe makes everything delicious. Alright, here we go.
Ingredients:
12 pork chipolatas
12 rashers of smoked streaky bacon
4 tablespoons of maple syrup
2 teaspoons of marmalade
2 shots of apple cider vinegar
30ml Sherried whisky
1 teaspoon of Demerara sugar
1/2 an orange, sliced
1/2 an apple (chopped into small cubes)
Splash of Tabasco
Splash of Worcestershire sauce
A pinch of cinnamon
A sprinkling of fresh sage
A sprinkling of fresh thyme
Method:
1. Fire up your oven to a toasty 180 degrees celsius.
2. Take out the chipolatas and gently fold them in half. Then wrap the streaky bacon around the chipolata, starting with the thickest end of the bacon. Make sure you tuck those pigs in tightly inside the blanket so it holds together.
3. Get your jug and add the maple syrup, whisky, marmalade, vinegar, sugar, cinnamon, Tabasco and Worcestershire sauce and mix it together thoroughly — you want to make sure all the sugar has dissolved.
4. Whip out that roasting dish and pop the pigs in blankets in then pour the marinade evenly over the dish. Add the orange slices, apple cubes and some of the sage and thyme.
5. If you've got the time or patience (and willpower), you could wrap them in cling film and put them in the fridge to marinate.
6. If not, no worries. Put the tray in the middle of the oven to roast for 30 minutes.
7. Wait and salivate.
8. Remove the tray from the oven and garnish with the rest of the sage and thyme. Enjoy!
Did you give it a go? We'd love to see your pictures. Share them with the Club on Facebook and Instagram.
We've adapted this recipe from iamchef
Ready to receive world exclusive whisky?