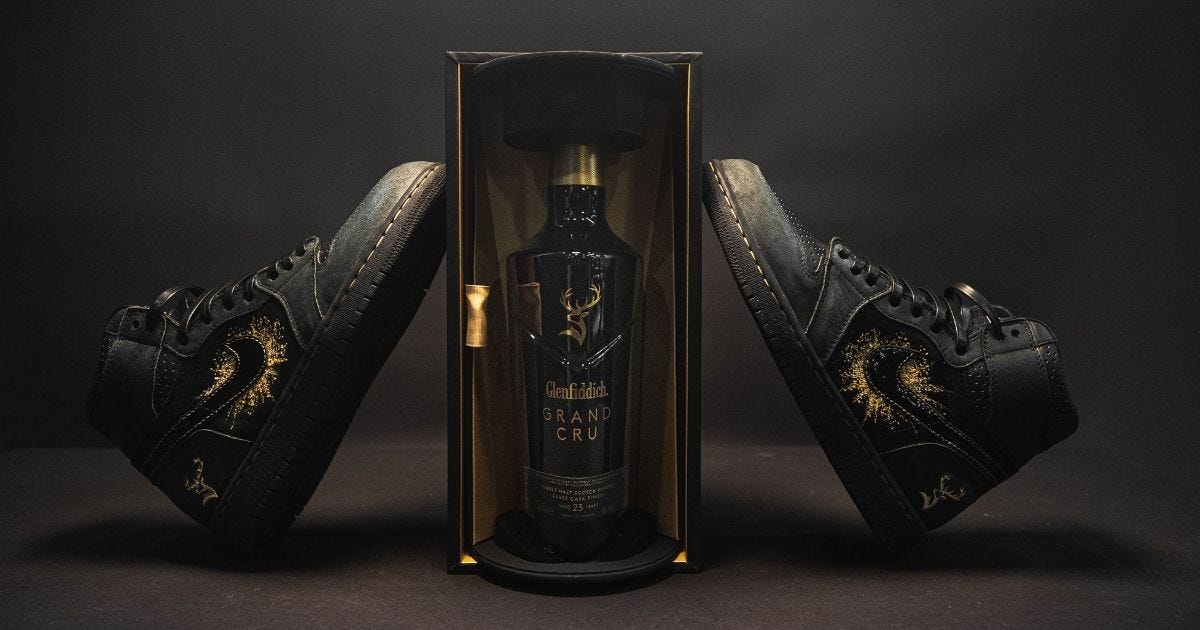 Glenfiddich Releases Limited Edition Sneakers
September 25, 2021
/ 3 mins
Finally, whisky shoes. It's happening, whisky lovers. Glenfiddich has collaborated with sneaker artesian Chase Sheil to make limited-edition whisky kicks inspired by Glenfiddich's newest expression, the Grand Cru 23 Year Old Cuvée Cask Finish, (yes, the sparkling gem we released earlier this year).
"The pairing of sneakers with whisky is very contrary to traditional whisky imagery, and that's exactly why we did it," Glenfiddich Brand Ambassador Ross Blainey said.
According to Blainey, whisky and sneaker collectors have a few things in common — "There's a lot of similarities between sneaker and whisky collecting, as they're both functional pieces of artwork," Blainey explains (Amen!).
"Unlike a painting or sculpture that is created for display, you have to decide on how you want to enjoy your sneaker or whisky. Do you showcase it to everyone and keep it forever, or do you use it every day to experience its core purpose but know that it will eventually run its course. That emotional decision forges a real connection to that piece, whatever you decide."
We hear you, Ross.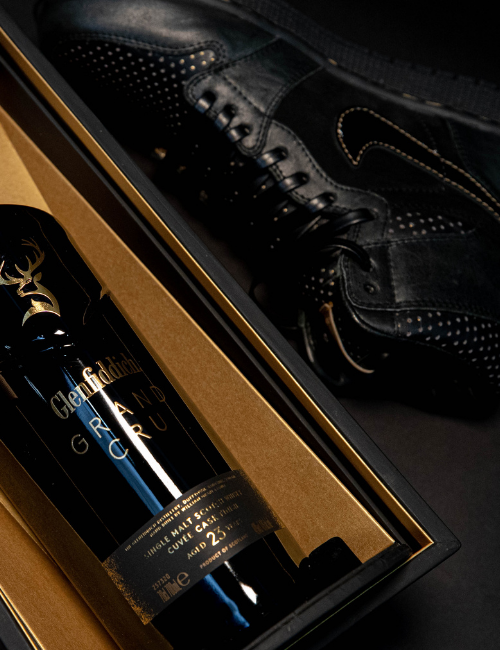 The sneakers use the same black and gold palette used for the Grand Cru bottles and the details on the show are inspired by the experience of drinking the whisky, all the way down to the look, smell, and flavour.
But you're going to have to put your skates if you want a pair. There're only 23 pairs available with a price tag of $1650 a pair (each pair represents a year that the Grand Cru spent aging in barrels) and all proceeds from the sale will be donated to a charity close to Shiel's heart.
Fear not, whisky lovers. If you miss out on a pair, you can commission Shiel to make a customised pair for the "Grand Cru Experience" in your own life — a personal moment you celebrate.
So then, what custom pair of sneakers would you commission to represent a celebratory moment in your life? Let us know on Facebook.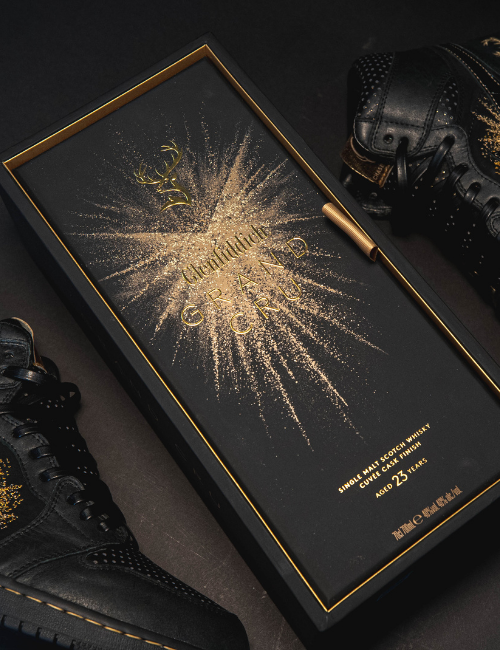 Ready to receive world exclusive whisky?