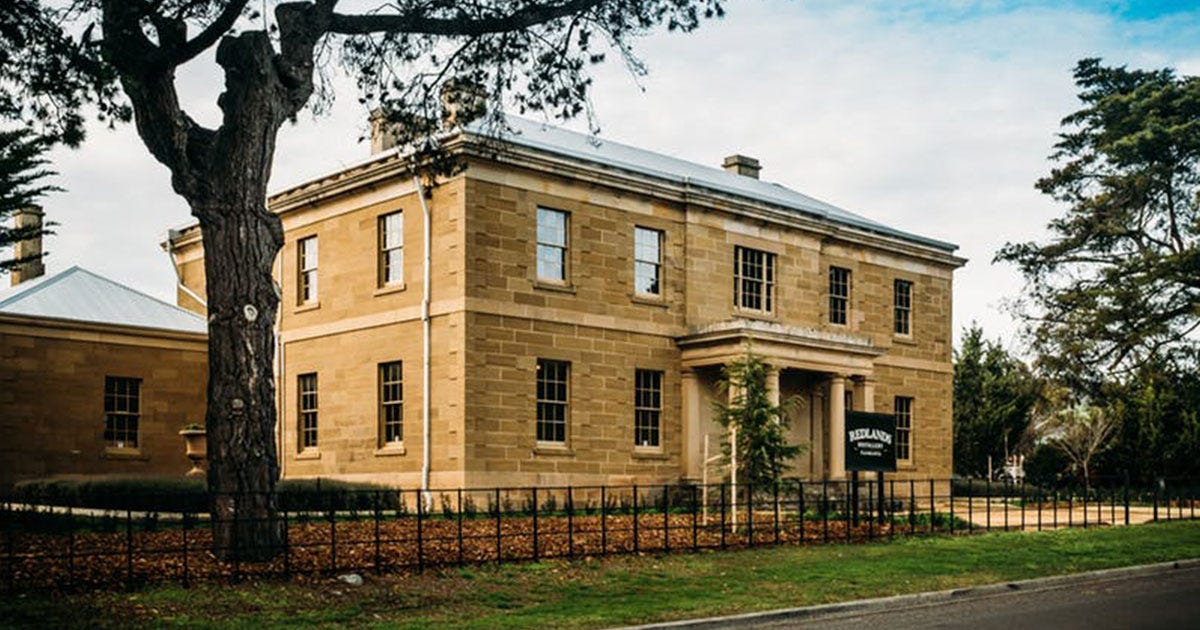 Insider's Guide to Aussie Distilleries – Part 1
November 01, 2019
/ 8 mins
It's a tough job, this. Since we started our focus on Australian whiskies, we've taken the opportunity to hit the road and visit as many local distilleries as we can, in order to bring our Members the best Australian whisky exclusives, bar none.
The hard work (yeah yeah…) is paying off, and we've got some stellar whiskies coming your way over the coming months that we're super excited to share with you.
Along the way, we've seen some amazing sights and met some wonderful people and thought we couldn't keep it all to ourselves. So here we go with Part 1 of our Insider's Guide to Distillery Tours. Grab your mates, nominate one as designated driver and load up the Kombi, it's road trip time!
Tasmania
Lark Distillery
14 Davey St,
Hobart TAS 7000
larkdistillery.com
Ground Zero for the Australian Whisky Industry, it's Tasmania's oldest operating single malt whisky distillery.
Departs from the Lark Cellar Door on Hobart's waterfront, which is also a Whisky Club Clubhouse.
Tours operate twice daily at 10:30 am & 1:30 pm, approximately 2.5 hours in length, Cost $80.00.
You'll start off with a welcome dram and a bit of a history lesson, then head off to the Lark Distillery in the Coal River Valley. Once there, you're taken through the full production process, step by step, alongside the distillers themselves who might just put you to work.
You'll get to sample some whisky straight from the cask in the bond store too, before heading back to the Cellar Door
Don't forget to flash your Member Card at the bar for 20% off drams.
There's plenty of local seafood nearby at the Hobart Wharf if you're hungry.
Old Kempton Distillery
26 Main St
Kempton TAS 7030
oldkemptondistillery.com.au
Located in the historic Dysart House, a grand inn built in 1842 as a place for travellers to rest overnight on their journeys between Hobart and Launceston.
The old stables now house the still and barrel store. They use as many unique small barrels as they can get their hands on to create new interesting whiskies as well as the classic ranges of Pinot, Port and Sherry.
The first Solera Tun in Tasmania is located there too. Not only is there plenty of whisky to taste, but the kitchen also serves up a great selection of country style foods. We can thoroughly recommend the house-made beef and whisky pie, and the whisky scones!
Old Kempton Distillery Offers a Distillery School for those who really want to learn about making whisky.
They're about to begin a brand new build that will allow them to do their own brewing.
They love visitors, and Sunday sessions from September to March are good for tastings, tours, live music and cocktails.
Friday is the best day for a tour with a Distiller, and the Premium Tour and Tasting package which includes a private personalised tour, barrel tastings, antipasto and Tasmanian wine is highly recommended.
Say G'day to Cellar Door Manager Erin Cole, and Production Manager Dave "Harry" Harris while you're there.
Belgrove Distillery is just up the road too.
Hellyers Road Distillery
153 Old Surrey Road
Burnie, TAS 7320
hellyersroaddistillery.com.au
It's the largest single malt whisky distillery in Tasmania.
The wonderful Visitor Centre Manager Sharon Dean was awarded an Icon of Whisky award at the 2018 World Whisky Awards.
Fully guided Whisky Walks run daily at 10:30 am, 11:30 am, 2 pm & 3 pm. If you want to do the Whisky Walk you're best to book ahead on 03 64 330439. Be sure to take the option to pour and wax seal your very own bottle of Distiller's Choice whisky.
The food at the Visitors is absolutely magnificent. There's really no need to go anywhere else to eat! The HRD Gourmet Burgers are so good. Bring your credit card too, there's plenty to take home from the gift shop including award-winning single malt whiskies and liqueurs and all sorts of Hellyers Road goodies.
Victoria
Starward
50 Bertie St
Port Melbourne, VIC 3207
starward.com.au
Be sure to check out the huge range of single barrel selections that are there for the tasting. Ask nicely, and you might even get to try some of their earliest casks!
There's a beautiful open-air bar that is comfortable to sit in and great to spend a lazy afternoon.
Just so happens this is also a Whisky Club Clubhouse, so make sure you flash your Whisky Club Member Card for 20% off whisky over the bar, and 10% off bottle sales!
The distillery tour is well worth doing. You'll be shown around by true whisky enthusiasts, and if you want to go further down the rabbit hole, there's a 2-hour masterclass available with a special 'bottle-your-own' cask strength sample. You'll want to do that.
Best time to visit is Sunday afternoon. Find your spot at the bar and talk whisky with likeminded folk. Perfect! While you're in the area, grab a bite to eat from Ciao Cielo, Half Acre or South Melbourne Market. Want to talk tours or functions? Get in touch with Jane and for everything else, Andy is your man.
New South Wales
Black Gate Distillery
72 Forrest Road
Mendooran, NSW 2842
blackgatedistillery.com
Be sure to call ahead, the sign always says closed but if they're home you are welcome to visit.
They love having visitors and find that guests really like talking to the people that actually make the products they are tasting.
Not only do they specialise in peated whisky, but they also make some very, very special dark rum. Be sure to give that a try while you're there!
The first hot climate whisky distillery in NSW, Black Gate double distil in a direct-fired copper pot still and of course, don't filter or use any additives.
Their annual World Whisky day event is very popular, with unique whisky flights, live music and great food.
Do what you can to get yourself to the next one, May 16, 2020. Mendooran is a small town of 400 people. There's a lovely old country style pub with food and accommodation, a small cheese factory and a new bakery that makes great sausage rolls, so bring the family!
Joadja Distillery
1760 Joadja Road
Joadja, NSW 2575
joadjadistillery.com.au
In the Southern Highlands of NSW, only about 1.5 hours drive from Sydney, and 2 hours from Canberra. Makes for a fantastic day trip!
Distillery tours and tastings happen every Saturday and Sunday from 10 am to 5 pm, and even better, they're free! About as "authentic" as a distillery could be in Australia.
They grow their own barley on-site. All the water used is from an on-site spring. The water needs no treatment whatsoever.
They're gearing up to produce their own ethanol as a by-product of their agricultural produce, to be used in their vodka and gin.
They're green too, composting waste, and using electric stills powered by solar. It's a real hands-on operation – no automation and nothing "plumbed in". If you want to experience a true "hands-on" distillery, this is a great one to see.
There's more to try than just whisky too, with dry gin, rum, brandy and liqueurs.
The distillery is set in a beautiful valley, home of State Heritage Listed Joadja, a mining town during the late 1800s and home to 1300 men, women and children brought out from Scotland to help mine the rich coal and shale seams.
Tours are available, and well worth doing.
Of course, we've only just scratched the surface of the Australian whisky distilling scene with this list, so stay tuned for more in this series. Be sure to leave your hot tips in the comments below.
Ready to receive world exclusive whisky?