The 10 Irish Whiskies You Need On Your Shelf
February 11, 2019
/ 4 mins
Unless you've been living under the proverbial rock, you'll have noticed by now that Irish whiskey is well and truly booming again and it's marvellous news for lovers of good whisk(e)y!
Very few realise this but in the mid to late 1800s Ireland was the world's biggest whisk(e)y producing nation and claim, much to the Scots' disgust, to have invented the stuff. Either way they laid the foundation for what we today recognise as the industry. In fact, at one stage there was more Irish whiskey consumed in Scotland than Scotch, and Irish whiskey was ubiquitously regarded as far superior to Scotch, so much so that the lads in Dublin added the "e" to differentiate theirs from the Scots'! A combination of factors led to an uncharacteristic run of bad luck for the Irish at the turn of the last century and things didn't quite stay that way.
But now, a century later the Paddys are back with a bang, offering a veritable smorgasbord of world-class whiskies for us to enjoy! Check out our selection of the top 10 Irish whiskeys to get your hands on.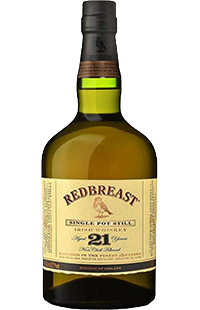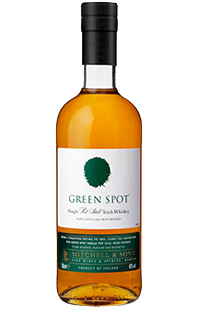 Regarded as the pinnacle of the Redbreast range, and distilled at the New Midleton Distillery, Redbreast 21 is full of spiced fruit, honey and hay. This rich and chewy Single Pot Still whiskey is made from a mash of malted and unmalted barley, triple distilled in copper pot stills, then let rest for 21 years in American oak ex-bourbon barrels and first fill Spanish Oloroso sherry butts. Bottled at 46%, it opens up splendidly with a few drops of water.
Another Single Pot Still whiskey produced at the New Midleton Distillery, Green Spot is made for independent wine merchants Mitchell & Sons who used to age the spirit in ex-Sherry barrels. With sherry casks being so hard to come by these days, currently the sherry casks only make up around 25% of the blend with the rest being American oak ex-bourbon. Why is it called Green Spot? Mitchell's used a colour coding system to identify the age of their casks and dabbed a splash of paint in the appropriate colour on the casks to indicate their age. Seven-year-old casks were marked with a blue spot, twelve-year-olds with a yellow spot and fifteen-year-old casks red. Ten-year-old casks got a green spot, hence the name.
8. Midleton Dair Ghaelach
7. Powers John's Lane Release 12 Year Old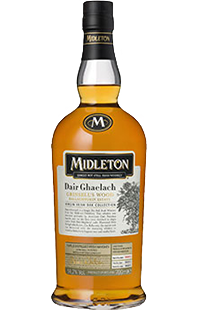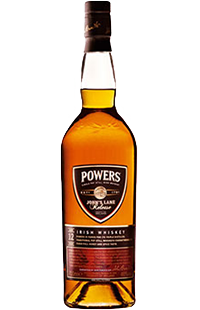 Midleton Dair Ghaelach is the first Irish whiskey in recent history to be matured in virgin Irish oak. After spending 15 to 22 years in mostly American oak barrels, the whiskey is finished for around a year in virgin Irish oak hogshead casks. These casks were made from nine 130-year-old trees from Grinsell's Wood on the Ballaghtobin Estate that were selected and felled in April 2012. Each bottle of Midleton Dair Ghaelach shows the number of the tree from which its cask was made. The Irish oak enhances the vanilla, caramel and chocolate flavours, which contributed to this 58.2% ABV masterpiece being crowned Irish Whiskey of the Year by both Whisky Advocate and The Jim Murray Whisky Bible in 2015.
James Power founded John's Lane Distillery in Dublin back in 1791, and despite the distillery closing more than 40 years ago Powers is still regarded by many as "The Irish the Irish prefer". Now produced at the Midleton Distillery, the John's Lane release is mostly aged in American oak bourbon, with a little Oloroso added in for good measure, for 12 years and bottled at 46%. Unlike the regular Powers Gold, it's a traditional single pot still whiskey, and was awarded 96.5 points by Jim Murray in 2013 and it won Best Irish Single Pot Still Whiskey in the 2017 Irish Whiskey Awards.
6. Method and Madness Single Malt Irish Whiskey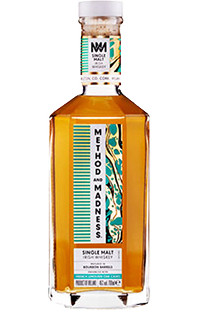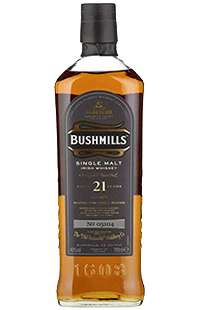 Every now and then, the master distillers at Midleton are allowed off the chain and given the chance to get a little experimental. The result of this is the Method and Madness range, released just last year. Their Single Malt is aged 14 years in American oak bourbon barrels and finished in French limousin oak casks, which are normally used to age Cognac. The result? A lighter, floral and herbal note with malt, peanut, biscuit, and even ice-cream cone notes.
With its license to distil issued in 1608, Bushmills is the world's oldest whiskey distillery. Their 21 Year Old is a Single Malt made up from two whiskies – one from Oloroso sherry casks and the other bourbon – matured for 19 years then vatted and married for two years in Madeira casks. This is a very limited release, with only 900 casks produced each year.
4. Connemara Cask Strength
3. Teeling Whiskey Single Malt Aged 26 Years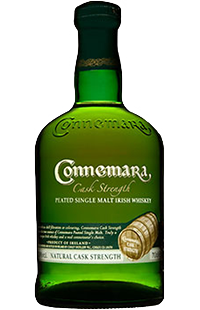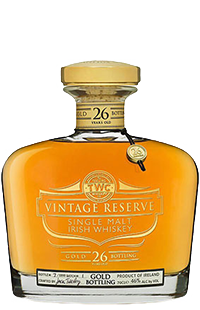 Unique for Irish whiskey, Connemara Cask Strength is bottled at the strength it comes out of the cask, typically between 57% and 60%, meaning each batch is a slightly different ABV and requires its own label. Connemara Cask Strength is mildly peated at 20PPM, using Scottish peated malted barley. Matured in American oak ex-bourbon casks, it combines the typical Irish smooth sweetness with an Islay style smoky punch.
Since 1782, the Teeling family have been making whiskey, with a brand new distillery being opened in Dublin in 2015. This 26 year old was double distilled in 1987 then laid up in ex-bourbon barrels, but what makes it unique is that it's been finished in White Burgundy wine casks. This is the first time White Burgundy wood has ever been used in the Irish whisky industry, making this very limited release of only 1,000 bottles rather special indeed.
2. Jameson The Distiller's Safe Whiskey
1. Glendalough 13yo Mizunara Cask Finish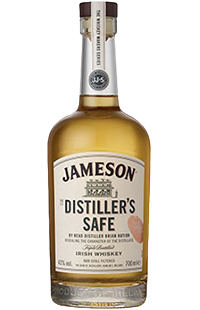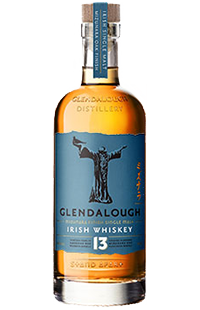 Jameson have paid tribute to their craftsmen with the Whiskey Makers Series. Each of their whiskey makers have created their own whiskey highlighting their craft. Distiller Brian Nation showcases his mastery of the Irish pot still, capturing the unique personality of the distillates before they show too much influence from the casks. The Distiller's Safe has a smooth mouth feel, and features the soft buttery sweetness and gentle fruit notes of grain whiskey. The name comes from the spirit safe, which allows a distiller to monitor and test the quality of the spirit in the still without having to open it.
A great whiskey is the sum of great parts. Glendalough's original 13 Year Old had already won Best Irish Whiskey, but for this limited release it's been matured again in extremely rare and highly prized Japanese mizunara oak casks, handmade especially for this precious malt by Japan's oldest cooper. The result? Incredible velvety mizunara smoothness with robust vanilla, fudge, peach, cinnamon, even some coconut, and what's been named the most sensuous chocolate finish in the history of Irish whiskey. "A superstar whiskey that gives us all a reason to live," according to Jim Murray, and we couldn't agree more. This is the first Irish whiskey matured in mizunara and one of only three whisk(e)ys outside of Japan.
Frenzied global demand has far outstripped supply for this extraordinary malt, but as always the Club's here to make sure our Members don't miss out. Join free now to get your hands on a bottle while stocks last.
Ready to receive world exclusive whisky?