October 2021
Lagavulin Offerman Edition: Guinness Cask Finish
We've got it — the Lagavulin Offerman Edition: Guinness Cask Finish is here, exclusive to The Whisky Club as October's Add In. This long-awaited second collaboration between Lagavulin and Nick Offerman is a global first: a cult classic whisky finished in an Irish beer institution.
United Kingdom
Nose Signature Lagavulin peat and woodfire smoke mix with creamy caramel and chocolate from the Guinness Casks to create 'Sweet Peat'.
Palate A flavour bomb of aromatic peat, roasted coffee and butterscotch followed by juicy red berries and green toffee apple.
Finish Long and intense, with lingering peat, fresh espresso and rich dark chocolate.
Food Match The Swanson: Smoked turkey leg wrapped in bacon.
Overview
Nick Offerman is best known for his role as libertarian government worker Ron Swanson in the cult TV show Parks and Recreation… a man's man who loves meat, woodworking, and Lagavulin whisky – which by sheer coincidence just happened to be Nick's favourite whisky too. The whisky and even the distillery makes regular appearances on the show across its seven seasons, with Ron declaring Lagavulin 16 Year Old to be his drink of choice, and the nectar of the gods.
Since Parks and Rec wrapped up, Offerman's forged a strong relationship with Lagavulin, and has sipped a dram on New Year's Eve, Father's Day, and during the world-renowned Yule Log video that's become a Christmas favourite for whisky lovers around the world.
Now comes the sequel to possibly Lagavulin's most famous whisky release ever, the 'Offerman Edition'.
Nick Offerman has always held advice from his dad, Ric, in the highest regard. So, in honour of Father's Day 2021, he set out to nail his most ambitious mission yet: to unite the pair's mutual love for Single Malt Scotch and Irish stout to create a whisky that is right up their workbench: Lagavulin Offerman Edition: Guinness Cask Finish.
"The opportunity to collaborate on this truly sublime, smoky giggle-juice renews my gratitude for the simple things in life, like a father's love, and the good manners he taught me," said Nick Offerman.
We could only dream about being so poetic, Nick!
In an exclusive world first, Islay distillery Lagavulin and Irish powerhouse stout Guinness have teamed up to finish 11 Year old Lagavulin in ex Guinness casks. This limited-edition whisky combines the signature Lagavulin intense peat and woodfire smoke with the creamy caramel, roasted coffee notes and dark chocolate from the Guinness casks, creating a once in a lifetime flavour of 'sweet peat' in a Lagavulin bottle. The Guinness casks provide a real creaminess to the whisky, something not usually found in Lagavulin expressions, and it all winds down with a peaty, smoky finish that lingers like a smouldering campfire at Ron's log cabin. As always, a higher ABV never hurts, and at 46% offers a little more oomph than you'll find in the 16 Year Old.
The Lagavulin Offerman Edition: Guinness Cask Finish comes with the ultimate seal of approval, a firm nod and handshake from Ric Offerman himself.
Lagavulin Offerman Edition: Guinness Cask Finish was a true Father-Son creation, and you won't find this hugely anticipated malt anywhere else in Australia but the Club. In fact it's practically sold out around the world, with bottles already fetching over $430 at auction in Europe.
Lagavulin Offerman Edition: Guinness Cask Finish has now sold out. Sign Up free now to grab our next exclusive releases.
THE SPECS
Maturation: 11 Year Old Lagavulin finished in Guinness Casks
Ready to enjoy a world-class whisky collection?
Your free Club Membership gives access to exclusive single malt from Scotland, Australia and the world's best distilleries. Enjoy the unrivalled buying power of Australia's biggest whisky club.
Lagavulin's History
The last few months have seen the Club feature whiskies from distilleries with rather chequered histories, with frequent and lengthy closures, and moving from owner to owner at an astounding rate. Not so this month, as we're off to a distillery that's been doing its thing with little fuss for a solid 203 years.

Illicit distillation was taking place on the site in the scenic Lagavulin Bay from the mid-1700s, but it was farmer John Johnston who legally founded Lagavulin in 1816. Located on the south coast of Islay (right between Laphroaig and Ardbeg distilleries and a short distance from Port Ellen), the distillery perfectly takes advantage of its coastal location, allowing the sea air to work its magic on the spirit as it rests in the barrels.

A year later Lagavulin got a new neighbour when Archibald Campbell built a small distillery next door that's believed to have gone by the name of Ardmore (not to be confused with the Ardmore Distillery in the Highlands that's still in operation today). Ardmore closed up shop in 1821, and in 1825 Johnston took it over in an effort to increase production of Lagavulin, the two distilleries running side by side and referred to as Lagavulin 1 and Lagavulin 2.

Following Johnson's death in 1836 it came to light that many of the Ardmore buildings were listed as belonging to Laird Walter Frederick Campbell. Ardmore and Lagavulin were both purchased by Glasgow based spirit merchant-come-distiller Alexander Graham and finally properly merged into one. Graham ran the distillery up until 1852, at which point he passed the reigns over to his son, John Crawford Graham. Eventually, the lease on the distillery and farm changed hands in 1862, at which point it was taken over by James L Mackie & Co, a company formed by whisky blender James Mackie in partnership with the surviving member of the Graham family, Captain Graham. Under this new stewardship, the distillery was given a much-needed makeover, and soon James' nephew Peter J. Mackie started visiting Islay to start learning the art of whisky-making.

Peter took over the distillery following James' death in 1889, and this was when things really started to happen for Lagavulin. A real go-getter, his colleagues and staff called him 'Restless Pete', and he lived by the motto 'Nothing is Impossible'. This certainly seemed to be the case, with Mackie creating the White Horse blend in 1890, he was a co-founder of Craigellachie Distillery in Speyside, and was even knighted. The man had hustle! He also had the agency at Laphroaig which he was forced to forfeit, a move that left a somewhat bitter taste in his mouth. In 1908 he attempted to build a replica distillery on the Lagavulin site, designed to recreate the unique Laphroaig spirit. Known as Malt Mill, it succeeded at making a whisky that tasted nothing like Laphroaig, or Lagavulin for that matter! Nonetheless, it continued operation through to 1962, and today houses the Lagavulin Visitors' Centre and admin offices.

Upon Mackie's death in 1924, Mackie & Co became White Horse Distillers Ltd, which was then brought under the Distillers Company Limited (DCL) banner in 1927. The distillery had grown to quite a size by this time, and a Clyde 'Puffer' the S.S. Pibroch was brought into service to ship barley, coal and empty casks to the distillery, and take filled casks back over to the mainland.

When World War II started in 1939, women were drafted to keep the distillery operating, an effort that was short lived with the distillery closing down for the first time from 1941 to 1945. In the post-war boom, the distillery was brought into a new era with the introduction of electricity in 1948, but it all came grinding to a halt again soon after with a serious fire in 1951 causing extensive damage to the buildings and equipment. Of course, the distillery was soon rebuilt, and it wasn't long before it was producing whisky again.

Lagavulin had always run its own malting floors, however, as is sadly so common these days, they closed the floor in 1974, and have since been outsourcing their malt.

DCL was taken over by United Distillers (now Diageo) in 1986, and in 1989 Lagavulin 16 Year Old was named as one of the six "Classic Malts". At the time it was considered a single malt that only the most dedicated whisky enthusiast would dare take on, however this wasn't the case, the distillery now running 24/7 just to keep up with demand, with Lagavulin 16 Year Old going on to become one of the world's (and Ron Swanson's) best loved peated whiskies.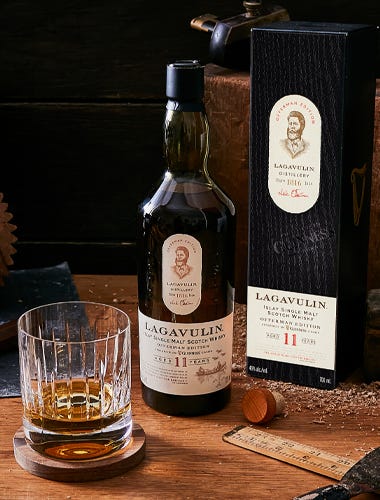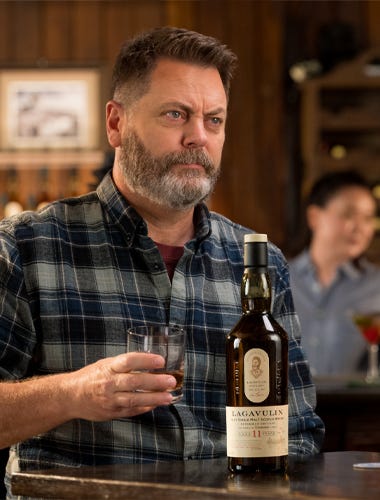 Distillery Facts
Origin: Lagavulin Distillery, Port Ellen, Isle of Islay, Argyll, PA42 7DZ, United Kingdom
Water Source: Lochan Sholum
Stills: 2 wash and 2 spirit
Stop scrolling. Start dramming.