October 2021
Lagavulin Offerman Edition: Guinness Cask Finish
We've got it — the Lagavulin Offerman Edition: Guinness Cask Finish is here, exclusive to The Whisky Club as October's Add In. This long-awaited second collaboration between Lagavulin and Nick Offerman is a global first: a cult classic whisky finished in an Irish beer institution.
United Kingdom
Nose Signature Lagavulin peat and woodfire smoke mix with creamy caramel and chocolate from the Guinness Casks to create 'Sweet Peat'.
Palate A flavour bomb of aromatic peat, roasted coffee and butterscotch followed by juicy red berries and green toffee apple.
Finish Long and intense, with lingering peat, fresh espresso and rich dark chocolate.
Food Match The Swanson: Smoked turkey leg wrapped in bacon.
Overview
Nick Offerman is best known for his role as libertarian government worker Ron Swanson in the cult TV show Parks and Recreation… a man's man who loves meat, woodworking, and Lagavulin whisky – which by sheer coincidence just happened to be Nick's favourite whisky too. The whisky and even the distillery makes regular appearances on the show across its seven seasons, with Ron declaring Lagavulin 16 Year Old to be his drink of choice, and the nectar of the gods.
Since Parks and Rec wrapped up, Offerman's forged a strong relationship with Lagavulin, and has sipped a dram on New Year's Eve, Father's Day, and during the world-renowned Yule Log video that's become a Christmas favourite for whisky lovers around the world.
Now comes the sequel to possibly Lagavulin's most famous whisky release ever, the 'Offerman Edition'.
Nick Offerman has always held advice from his dad, Ric, in the highest regard. So, in honour of Father's Day 2021, he set out to nail his most ambitious mission yet: to unite the pair's mutual love for Single Malt Scotch and Irish stout to create a whisky that is right up their workbench: Lagavulin Offerman Edition: Guinness Cask Finish.
"The opportunity to collaborate on this truly sublime, smoky giggle-juice renews my gratitude for the simple things in life, like a father's love, and the good manners he taught me," said Nick Offerman.
We could only dream about being so poetic, Nick!
In an exclusive world first, Islay distillery Lagavulin and Irish powerhouse stout Guinness have teamed up to finish 11 Year old Lagavulin in ex Guinness casks. This limited-edition whisky combines the signature Lagavulin intense peat and woodfire smoke with the creamy caramel, roasted coffee notes and dark chocolate from the Guinness casks, creating a once in a lifetime flavour of 'sweet peat' in a Lagavulin bottle. The Guinness casks provide a real creaminess to the whisky, something not usually found in Lagavulin expressions, and it all winds down with a peaty, smoky finish that lingers like a smouldering campfire at Ron's log cabin. As always, a higher ABV never hurts, and at 46% offers a little more oomph than you'll find in the 16 Year Old.
The Lagavulin Offerman Edition: Guinness Cask Finish comes with the ultimate seal of approval, a firm nod and handshake from Ric Offerman himself.
Lagavulin Offerman Edition: Guinness Cask Finish was a true Father-Son creation, and you won't find this hugely anticipated malt anywhere else in Australia but the Club. In fact it's practically sold out around the world, with bottles already fetching over $430 at auction in Europe.
Lagavulin Offerman Edition: Guinness Cask Finish has now sold out. Sign Up free now to grab our next exclusive releases.
THE SPECS
Maturation: 11 Year Old Lagavulin finished in Guinness Casks
Ready to enjoy a world-class whisky collection?
Your free Club Membership gives access to exclusive single malt from Scotland, Australia and the world's best distilleries. Enjoy the unrivalled buying power of Australia's biggest whisky club.
Lagavulin's History
Illicit distillation was taking place on the site in the scenic Lagavulin Bay from the mid-1700s, but it was farmer John Johnston who legally founded Lagavulin in 1816. Located on the south coast of Islay (right between Laphroaig and Ardbeg distilleries and a short distance from Port Ellen), the distillery perfectly takes advantage of its coastal location, allowing the sea air to work its magic on the spirit as it rests in the barrels.

READ MORE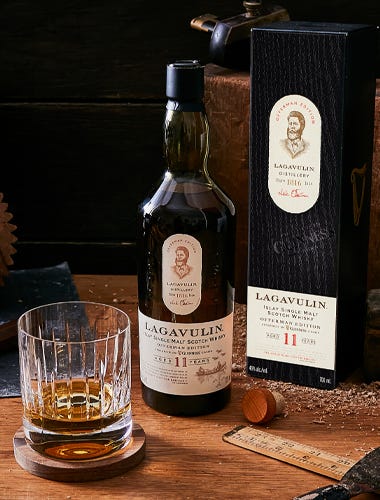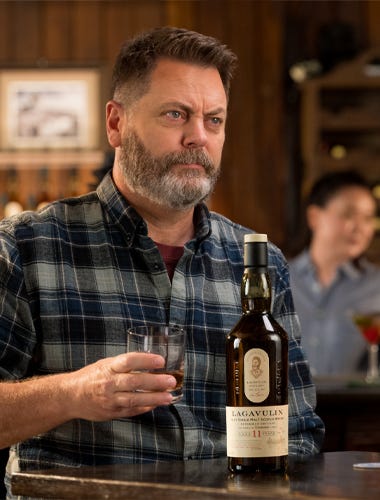 Distillery Facts
Origin: Lagavulin Distillery, Port Ellen, Isle of Islay, Argyll, PA42 7DZ, United Kingdom
Water Source: Lochan Sholum
Stills: 2 wash and 2 spirit
Stop scrolling. Start dramming.