October 2022
The Balvenie 27YO Caroni Rum Cask Finish
27 Year Old Balvenie finished ex-Caroni rum casks. This is one of the rarest Balvenies ever created using one of the world's most sought-after rums, available exclusively to Members of our Club.
United Kingdom
Nose Rich and indulgent with notes of muscovado sugar and mānuka honey. Lighter fruit notes intersperse the aroma with occasional hints of green banana and light spice.
Palate Beautifully smooth with a velvet vanilla viscosity. The initial burst of sweetness graduates to treacle toffee, aged leather and deep oak tannin.
Finish Lingering sweet with a wonderful mouth-coating oiliness.
Overview
What happens when you put 20 Year Old Balvenie in the world's rarest rum casks for seven years? Simple answer: glory.
Introducing: The Balvenie 'A Rare Discovery From Distant Shores' 27 YO Caroni Rum Cask Finish.
This story started back in November 2009 when Balvenie Malt Master David C Stewart received samples from legendary lost Caribbean rum distillery, Caroni. The Balvenie team duly hunted down some of the last remaining barrels and brought them over to Scotland. Five years later, they emptied these casks and immediately filled them with 20 year old Balvenie whisky.
Balvenie are the world whisky leaders who created cask finishing and have experimented with rum casks more than any other distillery. "Caroni," David explains, "has become a kind of cult spirit, followed by rum fanatics all over the world. It's rare, it's fascinating, all because the distillery is no more."
"Caroni is totally unique, a heavy rum, bold, characterful and full of potential to create a really special Balvenie."
Under David's care Balvenie's decadent whisky melded with the rare Caroni rum casks to make the ultimate rum cask finished single malt: the nose is indulgent Muscovado sugar, Manuka honey, green banana and light spice. The palate is beautifully smooth with velvet vanilla while an initial burst of treacle toffee compliments aged leather and deep oak tannin. And the finish….long, lingering and sweet with a wonderfully oily mouth coating.
Caroni last produced rum in 2002 before being sold off to Angostura after which the distillery was demolished. Today, rum fanatics have Caroni fever, trying to hunt down any new release of the last remaining casks with these rums selling for up to $7,000 a bottle.
Due to the utter scarcity of Caroni rum, this is one of the smallest Balvenie releases outside of their Single Casks, and we have the entire Australian allocation. Rapidly selling out worldwide, this is an unprecedented chance to secure one of the final releases from the longest serving Master Blender in Scotland.
Available exclusively to Members, the only way to get a bottle is to join the Club. Don't miss out.
THE SPECS
Maturation: 20 year old Balvenie finished in Caroni rum casks for an additional 7 years
Ready to enjoy a world-class whisky collection?
Your free Club Membership gives access to exclusive single malt from Scotland, Australia and the world's best distilleries. Enjoy the unrivalled buying power of Australia's biggest whisky club.
The Balvenie's History
Established in 1892 by William Grant in a converted 18th century mansion, The Balvenie Distillery is one of the great success stories of Scotch whisky. Today the distillery is owned by the fifth generation of William Grant's family, making William Grant & Sons one of the longest single-family ownerships in the world.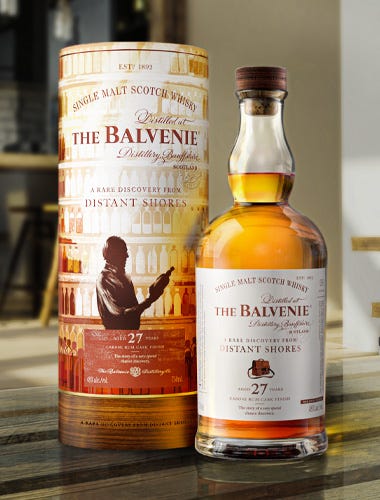 Distillery Facts
Origin: Balvenie Distillery, Dufftown, AB55 4BB, Scotland, United Kingdom
Water Source: 21 springs in the Conval Hills surrounding the distillery
Stills: 5 wash and 6 spirit
Capacity: 5,600,000 litres per annum
Stop scrolling. Start dramming.