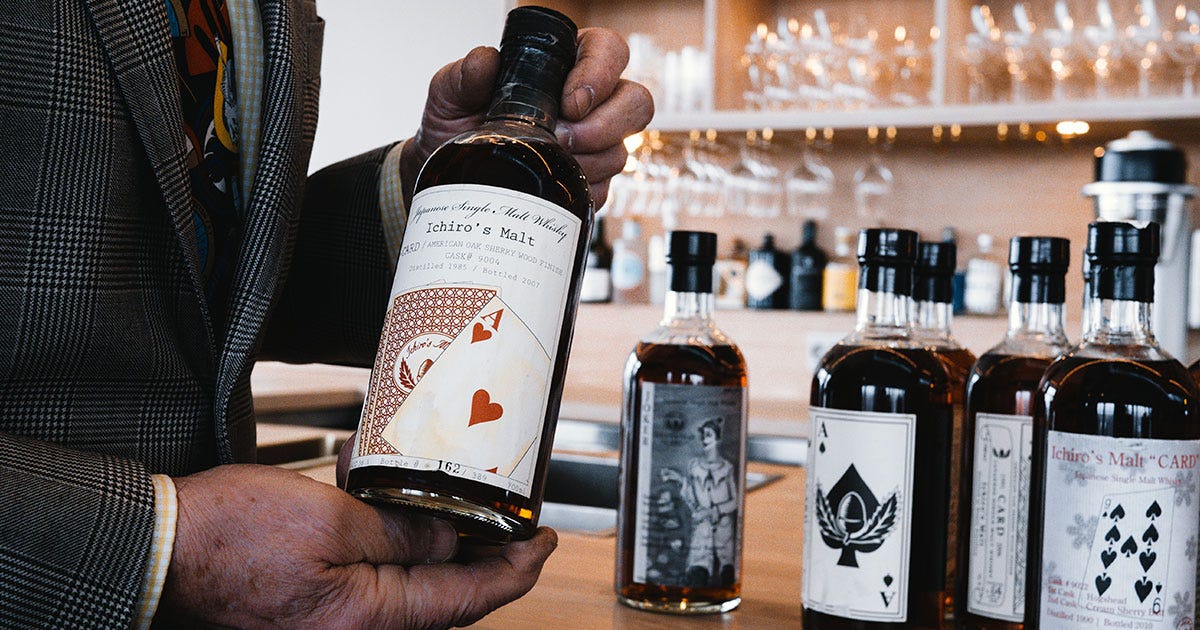 Rare whisky: solid investment or wishful drinking?
September 04, 2019
/ 4 mins
To drink or not to drink? That is the question dividing whisky fans the world over. Now that we've all got used to NAS whiskies (they're here to stay), the big debate in whisky-land is are you an open or closed bottle person?
Over the years, whisky has become more than an evening indulgence – it's now an investment. Funds and indexes have sprung up in response to the growing demand for old and rare whiskies, driving up prices and putting dividends over enjoyment.
True fans insist that whisky is for drinking. Flippers (investors who buy and sell rare whisky) call it a smart bet.
What's the real story? Thisismoney.co.uk recently published an article on the surge in the value of rare whisky, and whether to invest. Read on to hear our take.
Luxury drink or liquid gold?
When things go south for the stock market, the classics come into their own. Gold, art, coins, wine and vintage cars possess timeless appeal – and value.
Recently, whisky has been climbing the ranks of savvy investments, up by 40% last year and 582% in the last ten, according to the Knight Frank index.
We've seen two special edition Macallans go for £2million, a vintage malt for £848,750 and 108,000 bottles of rare whisky auctioned for a grand total of £41million.
In fact, experts insist that investing in the right bottle of Scotch could rival a certain precious metal, confirming what we've always known: whisky is liquid gold.
Photo © Bonhams Auction Company/Getty Images.
Why so valuable?
We don't need to tell you that a good single malt is priceless. But what else is driving this dramatic ascent?
Simon McGorman, Diageo's National Whisky Ambassador for Australia, explains.
"I believe that whisky investment is booming thanks to years of growing interest in the category itself," says McGoram.
"But it's also a case of there being a kind of perfect storm. The 1980s and '90s were relatively low in production, with many once-successful distilleries forced to shut their doors – like Carsebridge and Port Ellen in 1983 and Pittyvaich in 1993.
"As popularity in Scotch – and indeed, world whisky – has grown, especially with the opening up of markets like China and Taiwan, mature whiskies from these decades and earlier are in high demand. [And] increasingly short supply numbers, in turn, have driven value."
Not all roses
While the figures look peachy on paper, there's a little more to it.
The biggest growth in rare whisky has occurred right at the pointy end, where prices are highest. For example, bottles worth £10,000 or more at auction have multiplied 12 times since 2014, skewing the stats. Other isolated, inflated price tags have had the same effect.
In other cases, an initial spike in the value of a particular limited release precedes a slump, with distilleries falling in and out of fashion in a relatively new secondary market.
For example, Glemorangie's old whisky prices fell by 50% in 2010. Rare Whisky 101's Macallan exceptional cask index dropped from 100 to 55 in the space of one month. And 360 bottles of Macallan Genesis – snapped up by camped-out investors – peaked at £5,000, only to plateau at £1,500 soon thereafter.
Some firms are now refusing to auction releases less than 12 months old in an attempt to dissuade flippers – those who buy and sell in a flash (and frankly, take the fun out of it).
Photo © Bonhams Auction Company.
Faux mo
And there's another hazard in the quest to invest: the presence of fakes.
Recent investigations have concluded that £41m worth of rare whisky – both in the market and private collections – isn't the real stuff; either not from the year declared, or just plain bilge.
We wrote about it not too long ago, so have a read and keep your wits about you.
Dusty vs. drinkable
While it's exciting to hear that rare whisky can constitute a nest egg, it takes that other type of value for granted: enjoyment.
Getting to know a complex Scotch, with all its subtleties and standoffishness, with a history you can taste, is what makes it special. Cracking open an 18YO on an 18th birthday, an act of sincere appreciation; a sip to remember.
That's what separates collector from investor; someone who'll dip in vs. someone who'll hold out.
Which one are you?
Final word
There's no doubt about it: the world has whisky fever. Last year alone, UK exports tallied £4.7billion, or 20% of all food and drink exports.
New distilleries are opening, old ones resurrected, cults are emerging and clubs are providing safe spaces for whisky fans to do their thing. The popularity of our favourite elixir won't wane anytime soon, and experts agree that the right bottles from reputable distilleries provide a solid investment opportunity.
Whether you choose to shelve or sip a vintage drop, you can't lose. Either you're sitting on gold, or sitting in an armchair feeling very, very pleased with yourself.
Ready to receive world exclusive whisky?