The 12 Aussie Whiskies You Need On Your Shelf
January 01, 2018
/ 5 mins
There's some awesome whisky coming out of Australia right now, there's just no denying that. The industry's booming at breakneck speed and if we think we're spoilt for choice now, just wait 10 years once all the new guys have caught up with production. But why Australia? Where did they all come from so suddenly?
It all started 25 years ago in Tassie when Bill Lark decided it was time. An avid whisky drinker himself, on a fishing trip with dram in hand he dared to ask "why not here?" A dream was born, government was lobbied, archaic laws repealed and 20 years later Sullivans Cove was named "World's Best Single Malt" over the Scots and Japanese. Tasmania is the birthplace of the modern Australian whisky industry and remains the epicentre, with 31 of Australia's distilleries located on the island, among them some of Australia's foremost including Sullivans Cove, Lark, Overeem, Hellyers Road, Belgrove and the infamous Nant.
The mainland's not been backwards in coming forward however, with Starward, arguably the most popular and ubiquitous Aussie whisky, located in Melbourne. Melbourne also boasts Bakery Hill, one of the original five Australian whiskies of the modern era alongside Tasmania's Lark, Sullivans and Hellyers and WA's Limeburners. Despite being one of the originals, it's remained small and their exceptional malts are very hard to find outside of Melbourne.
New boys Tin Shed Distillery and Black Gate Distillery have both established cult followings in a very short time and of course Limeburners, the other granddaddy of the modern era and Australia's most awarded whisky, has been churning away in Western Australia for the past 13 years, well and truly putting its mark on the industry.
We've rounded the twelve essential Aussie malts to kick start your collection. Get your hands on these bottles, you won't be disappointed, and the best news… as the rest of the guys come into production this list will just keep growing!
11. Hellyers Road Master Series Original 14 Year Old Single Malt Whisky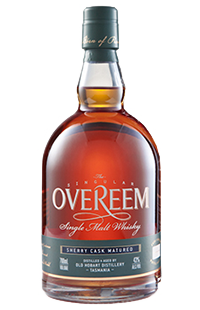 Matured in ex-sherry French-oak quarter cask barrels, the Old Hobart Distillery's Overeem Sherry Cask is Christmas cake in a bottle, Tasmanian style. The cask strength 60% packs an extra punch and is the one to go for, if you can find a bottle!
Why stop at 60%? Hellyers Road in Burnie, north-west Tasmania, showcased their absolute best with their Master Series Original 14 Year Old. At 67.4% it's not for the faint of heart, but with only 133 bottles produced (every one of them numbered and signed by the master distiller mind you) it's not one you'd be opening in a hurry.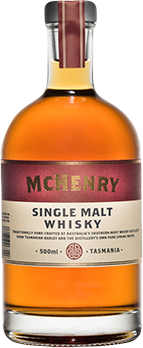 It's only a quick jump over Bass Strait from Burnie and you're in Melbourne, a city not really known for whisky production, but surrounded by some of Australia's best wine regions. So it was only natural for Starwardto make the most of this with their Wine Cask, a move that's proven rather successful, with this very reasonably priced bottle finding a home in many a whisky fan's collection.
A world away from Melbourne, and back in Tasmania, you'll find McHenry Distillery – Australia's southern-most whisky distillery, located on Mount Arthur, high above Port Arthur on the Tasman Peninsula. Aged for 4 years in American Oak, then finished for one year in a French Oak blood tub, which isn't as gruesome as it may sound – it's a 40 litre cask.
8. Mackey's First Release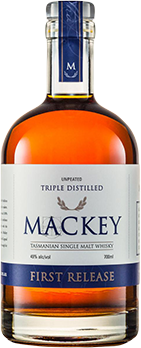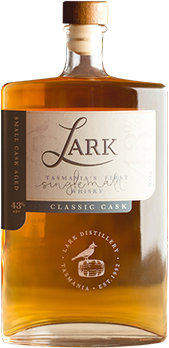 Damien Mackey produces Tasmania's first triple distilled, Irish style whisky at the Shene Distillery at Pontville, just outside Hobart. Hidden away in the historic Shene Estate, the state of the art distillery is home to Tasmania's largest copper pot still and the whisky is aged in port and sherry French oak casks.
It's impossible to talk about Australian whisky without talking about Lark. It was Bill Lark, after all, who got the ball rolling in Australia, and his lightly peated Classic Cask spends 5 to 8 years in 100 litre oak casks. All good things take time, and they don't bottle their whisky until the spirit and wood have done their magic. That time is near, so look out for Lark Classic Cask on the shelves again in May 2018.
6. Sullivans Cove French Oak
5. Bakery Hill Classic Single Malt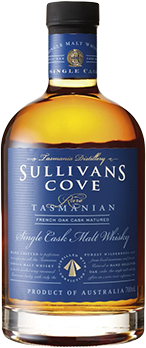 Lark started it all, but it was Sullivans Cove who made the world take notice of the Australian – and more specifically Tasmanian – whisky industry when the legendary French Oak cask HH0525 was named Best Single Malt Whisky in the World. Aged in 300 litre French Oak ex-tawny barrels and bottled as a single cask bottling, you can expect spice, chocolate, dried fruit and plenty of oak.
Another member of the First Five and producing exclusively single cask releases, Melbourne's Bakery Hill is the one you're least likely to have heard of. Despite being around for so long, they've remained a small operation, so their whisky can be hard to find. Hunt down a bottle though, it'll be very rewarding to say the least. Bottled at 46%, the Classic Single Malt scored an impressive 93/100 in Jim Murray's Whisky Bible.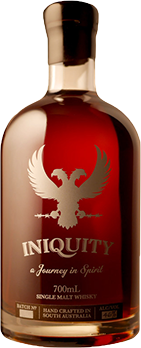 Surely Australia's most unique distillery, Belgrove was the first rye distillery in the country. Almost an ongoing science project, it's truly a sight to behold, and well worth a visit if you're ever passing through Tasmania's midlands. The rye is grown on site. The grain is malted in a re-purposed industrial clothes dryer. The home made copper pot still is also the only biofuel powered still in the world. Biofuel also powers the tractors, forklift and truck. This biofuel is used cooking oil, sourced rom the roadhouse near the farm. This is craft whisky at its peak, and the whisky is mighty good too.
Since 2013, Tin Shed's Iniquity produces artisanal whisky from South Australian ingredients. Quality and flavour come well before efficiency, the team producing the whisky they actually want to drink, not what the beancounters want made. Living up to its name, the whisky is sinfully good.
1. Limeburners P.X. Sherry Cask Single Malt for The Whisky Club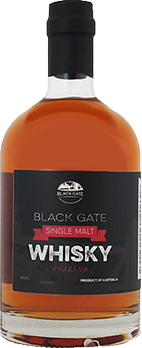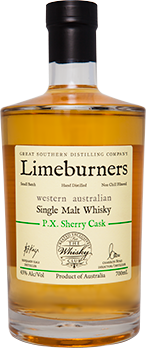 Established in The first distillery in central west New South Wales, Black Gate recently released their second port cask – an incredibly well balanced 50% ABV dram that shows just how far the distillery has come in such a short time.
Established in 2005 with a mission to make the best whisky in the world, Limeburners round out our Top 12 with their first ever P.X. Sherry Cask Single Malt, created exclusively for The Whisky Club. Read all about this history-making release here.
Ready to receive world exclusive whisky?