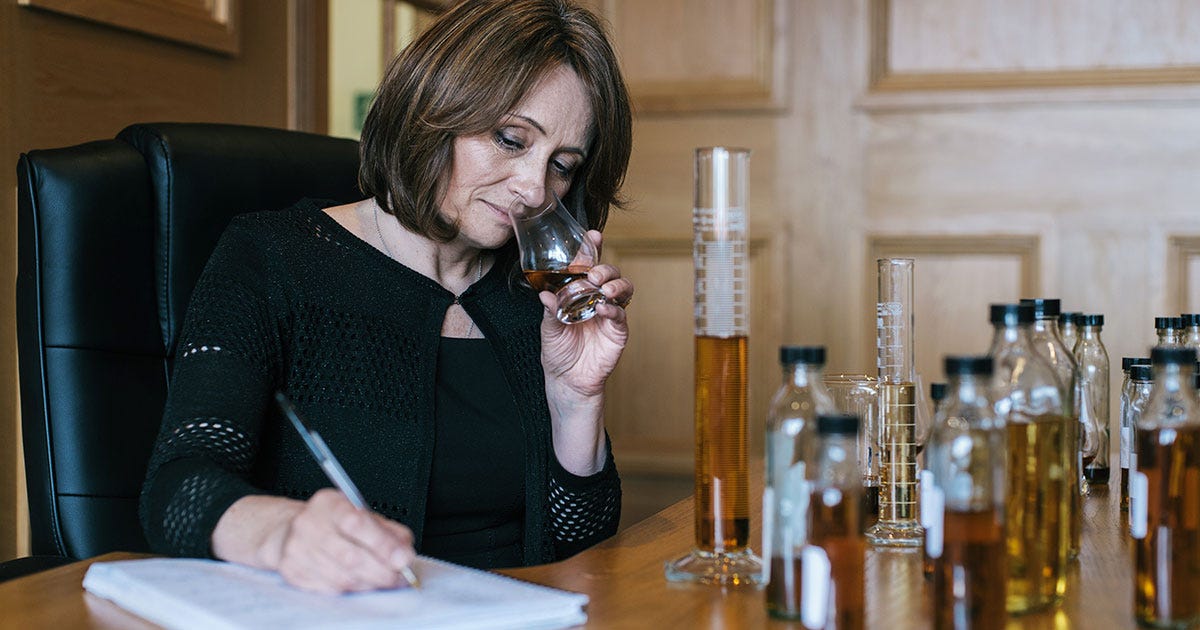 Women In Whisky
What do the Boss of Scotch, our own co-founder and director of The Whisky Club, and a leading pioneer of the Australian Whisky Industry have in common?
Well, aside from great taste in malty goodness and a passion for taking it to the world, they've all been asked the same absurd question: "But do you actually drink whisky?"
That's right – they're all women!
But the times, they are a-changin'. We spoke last night, on the eve of International Women's Day, to three whisky trade figures who happen to be women, to uncover the funniest stories of starting out, top tips for women and men looking to enter the trade today, and predictions for the future of the Scotch and Aussie industries.
Scotch Boss: Scotch Whisky Association CEO Karen Betts
Our first insight for the day? Parents have a lot to answer for not only in setting our gender expectations, but also in preparing our whisky palates for future success.
For distiller and Aussie whisky pioneer Jane Sawford (co-founder and distiller at Sawford Distillery, ex Overeem and Lark) and The Whisky Club co-founder and director Emily Ashbolt Cason, the introduction to the world of whisky was a tale of two dads…
Sawford's father Casey Overeem started award-winning Overeem Whisky in the backyard shed and it was Jane who was primarily responsible for taking it to market and driving its success, while helping with the distilling behind the scenes, before more recently launching her own distillery, Sawford, with her husband Mark.
Her early adulthood was spent travelling the country as a rare woman in whisky paving the way for the growth of the Aussie industry: "When I was 18 years old I went to my first whisky conference in Adelaide. I couldn't believe it when we sat down to sample eight different whiskies at 10am in the morning! I had some learning to do!
"It sure was a tad daunting in the early days. When I first started exhibiting at whisky shows and attending conferences in around 2011 to 2012, there was only a handful of women to hundreds of men. But now it's almost an even split."
Jane Sawford
Ashbolt Cason's 'dad experience' however couldn't be further apart:
"My first whisky experience of my dear dad giving me whisky and milk when I was ill was definitely not the one that got me into whisky – in fact it put me off for a good couple of decades.
"It wasn't til I was already established in the drinks trade, publishing leading industry publication, the drinks business, that things eventually changed.
"My work focus had always been primarily wine and beer but it was on the way to The International Wine and Spirits Awards at London's Guildhall with the team one year that the wonderful young whisky journalist Alan Lodge, now sadly departed, set me a challenge I couldn't refuse.
"As the best young Scotch Whisky authority, I've ever had the honour of knowing, Alan had no doubt: there were whiskies I liked out there – we just had to find them – and he would lead the way.
"And what better place to find them than the award-winners table, packed with incredible malts I'd previously avoided but now couldn't help but fall in love with that night in 2009. Suddenly my eyes were opened to a whole new world of complexity and diversity to rival wine.
"Alan passed away tragically just three years later, age 29, but his legacy of sharing the wonderful world of whisky lives on."
Alan Lodge interviews Emily Ashbolt Cason for DBtv in 2010
So, what's it like first starting out in a career that's stereotypically been the preserve of men? Scotch boss Karen Betts, CEO of the governing body of Scotch Whisky, The Scotch Whisky Association, sums it up nicely:
"If you were asked to describe the archetypal Scotch Whisky drinker two decades ago, you would likely think of a man, probably middle-aged, sitting in a worn leather armchair, dram in hand.
"But let's face it, many things that used to be associated solely with men – working in the City, being a bus driver, a doctor, a postman, a CEO – have changed. And so too the Scotch Whisky industry is changing.
"Not only are more women enjoying whisky more than ever, today making up a third of whisky drinkers in the UK, but the people who craft Scotch Whisky in communities across Scotland are changing too.
"Think of Scotch today and you're as likely to think of Stephanie Macleod or Rachael Barrie – master blenders with skills revered by whisky lovers everywhere. You might think of Rebecca Weir, a determined female coppersmith. Or you might think of Georgie Bell and Becky Paskin, whose "Our Whisky" campaign is challenging stereotypical assumptions about the industry.
Master Blender Dr. Rachel Barrie Hon. Dsc.
"Of course, change takes time and the image of the man with a dram in his armchair does linger. I'm still surprised by how often, even in my role, I'm asked: "Do you actually drink whisky?"
It's a familiar question, asked countless times of both Ashbolt Cason and Sawford, and no doubt many if not all other women in whisky at some point or other (we'd love to hear your experiences in the comments below!).
But all three trade figures are hugely optimistic for the future:
"Fortunately these comments (regarding whisky and women) are very rare now – times have certainly changed," explains Sawford.
"It's already an almost even split of women to men in whisky." A far cry from her early days as a solo woman battling the status quo and playing a critical role in the growth of the Australian whisky industry.
"Couldn't agree more," says Ashbolt Cason, "Joining the trade when I did was fun, but challenging. For me that challenge was compounded further by being a young female Aussie in London, the former drinks trade hub of the world, where I stuck out a mile on age, appearance, newness and accent alone.
"I wince now when I look back and remember how fervently I wished I had wrinkles! But once you're in and established, it's a trade you'll never really leave. The people are awesome – far too much fun to be had – and these days there's never been a better and more accessible time to join the best business in the world: whisky!"
It's a subject dear to Betts' heart: "The Scotch Whisky industry has been 500 years in the making and in that time it has evolved a great deal.
"I'm determined to play my part in ensuring that it keeps on doing so, and that both women and men are placed squarely at its heart."
Sawford is also passionate about helping men and women join the trade, and offers this handy tip for the Australian whisky trade specifically:
"Learn from the people who have helped build the industry over the past ten years. Find a mentor who you trust and can learn from… what worked, what didn't, how the industry has evolved, and be prepared for what is to come in the future of this amazing world of whisky."
No surprises on this cheeky word of advice from Ashbolt Cason though:
"My advice for those that want to get into the wonderful world of whisky? Come join us! The Whisky Club is currently building the team as we take on the rest of the world and we have some great entry-level opportunities for those that want to combine their passion for whisky and their job.
"But seriously, whatever route you choose, whatever job you do, don't water down the opportunities for women, or their chance to enjoy a decent single malt, neat please."
Have a woman in whisky experience to share? Tell us in the comments!
Ready to receive world exclusive whisky?