November 2020
It's Big, it's Beautiful, and it's sublimely Aberlour! The titanic legend that is the A'bunadh has a twin, and we've brought it to Australia, exclusive to the Club.
United Kingdom
Nose Sweet with apples and pears; notes of honey and vanilla
Palate Citrusy with notes of baked apple, hints of almonds and chocolate milkshake
Food Match Smoked salmon risotto
Overview
With nearly 70 batches of A'bunadh under their belts, Master Distiller Graeme Cruickshank and the team at Aberlour have created the perfect stablemate to the Sherried legend. Aberlour A'bunadh Alba is everything you know and love about A'bunadh but matured in 100% first-fill American oak ex-Bourbon casks.
This is the only time A'bunadh Alba has been available outside the USA, and it's exclusive to The Whisky Club.
In Gaelic, A'bunadh means "of the origin", while Alba is a double reference, not only meaning "Scotland", but pointing to the American 'Quercus alba', otherwise known as white oak. You can join the dots.
Just like its twin, A'bunadh Alba is released in small batches made from a range of casks of varying ages, chosen only when they're ready. They're married together and bottled without chill-filtration or artificial colouring, at full cask strength. Batch 003 has been bottled at a stonking 60.4% ABV - this is as close as you'll get to tasting a dram straight from the barrel at the distillery.
The result is everything as brilliant as you'd expect from Aberlour… a big, sublimely creamy and sweet malt with tons of fruit, and notes of honey, vanilla, almonds and thick chocolate milkshake. Try it neat, or add a splash of water, it's delicious either way and a must-have for every Aberlour fan.
Orders for Aberlour A'bunadh Alba have closed. Sign Up Free to Australia's biggest whisky community now to get incredible single malt whiskies delivered straight to your door.
WHISKY SPECS
Maturation: 100% first-fill American oak ex-Bourbon casks
Ready to enjoy a world-class whisky collection?
Your free Club Membership gives access to exclusive single malt from Scotland, Australia and the world's best distilleries. Enjoy the unrivalled buying power of Australia's biggest whisky club.
Aberlour's History
Nestled in the heart of Speyside and surrounded by water lies the picturesque village of Aberlour, home to the legendary distillery of the same name. The village is an historical place, and in the ancient past the valley was home to a druid community who placed high value on the oak trees and water sources in the area.
The druids were of the belief they could hear the water spirits talking to each other, and so the village was named Aberlour, which is Gaelic for "mouth of the chattering burn". The Lour Burn runs alongside the village, the Birkenbush Springs above supply crystal clear waters, drained over the pink granite of Ben Rinnes, and of course the village sits on the banks of the mighty River Spey. Sounds like the perfect place to make whisky then… and make whisky they do.
The first Aberlour distillery was founded way back in 1825 by James Gordon and Peter Weir. Weir left just one year after and the distillery continued operation until co-lessees James and John Grant left in 1833 to build Glen Grant down the road in Rothes. Aberlour fell silent and was later destroyed by a fire.
In 1879 however the legend as we know it today was born. James Fleming, a local farmer's son, had been working as a grain dealer supplying distilleries and had caught the whisky bug. Inspired by the exceptionally pure spring water flowing from St. Drostan's Well he decided to build a new distillery in Aberlour, and so he did. With the mission to craft a whisky of distinction at Aberlour, James designed the buildings and much of the machinery himself, and within a year he was capable of producing some 7,273 litres per week.
The distillery flourished, becoming the backbone of the village and James a bit of a local legend. Living by the mantra of 'let the deed show', a creed that showed through not only in the whisky, but in how he gave back to the town and the people around him, James built the local hospital and the town hall, and in his will left money to construct the 'Penny Brig', a suspension bridge built for villagers to cross the River Spey safely after a young boy's life was taken by the waters.
To this day, Aberlour let their actions speak louder than their words, as they continue to 'let the deed show' in both their whisky and their community. Every year in February the team pours a bottle of 12 Year Old into the Spey to mark the beginning of the salmon fishing season, an important ritual encouraging the fish to bite, and especially important to the locals who retain unique rights to fish in the famous river.
Nearing the end of his days, James sold the distillery to Robert Thorne & Sons in 1892 and he passed away not long after in 1895. Fire struck again in 1898 when an explosion in the mill room destroyed a large part of the distillery. All was not lost because the setback presented an excellent opportunity to modernise the distillery, and Scotland's leading distillery designer, Charles Doig of Elgin was promptly enlisted to bring everything back up to speed again.
Aberlour was sold to W.H. Holt & Sons in 1921, then became part of Campbell Distillers in 1945. The distillery powered through the mid-century and eventually was expanded to 4 stills and modernised again in 1973 to cope with the ever-increasing demand from Dewar's, of which Aberlour is a key ingredient. Knowing a good thing when they see it, Pernod Ricard snapped up Aberlour in 1974 and it remains part of their whisky division, Chivas Brothers, to this day.
In 2002 Aberlour opened its visitors' centre, which was one of the first to offer guests a 'bottle your own' experience.
The soft water of the Ben Rinnes, locally grown barley (all from within 15 miles of the distillery), and unusually broad based and high-necked stills combine to produce a medium-weight new-make. With malt, fruit and distinctive blackcurrant characteristics, it gains weight and a delicious toffee-like sweetness under maturation - more than enough to stand up to the heaviest Sherry cask maturation that can be thrown at it.
Aberlour has long specialised in Sherry cask maturation, with Master Distiller Graeme Cruickshank personally selecting casks from Jerez in Spain, however they also mature a considerable amount of spirit in American oak. Over the years the distillery's gained a serious cult following alongside the two other Sherry houses, Glenfarclas and Glendronach, particularly for the legendary A'bunadh.
Aberlour now enjoyes a range of rewardingly complex double cask matured 12, 14, 16, and 18 Year Olds, as well as the batch released Casg Annamh and A'bunadh.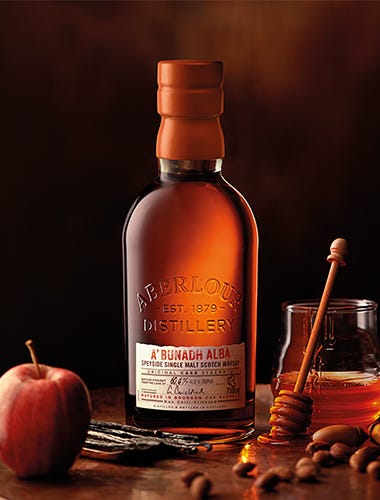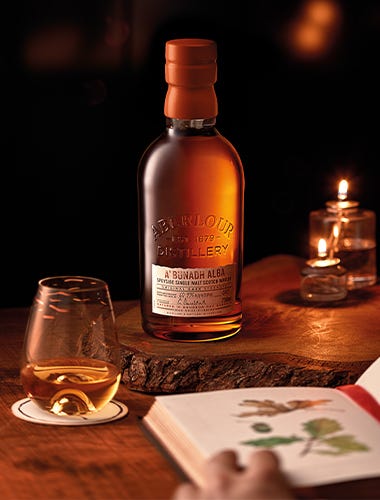 Distillery Facts
Origin: Aberlour Distillery, Aberlour, Banffshire, AB38 9PJ, Scotland
Water Source: Birkenbeck Spring
Washbacks: 6, Stainless Steel
Stills: 2 wash and 2 spirit
Capacity: 3,900,000 litres per annum
Ready to enjoy a world-class whisky collection?
Your free Club Membership gives access to exclusive single malt from Scotland, Australia and the world's best distilleries. Enjoy the unrivalled buying power of Australia's biggest whisky club.
Stop scrolling. Start dramming.