September 2020
anCnoc 2007 Limited Edition
Substantial and complex, like velvety caramel marshmallows covered in rich, dark chocolate orange… It's the hugely anticipated anCnoc 2007 Vintage Limited Edition, exclusive to the Whisky Club in Australia.
United Kingdom
//= /* @escapeNotVerified */ // __('Tasting notes') ?>
Nose Packed with notes of tropical fruits, toffee and marshmallow. All wrapped up in the classic honey and citrus flavours which are typical of AnCnoc single malt whisky.
Palate Rounded sweet vanilla, rich dark chocolate with delicate oak spices and a hint of leather.
Finish Smooth and delicate, wrapped in honey and citrus.
Overview
Each year Knockdhu Distillery Manager Gordon Bruce identifies a very special set of 'peaking' casks - casks that are at their most optimum level - for the annual anCnoc Vintage Limited Edition, with each Vintage showcasing the ultimate whisky from a particular year. This year's release is hands down one of the best we've ever had, when we tasted it we just knew we had to get it for the Club!
Distilled in 2007 and matured 13 years in first-fill American oak casks, it's a beautifully complex and substantial malt, packed with juicy tropical fruits, toffee, marshmallow and rich dark chocolate all wrapped in anCnoc's classic honey and citrus.
Bottled at 46%ABV, non chill-filtered and without colouring, just the way it should be, this is raw, malt whisky indulgence from one of the smallest, hands-on distilleries in the Scottish Highlands.
Extremely limited in numbers, unrepeatable and unique, stock is tight on this sought after Club Exclusive Limited-Edition, so be very quick: if you haven't already, Sign Up Free now to be in the running to get your hands on a bottle.
WHISKY SPECS
Maturation: Distilled in 2007 and matured 13 years in first-fill American oak casks
Knockdhu's History
Knockdhu's story begins back in 1892, with the astute purchase of Knock Estate by John Morrison. John saw massive potential in the location, with everything needed for whisky production close to hand – fields of barley, plentiful supplies of high-quality peat, and springs bursting with pure, clear water. Not to mention the Knock Station on the Banff line of the Great North Railway Line was just nearby.
Before long, a deal was struck with Distillers Company Limited (DCL) to build a distillery on the site, setting the company on its way to become the major player in the Scotch whisky industry, with DCL growing to eventually become Diageo.
It was October 1894 when the distillery's doors swung open. Knockdhu took its name from the Gaelic name for Black Hill, the backdrop to the distillery and home to the springs that provide the water for production. An ultra-modern distillery at the time, it featured two copper stills with flat bases and long narrow necks, producing a light, fruity whisky. The stills used to this day are of the same design and size as the originals, meaning today's spirit retains the same flavour profile as originally intended.
DCL passed Knockdhu over to Scottish Malt Distillers in 1930, who closed it down during 1931 and 1932, as well as for the duration of the Second World War. During this time the buildings were used to accommodate soldiers from India. After the war, it was business as usual up until 1983, at which time the distillery was mothballed – a victim of supply outweighing demand at the time.
Inver House purchased Knockdhu 1988, and before long had the stills fired up once more and released the first official Knockdhu Single Malt bottling just two years later. In 1993, a new brand name was released, anCnoc, to avoid confusion with the more well known Knockando. Pronounced "a knock", it means "the hill" in Scot Gaelic, again referring to Black Hill.
It's fantastic to see Knockdhu take some great initiatives to reduce their environmental footprint with the development of a wetlands on the distillery grounds. Consisting of six separate cells, 2000 square meters in size, the wetlands feature more than 21,000 plants of 17 species. All washing waters from the mash house and tun room, as well as the spent yeast from the spirit still are all treated on site and used to feed the plants, taking seven tankers a week off the road, and reducing their carbon footprint by some 45 tonnes a year. An added benefit is the increased insect population has attracted birds and bats to the area, allowing the local environment to flourish.
Additionally, the distillery is water-wise, using every drop of water from the springs at least seven times – to cool worts, supply the shell and tube condenser, pre-heat the wash still, heat LPG to vaporise it, adding water to the mash tuns, flushing the worts cooler and lines, and after all that, to clean the washbacks.
Despite the environmental innovation, the production methods used to make anCnoc remain true to tradition, having hardly changed in over 100 years. A mix of old and new, the mash tun features a lauter system, but you'll find traditional wooden washbacks, the original still design and size still in use, and worm tubs to condense the distillate, which is very rare in this day and age.
Knockdhu mature anCnoc in American Oak ex-Bourbon and Spanish Oak ex-Sherry barrels, laid up in dunnage warehouses. Their newly built warehouse features thick granite walls, the stone taken from one of the original buildings, resulting in very stable temperatures and very consistent maturation.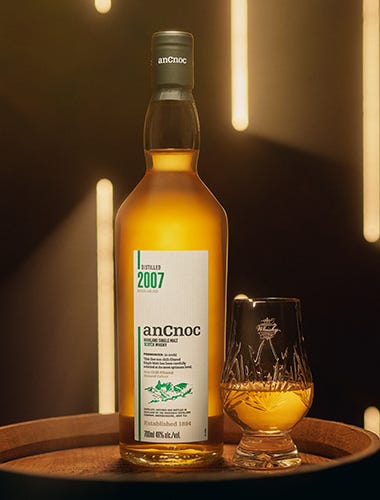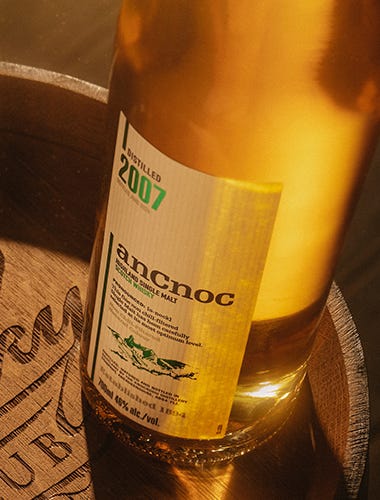 Distillery Facts
Origin: Knockdhu Distillery, Knock by Huntly, Aberdeenshire AB54 7LJ United Kingdom
Water Source: Four springs from Knock Hill and Ternemney Brook
Stills: 2 (1 wash, 1 spirit)
Capacity: 1,750,000 litres per annum
Stop scrolling. Start dramming.