December 2020
Archie Rose Solera Strength Rye
Vanilla éclairs and sherbet, apricots and peaches, toffee, ice-cream and creaming soda. The three-time-voted World's Best Rye Whisky just got an upgrade, and here it is: Archie Rose Solera Strength Rye, Created Exclusively for the Club.
Australia
Colour Amber with copper highlights
Nose A tantalising tension between sweet and savoury. Vanilla éclairs and sherbet. A second pass continues with sun-dried apricots, muesli and rice pudding. Time in the glass reveals cola, creaming soda and toffee.
Palate Peach cobbler with vanilla ice cream and caramel sauce.
Finish A subtle combination of caraway seed with sweet spices. A hint of salinity balances the sweetness.
Overview
The World's Best Rye Whisky just got an upgrade! Archie Rose has taken its three-time-voted World's Best Rye Whisky and bottled it at solera strength just in time for Christmas, and just for the Club!
Meticulously hand-crafted with a unique mix of malted rye (75%) and malted barley (25%) then matured in carefully selected virgin American oak casks, but the real magic happens when it's then added to the solera vat to combine with a portion of every batch of whisky the distillery's ever released.
The result? Try a drool-worthy combo of vanilla éclairs and sherbet, apricots and peaches, toffee, ice-cream and creaming soda. Bottled straight from the solera at 52% ABV, non-chill filtered and non-coloured.
The regular release blew the judges away at 46% when it won World's Best, and the critics raved too: Nick from Whisky Waffle said "This whisky has turned the page, it's begun a new paragraph and inserted a new heading in bold, with underline and italics. This is a whole new chapter in the Australian whisky story."
And Franz Scheurer of Australian Gourmet Pages and Gourmet Traveller Wine magazine wrote "Layered and complex and a pure joy to drink. The best bloody rye whisky in today's world."
So imagine what they'd think of this!
Orders for Archie Rose Solera Strength have closed. Sign Up Free to Australia's biggest whisky community now to get incredible single malt whiskies delivered straight to your door.
THE SPECS
Maturation: Virgin American oak, solera
Ready to enjoy a world-class whisky collection?
Your free Club Membership gives access to exclusive single malt from Scotland, Australia and the world's best distilleries. Enjoy the unrivalled buying power of Australia's biggest whisky club.
Archie Rose's History
A name that's made quite a splash in the Australian drinks scene over recent years, Archie Rose was built on the spirit of sharing - the distillery's ethos is to let as many people have the chance to try their small batch whisky, rum, vodka and gin as possible.
Archie Rose was founded by Will Edwards who was at the time in the early stages of a high-flying corporate career. He'd long held a passion for spirits and spent much of his time during his university days dabbling with homebrew, spirit-based infusions, oak maturation, and studying up on the chemistry and engineering of distillation. The passion finally got the better of him, and he decided to bite the bullet and realise his dream. But one question lingered on his mind… "Why weren't there more distilleries in Australia, specifically in the cities, and could one be established?"
A trip to New York and Tasmania had this question answered, and before long Archie Rose was becoming a reality. In what ended out being a massive learning curve, Will picked the brains of the best local experts, including Bill Lark, still-maker Peter Bailly and Adam Bone from Tasmanian Cask Company who steered him in the right direction for success.
The Archie Rose Distilling Co was founded in 2014, the doors of the Rosebery distillery, just 5km from the Sydney CBD, swinging open in March 2015. Heading up production is Master Distiller Dave Withers, the rebellious son of a wine making family who chose to go down the spirits path instead.
This rebellious nature has extended into the distillation process to some extent… Will and Dave are more than open to innovation and new ideas. "What we also talk about a lot is 'meaningful innovation.' We're not trying to do something different so we can talk about it on a box or website. If an old process already works, we're not going to change it, but we're also focused on taking the time to test and iterate and to find a better way" says Will.
Dave adds that they're "not so constrained by a single idea of what a local Australian whisky should be. It's more about what an Australian whisky could be. At Archie Rose, we really take that idea to heart" and "It's also about respect, right? If it took a farmer a whole year to grow the grain, or if it took a barrel 30-years in a winery to make it into your hands, the least you can do is take the time and care, to get the best flavour and character out of that ingredient as you can."
Makes perfect sense, and it's paid off in dividends, with Archie Rose in next to no time becoming a very highly awarded distillery – their range of handcrafted whisky, gin and vodka having caught the eye and palate of judges around the world and picked up awards including Best Australian Whisky, World's Best Rye Whisky, World's Best Gin & Vodka, and they won a Global Distillery Masters Medal for Customer Experience. Will won Australian Young Entrepreneur of the Year in the Hospitality & Tourism Category in 2018 and has even been listed in the Forbes 30 under 30 in 2017.
Riding on this success, and the ever-increasing demand from the public for more, a brand-new bigger distillery was opened in November 2020, just 4km south of the original site, on the border of suburbs Botany and Banksmeadow.
"In terms of production scale this new distillery is a significant step towards fulfilling our ambition of showcasing Australia's incredible ingredients and innovation in distilling globally and giving more people the opportunity to drink quality, local spirits," says Will. "The innovation and flexibility we have therefore built into the new distillery is, as far as we know, unprecedented at this scale, and allows us to absolutely commit to techniques and processes we've spent the past six years delving deep into at our Rosebery distillery, including specialty roasted local malts, cold-distilled botanical distillates and individually distilled malt whisky streams."
Built to Will and Dave's design, it's one of the most innovative distilleries in the world. They've upgraded from a traditional full lauter mash tun to a mash filter (one of only a handful in the world used in distilling) to better process and extract flavour from each of their seven malts, which include specialty roasted local malts and heritage varieties grown just for Archie Rose.
The party pieces though must be their two new copper pot whisky stills. The stills both have neck cooling jackets allowing the production team to adjust the reflux and style of spirit in a way that could typically only be achieved by altering the shape of the still. Each spirit produced can therefore be customised and refined to accentuate the flavour of the malt and suit the nominated cask type and size.
After almost four years of development at the Rosebery site, the team's also begun a patented "individual malt" process for producing whisky, whereby each malt in their six-malt mash bill is milled, mashed, fermented, distilled and matured separately, allowing tailoring of every step of the production process: yeast selection, cask type and maturation conditions to each specific malt, rather than having to settle for "average" conditions that suit the whole mash bill.
And that's just the whisky side of the distillery.
Packaging, raw materials and offices are now under the one roof, and the new site also gives Archie Rose a centralised bond store, making it much easier to monitor the maturation of their whisky. Alongside that is a drinks lab where the team can put together their bottled cocktails and develop new and exciting products.
Additionally, the new site is more efficient, reducing power, gas and water usage by more than 30%, while all the spent grain, botanicals and pot ale are able to be recycled for use as fertiliser and livestock feed.
With huge production capability, innovative ideas and a wide and exciting product range, the future of Archie Rose is very exiting indeed.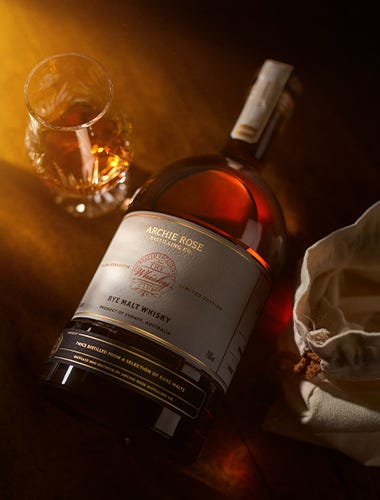 Distillery Facts
Origin: 85 Dunning Ave, Rosebery, NSW 2018
Water Source: Sydney water, with four filtration steps
Washbacks: 8 with water jackets
Capacity: 110,000 litres per annum (excluding white spirits)
Ready to enjoy a world-class whisky collection?
Your free Club Membership gives access to exclusive single malt from Scotland, Australia and the world's best distilleries. Enjoy the unrivalled buying power of Australia's biggest whisky club.
Stop scrolling. Start dramming.