April 2023
Ardnamurchan Oloroso Single Cask
Loaded with salted caramel, warm Sherry notes, oily oranges and dark chocolate, get the first Ardnamurchan first-fill Oloroso hogshead single cask to be released in Australia, created exclusively for The Whisky Club by the biggest new players in Scotch.
United Kingdom
Nose Oranges and raisins with rich salted caramel alongside warm Sherry notes.
Palate Oily oranges, sultanas and toffee with almonds, a touch of nutmeg and dark chocolate mousse.
Finish Lovely, long and fruity, dried apricots, coffee grounds and more dark chocolate.
Overview
Ardnamurchan first-fill Oloroso hogshead single cask. If you know your whiskies, you know you need to get your hands on a bottle of this.
It's no secret whisky nerds the world over are hotly pursuing everything coming out of this ground-breaking Highland Distillery. In fact, Ardnamurchan has such a following they were selling out their work-in-progress spirit before it could even legally be called whisky, and their first two releases sold out worldwide in minutes.
Since then, Scotland's greenest distillery has only released a mere handful of Sherry single casks, but when they do, they don't last long because they're in such crazy demand.
This is the cult distillery's first-ever Oloroso single cask to be released in Australia, and it was hand-selected exclusively for Australia's biggest whisky community.
Loaded with salted caramel, warm Sherry notes, oily oranges and dark chocolate, matured in first-fill Spanish Oak ex-Oloroso Sherry Hogshead CK1309 and weighing in at 59.2% ABV, one sip and you'll see why whisky lovers everywhere want to get their hands on this distillery.
Orders for Adnamurchan Oloroso Single Cask have closed. If you're not yet, join free now to grab our next release.
THE SPECS
Maturation: First-fill Spanish oak ex-Oloroso Sherry Hogshead
Ready to enjoy a world-class whisky collection?
Your free Club Membership gives access to exclusive single malt from Scotland, Australia and the world's best distilleries. Enjoy the unrivalled buying power of Australia's biggest whisky club.
Ardnamurchan Distillery's History
Ardnamurchan Distillery's history can be traced back to the early 2000s, when Alex Bruce from independent bottler Adelphi started looking into building the company's own distillery. He had a particular interest in the Ardnamurchan Peninsula, a remote "finger" that extends out to the most westerly point of mainland UK, and is ust north of the Isle of Mull. While there had never been a legal distillery on the peninsula, its remoteness and supply of natural resources certainly helped it become home to many an illicit still back in the 18th century.
With a site chosen around halfway along the peninsula in the small village of Glenbeg, the construction of Ardnamurchan Distillery began in 2012. It was completed in just over two years, with the distillery's first cask being filled in May 2014. There's no mistaking the buildings as anything other than a distillery either; the design was inspired by traditional Scottish distillery architecture and features pagoda roofs and white-washed walls. But don't let the old-fashioned buildings fool you - inside is an incredible blend of traditional whisky-making and high-tech.
All the power and heat requirements for the distillery are local and renewable – the Glenmore River that provides the distillery's cooling water has a hydro-electricity generator and heat is provided by a biomass boiler that's fuelled by woodchips supplied by the local forestry industry. Not only that, but all by-products are recycled right there on the peninsula – the draff is fed to the sheep, deer and cattle that live on the estate, and the pot ale is used as fertiliser on fields. Of course, this also reduces the number of trucks on the road - every truckload of waste that doesn't need to be taken away is another truckload of animal feed that doesn't need to be brought in.
Barley is sourced from the estate of one of the owners and is used to make a 50:50 split of unpeated and peated whisky, again using locally sourced peat, and every drop of water used in the whisky comes from springs above the distillery. After mashing, both wooden and stainless steel washbacks are used for very long fermentation times ranging from 72 to 120 hours. The wash then heads to a pair of traditionally shaped copper pot stills, which are heated by biomass and feature shell and tube condensers, which are outside the stillhouse. The spirit still also features a boil ball.
The result is a new make that's full-bodied and flavoursome; creamy, fruity and a bit peppery. It's filled into Woodford Reserve ex-Bourbon barrels, PX and Oloroso Spanish hogsheads, and both Spanish and American oak Sherry butts, then matured on-site. And if you want to know more about your bottle of Ardnamurchan, the distillery use blockchain technology and QR codes to provide detailed information about the age, cask type, maturation process and more for each of its whiskies; a level of transparency that is rarely seen.
Despite its relatively short history, Ardnamurchan Distillery has already made quite a name for itself in the world of Scotch. Its commitment to traditional methods and transparency, and downright delicious drams have earned it a loyal following among whisky lovers, and helped Ardnamurchan win awards like Best New Distillery at the Online Scotch Whisky Awards, as well as Sustainable Distillery of the Year and Brand Innovator of the Year at the Icons of Whisky Scotland. Ardnamurchan is also committed to supporting the local community and promoting sustainable tourism to the peninsula, offering guided tours and tastings, and its Visitors' Centre showcases the history and traditions of whisky production in the region.
Ardnamurchan Distillery is a remarkable success story, having already increased its production capacity, and it plans to continue releasing more new expressions in the coming years. With its stunning location, commitment to traditional methods of producing some of the finest single malt in Scotland, and focus on sustainability, Ardnamurchan Distillery is poised to become one of the leading lights of the Scotch whisky industry.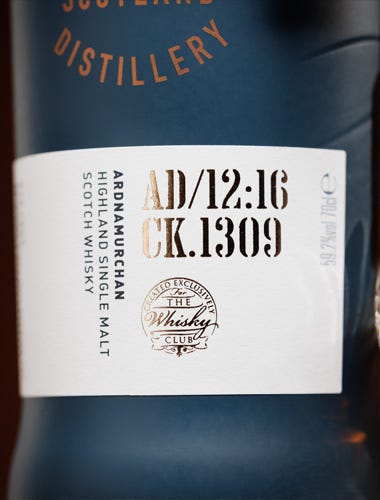 Distillery Facts
Origin: Ardnamurchan Distillery, Glenbeg, Ardnamurchan, Argyll, PH36 4JQ, United Kingdom
Water Source: Glenmore River and springs above the distillery
Washbacks: 7 (4 oak and 3 stainless steel)
Stills: 2 (1 wash, 1 spirit)
Capacity: 500,000 litres per annum
Stop scrolling. Start dramming.