June 2020
Bakery Hill Belgian Barley
A very special (and delicious!) limited-edition Bakery Hill Double Wood from Australia's oldest mainland whisky distillery, created exclusively for the Club's enjoyment by Aussie whisky legend David Baker himself.
Australia
Nose Caramel, green apples, bubblegum, liquorice and butterscotch
Palate Peanut butter, dark chocolate, sweet raisins, vanilla and coffee
Finish Lovely length, liquid legs clinging to the glass, long and full, with malted milk and caramel
Overview
The story of this spectacular whisky begins back in 2012, when a Belgian maltster offered David the chance to buy some Pilsen Malt, a type of malted barley rarely used for whisky.
Impressed by the samples, David developed custom milling and brewing techniques to showcase the malt's distinctive character, intending to eventually create an extremely complex Double Wood. He initially matured the spirit in a 225L American oak ex-Jack Daniels cask and six years later transferred it to virgin French Oak for a further eleven months before bottling at his preferred cut of 55.25% ABV.
The result is spot on and exactly why Bakery Hill has endured as one of Australia's best whisky distilleries; rich and tongue-coatingly full, this gentle, complex malt opens with butterscotch, green apples and bubblegum on the Nose, leading to peanut butter, dark chocolate, sweet raisins and vanilla on the Palate and Finishes long and full with malted milk and caramel.
Strictly limited numbers, Sign Up free now to get your hands on this superb Australian single malt when it becomes available for Exclusive Member Add-In on Friday 5 June at the very special Member price of just $195.
THE SPECS
Maturation: Matured for six years in a 225l Jack Daniels American Oak barrel, then transferred into a Virgin French Oak for a further 11 months
Ready to enjoy a world-class whisky collection?
Your free Club Membership gives access to exclusive single malt from Scotland, Australia and the world's best distilleries. Enjoy the unrivalled buying power of Australia's biggest whisky club.
Bakery Hill's History
Founded in 1999 by former food scientist and high-school educator David Baker, Bakery Hill Distillery was the first whisky distillery established on mainland Australia after Bill Lark set the ball rolling for the Australian whisky industry ten years prior. Located in the Melbourne suburb of Bayswater, it's one of only a handful of distilleries in Melbourne.
The name Bakery Hill refers to not only David's name, but to a key location in the Eureka Stockade, an event which formed part of his inspiration to create a distillery to prove that great single malt whisky didn't have to come from Scotland (or, for that matter, Tasmania).
Having decided it was well and truly Victoria's turn to be in the whisky spotlight, nothing was left to chance. David contracted a company from the UK to build his still, and after consultation as to the style of spirit to be produced, the still was built and delivered to Melbourne, with delivery, setup and initial production overseen by the engineer who designed it himself.
The art of distillation and maturation was perfected over the next few years, and finally it was time to unleash Bakery Hill to the public at 2003 Australian Malt Whisky Convention in Canberra. The distillery launched with three unique single malt whiskies that soon achieved high acclaim both locally and abroad: Bakery Hill Classic Malt, Double Wood and Peated Malt, soon to be joined by the cask strength Classic Malt Cask Strength and Peated Malt Cask Strength and a range of other special releases such as Sovereign Smoke - Defiantly Peated.
Initially Australian Franklin Malt was used but nowadays Australian Schooner barley is used for the Classic and Double Wood, and the peated whisky is made using malt from the UK and New Zealand.
All Bakery Hill's releases are 100% handcrafted and are matured in small oak casks in their own bonded store. Many Australian distilleries use wine casks to mature their whisky, but Bakery Hill almost exclusively use American Oak ex-Jack Daniels barrels, allowing the spirit to shine on its own merit.
The 225 litre barrels are rebuilt into 100 litre barrels at Melbourne's own Heritage Coopers. This is considered the perfect size for whisky maturation in Melbourne's climate with the higher ambient temperature and large temperature fluctuations across the day, along with the relatively low humidity, causing the cask to "breathe", oxidising and exposing the whisky to the oak at a higher rate, accelerating maturation. In addition to the American Oak, some 50, 100, and 200 litre French Oak casks are filled for use in the Double Wood.
It's always hard to keep a good thing a secret, particularly when the likes of Jim Murray bestow you with "The Best Small Distillery of the Year" (2005) and Southern Hemisphere Whisky of the Year" (2020). So, while international demand for Bakery Hill has continued to grow, and production has been maximized, David and the team, being the true Aussies they are, wanted to keep their local supporters happy. He's resisted the temptation to export everything and has scaled back international supply in favour of looking after the local market that's supported him from the start.
David's education background has also spurred Bakery Hill to actively encourage whisky knowledge, and regularly provide education sessions, tastings and whisky experiences for locals and tourists alike. Their popular Whisky Masterclasses have been run for over 10 years now, educating people about all facets of whisky production, right through to guided tastings.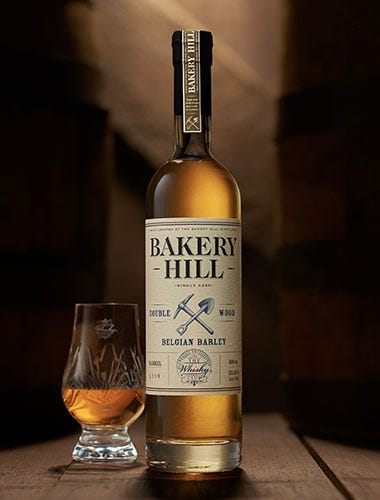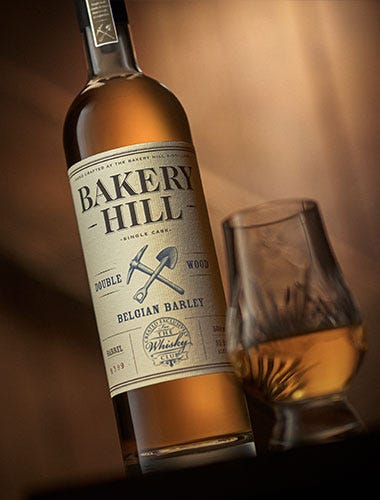 Distillery Facts
Origin: 1/20 Gatwick Road, North Bayswater, 3153, Victoria
Water Source: Chateaux Silvan
Washbacks: 2 x 2000L stainless steel fermenters
Stills: 1 x 1200L John Dore still
Ready to enjoy a world-class whisky collection?
Your free Club Membership gives access to exclusive single malt from Scotland, Australia and the world's best distilleries. Enjoy the unrivalled buying power of Australia's biggest whisky club.
Stop scrolling. Start dramming.