May 2019
Straight from one of Scotland's oldest Highland distilleries to Australia's biggest Club of whisky lovers, our May 2019 whisky was the official Australian launch of the hugely anticipated new Balblair 12 Year Old Single Malt.

United Kingdom
Nose Elegant bright lemon peel layered with creamy vanilla and crisp green apples
Palate Ground spices and dried orange slices enveloped in intense set honey sweetness
Finish Creamy and leathery with notes of sweet vanilla
Food Match Hot-smoked salmon niçoise salad
Overview
With all this history and tradition, it should come as no surprise that Balblair value their traditional methods of whisky production.

As is the case with many of the workhorse distilleries of Scotland, only around 10% of the 22,500 casks maturing in the eight traditional earthen floored dunnages is actually reflected or earmarked as Single Malt. The remainder finds its way into world-renowned blends such as Chivas Regal, Ballantines & Hankey Bannister.

Balblair uses several varieties of barley with minimal peat levels of 1-2 PPM, and its silos have a 30 tonne collective capacity, meaning that the distillery can operate self-sufficiently under the worst winter conditions for up to 3 weeks. At Balblair, one tonne of barley produces just over 400 litres of spirit and production reaches 1.3 million litres of new make spirit annually.

Mashing (in stainless steel) takes place in three stages over a six hour timeline; firstly at 65C, secondly at 82C and finally at 92C. This slower natural drainage system assists in giving Balblair spirit its fruit driven characteristics by releasing the fatty compounds in the sugary wort of the mash. Fermentation takes place in six traditional Pine Oregon washbacks, each containing 21,500 litres of fermenting liquid at different times in the process. At 62 hours, the fermentation is one of the longest in the industry; this is to allow the micro-flora bacteria held in the wood of the washbacks to impart a secondary minor fermentation. The result of this is a sulphury/meaty note to the new make. Now, this might be something you'd wonder why they would possibly want to do, but the end result is worth it… the sulphur lifts to reveal those delicate, delicious fruits, while the meatiness changes and brings sweet toffee notes and, after extended ageing, a notable spiciness. Once finished, the fermented wash is in essence a fruity strong ale of around 8-9% ABV.

Distillation is done in two large stills, one wash and one spirit, which have very large, bulbous bases with thick necks to achieve the heavier, robust & oily spirit preferred by Balblair. Lyne arms run through the still-room wall to copper condensers that cool the vapour back into liquid new make spirit ready for Cask maturation. Maturation occurs in a mix of 95% American Oak ex-Bourbon casks and 5% European Oak ex-Spanish Sherry Casks.

The new Age Statement range from Balblair features 12, 15, 18 and 25 year old expressions, all of which are exclusive to the Club in Australia, with the 12 Year Old featuring as our Whisky of the Month this May. Having spent a dozen years in American oak ex-bourbon and double-fired American oak casks, it brings an elegant complexity and warmth.

Natural in colour and non-chill filtered, and bottled at a warming 46% ABV, Balblair 12 Year Old takes the gentle charisma of the Highlands, steps it up a notch, and puts it in a bottle.
THE SPECS
Maturation: Matured in American oak ex-bourbon & double-fired American oak casks
Ready to enjoy a world-class whisky collection?
Your free Club Membership gives access to exclusive single malt from Scotland, Australia and the world's best distilleries. Enjoy the unrivalled buying power of Australia's biggest whisky club.
Balblair's History
Balblair, by its very name (which means battlefield), is laden with history and is the Highlands' oldest operating distillery. Residing in the heart of Clan Ross territory, near the banks of the beautiful Dornoch Firth in the rugged shadow of Struie Hill, and with inter-generational Ross men still working at the distillery to present day, this mystical distillery and site was officially licensed in 1790, however records have found the distillery was in existence as early as the 1740s.

The last witch of Scotland was burned at the stake nearby, and looking back even earlier to the 6th century, evidence of the mythical Pictish tribes can be found on the site in the form of the "Clach Biorach" or Balblair standing stone. This is believed to have been a place of tribal community gatherings, with carvings and depictions of the mythical Pictish beast that can be seen dating back hundreds of centuries. The unique Z-rod symbol was engraved to represent the passage of time and today reflects Balblair's dedication to craftsmanship, forming part of the their packaging and contributing towards a common thread of mystery and intrigue throughout the distillery's philosophy.

The picturesque village of Edderton in Tain where the distillery resides is also known as the "Spirit of the air" having been credited by an EU 2006 university study to boast the cleanest air in all of Scotland. Water sourced from the Allt Dearg flows from the surrounding Highland hills and is used to this day.

Officially founded by John Ross in 1790, Balblair is home to one of the oldest archives to survive in the world of distilling. The very first entry in the ledger, by John Ross himself, read "Sale to David Kirkcaldy at Ardmore, one gallon of whisky at £1.8.0d", and was dated January 25, 1800. It would certainly make some interesting reading, we're sure...

The distillery became a true family affair, the Ross clan running the distillery for some 100 years, before finally selling to Alexander Cowan, a successful wine merchant from Inverness, in 1894. Operations were moved to a new location just half a mile up the road - a strategic move to take advantage of the new Inverness and Ross-shire Railway line. The new location was also nearby a 'burn', but the quality of the water was found to not be nearly as good as that of the Allt Dearg, so the decision was made to continue using the water from the distillery's original source.

As we've seen time and time again, the early part of the 20th Century was a tough time for distilleries, and in 1911 the doors were closed on Balblair, not to open again until World War II when it was taken over by the army.

The sleeping giant was finally awoken by Robert 'Bertie' Cumming, the owner of Old Pulteney, buying the site for some £48,000 in 1948. In 1949 the first new make was barrelled in decades, and Cumming set to work expanding the plant and increasing production, with the distillery's first steam boiler and extra warehousing added in 1964.

The hard work paid off and by 1970 Bertie was ready to retire, and Balblair was snapped up by Canada's Hiram Walker (which became Allied Distillers down the track). In 1996 the distillery was purchased by Inver House Distillers, who still own it to this day.

Single malt production was never huge, bottlings only happening on occasion, until the release of Balblair Elements in 2000. Things really changed in 2007 when all new packaging saw the introduction of 'vintage' releases, a concept The Glenrothes had been experimenting with for a few years already. This move shot Balblair into the limelight, with a whole new world of whisky lovers enjoying the 1997, 1989 and 1979 expressions. The vintages changed as years went on and the barrels went dry, and in 2013 Balblair released the 2003, 1990 and 1983 vintages.

Following hot on the heels of The Glenrothes yet again, in 2019 Balblair started to wind down production of its vintage bottlings to special limited releases, and introduced more traditional, easily understood age statement whiskies with a focus on super premium quality. Launching with 12, 15, 18 and 25 Year Olds all bottled at 46%, all exclusively available at The Whisky Club, Inver House Distillers has described the move as 'a new era for Balblair'.

Distillery manager John MacDonald said "As one of the oldest working distilleries in the Scottish Highlands, Balblair has a long and rich history of crafting premium single malt Scotch whisky. Our new collection is intrinsically linked to our heritage and is testament to the place and the people behind our whisky, while being emblematic of our 'True Highland Spirit'."

It's this rich history and heritage that truly makes Balblair one of the jewels in the crown of Scottish whisky distilleries.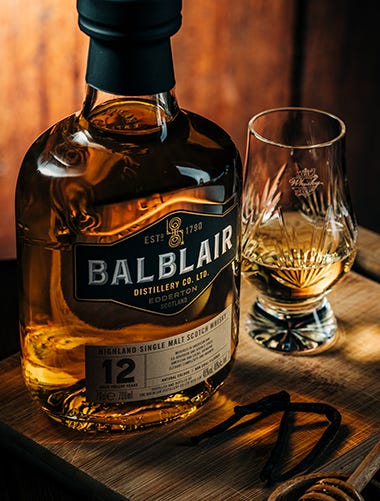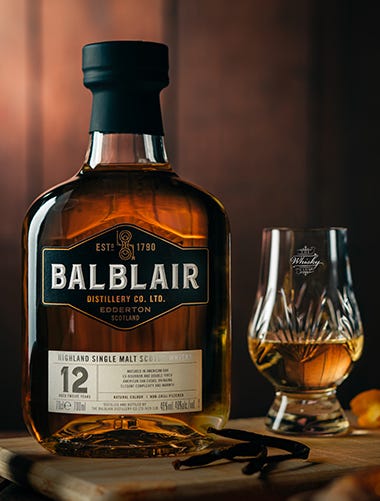 Distillery Facts
Origin: Balblair Distillery, Edderton, Ross-shire, IV19 1LB, United Kingdom
Water Source: Allt Dearg Burn
Stills: 1 wash and 1 spirit
Capacity: 1,600,000 litres per annum
Ready to enjoy a world-class whisky collection?
Your free Club Membership gives access to exclusive single malt from Scotland, Australia and the world's best distilleries. Enjoy the unrivalled buying power of Australia's biggest whisky club.
Stop scrolling. Start dramming.