June 2023
Balcones Montilla Sherry American Whisky
Created exclusively for the Club by the 2023 American Single Malt Distilery of the Year, Balcones, this is a rare triple Sherry finished single malt matured in Amontillado Dulce, Moscatel Dorado and Oloroso Sherry casks.
United States
Nose Orange blossom with vanilla cream, dried fruits of golden raisins and apricots, milk chocolate and toasted almonds.
Palate Mandarin & plums, peach syrup and jammy figs alongside fresh raspberries, sweet spice, and macadamia biscuits.
Finish Long, fruity, and oily. Marmalade, orchard fruit strudel with a dash of cinnamon and dark berry chocolate.
Food Match Charcuterie board with a range of cured meats and semi-dried tomatoes paired with dried fruits of golden raisins and apricots.
Overview
It's not every day you get the chance to try world-first whisky. Using a rare triple Sherry finish and the same barley masters of Sherry cask maturation The Macallan used in its most highly revered Sherried malts, Balcones is back with a truly exquisite whisky made only for Members.
Balcones "paints with the brush of the masters," as Director of Spirits Gabriel RiCharde says, by using Golden Promise Barley, the very same barley The Macallan used in its iconic Sherried whiskies of the 70s through to the early 90s, to build a classically rich, oily and nutty foundation that's perfect for a big, luscious Sherry cask maturation.
And these are three exceptional Sherry casks: Oloroso casks more than 80 years old, and Amontillado Dulce and Moscatel Dorado casks more than 40 years old. Moscatel Dorado casks are extremely rare, and Amontillado Dulce no longer exists as a category in Sherry— this is truly a one-off whisky.
Jam-packed with a triple layering of flavours that everyone loves in Sherried whiskies like fresh raspberries, golden raisins, jammy figs, Macadamia biscuits, toasted almonds and dark berry chocolate with a long, fruity and exquisitely full-bodied finish. This isn't a Sherry bomb — it's a Sherry blockbuster.
One sip and you'll see why the Texan titans are Member favourites. Our first collaboration with the distillery, the triple Portuguese cask, Balcones Portucale, won gold and Best in Class at The Whiskies of the World awards. Our Members voted it their second favourite Add In whisky of 2022 and it sold out in less than 24 hours.
A few Members were lucky enough to taste a sample and were blown away. Their thoughts ranged from "Oh wow" to "This is a little glass of heaven."
It'll never happen again, and you can't try it anywhere else but here at Australia's biggest community of whisky lovers. Join the Club free now to get one of the last remaining bottles.
THE SPECS
Maturation: Finished in Amontillado Dulce, Oloroso and Moscatel Dorado casks
Ready to enjoy a world-class whisky collection?
Your free Club Membership gives access to exclusive single malt from Scotland, Australia and the world's best distilleries. Enjoy the unrivalled buying power of Australia's biggest whisky club.
Balcones Distilling's History
Just as we've seen in Australia, the USA's experienced a boom in craft brewing and distilling in recent years. While most are producing Bourbons and other American-styled grain-based whiskeys, there are a handful of distillers turning out world-class single malts. At the forefront of this movement is Waco Texas-based Balcones Distilling.
Founded in 2008 by lovers of single malt Scotch, there was never any question as to whether there'd be an 'e' in their whisky or not. And while American distilleries tend to be named after their founder, the same approach was taken as many Scottish distilleries; naming the distillery after its location, or a nearby geographical feature. To that end, the name Balcones was chosen, after the Balcones fault line that runs across Texas. Even the logo is an artistic representation of the tectonic plates meeting at the fault line. Formed millions of years ago, the Balcones fault produced many natural springs around Texas, supplying early settlers with fresh water, and today provides the distillery with crystal clear water.
An old welding shop tucked away under a bridge was taken over, and then given a makeover including a shiny set of copper pot stills which were finally brought to life in 2009. Balcones Baby Blue became the first Texas whisky on the market since prohibition the following year, followed by Balcones Texas Single Malt, which picked up World's Best Single Malt Whisky at the 2012 Best in Glass competition.
Business boomed and soon Balcones had outgrown its rather cramped 2,000 square foot (around 185m2) building. More space was needed, and in 2011 the old Texas Fireproof Storage Co. building was purchased. This 65,000 square foot (around 6,000m2) concrete, steel, and brick facility located in downtown Waco was built in 1923, and immediately became the new home for all of Balcones' barrels. Meanwhile, plans for a complete, world-class distillery fit-out for the site were underway.
2014 was a big year for Balcones, not only being named U.S. Craft Whiskey Distiller of the Year at 2014 Icons of Whisky, but at long last, work was underway on the new distillery. The new build was to preserve the character of both the building and the whisky while increasing production capacity tenfold. They installed an 80+-year-old mash tun that was originally from the Speyburn distillery, seven large fermentation tanks or washbacks were installed outside the back of the building, complete with glycol cooling jackets to keep the wash at the optimum temperature as it ferments, and four copper pot stills made by the legendary Forsyths of Scotland. Now, these stills are far from ordinary...
Heated by steam injection, the stills were designed to be scaled-up versions of the original ones, however, there was a problem. To properly make larger versions of the original spirit still, the lyne arms would have been so long they'd end up in the next room. That wasn't going to work, so the team at Forsyths fabricated unique helical coiled lyne arms instead of the traditional gooseneck style, to ensure copper contact remained unchanged from the original distillery. And they look spectacular.
The new distillery was finally completed and the doors were swung open in late 2016, planting Balcones firmly onto the Waco tourist map.
Balcones double distil, slow and low, giving master distiller Jared Himstedt maximum control over the flavour profile of the spirit. Maturation takes place in a wide range of barrel types, and similarly to in Australia, the higher average temperatures and rapid temperature swings Texas experiences force the barrels to "breathe" at a much faster rate than in Scotland, accelerating maturation and helping develop the big flavours Balcones has become known for.
Balcones was crowned Distilling Brand Innovator of the Year, and head distiller Jared Himstedt won Master Distiller/Blender of the Year in Whiskey Magazine's Icons of Whiskey America winners for 2019. Balcones has been recognised in awards around the world countless times, a testament to the team that pour their heart and soul into the whisky.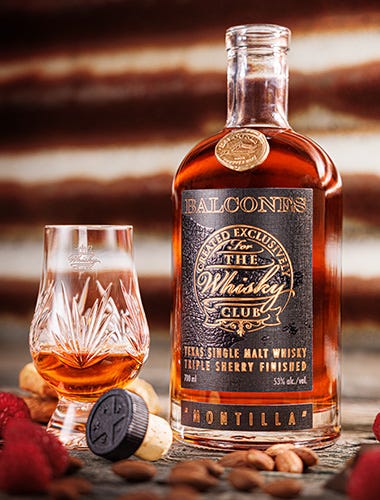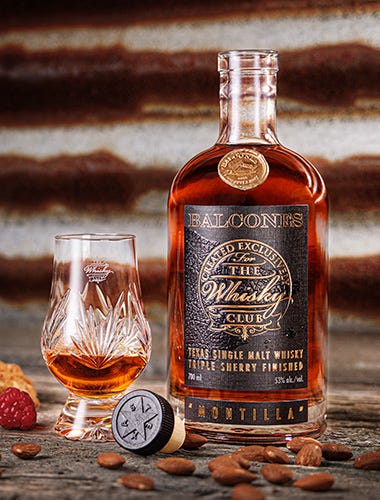 Distillery Facts
Origin: 225 S 11th St, Waco, TX 76701, United States
Water Source: Local springs created by the Balcones Fault
Stop scrolling. Start dramming.