March 2020
Belgrove Pinot Noir Single Cask
Presenting a show stopping Pinot Noir Single Cask specially selected for the Club by one of the biggest names in Tassie whisky, the one and only Peter Bignell from Belgrove Distillery!
Australia
//= /* @escapeNotVerified */ // __('Tasting notes') ?>
Nose Smooth and creamy, it's delicate on the nose with apricot jam, bubble gum and sprinkle of sherbet.
Palate Strong cereal notes, with Rye bread, nuts and grains. Nougat and some pepper mingle with citrus fruits and brown sugar. An excellent mouthfeel and pleasant, oily texture.
Finish Long and gentle, the sweetness makes way allowing a persistent rye to gently fade away.
Food Match Charcuterie board with extra salami
Overview
The March instalment of our ongoing range of champion local whiskies takes us to Belgrove in Tasmania's Midlands. Also knows as the world's greenest distillery, Belgrove is run by all round industry legend, farmer, distiller, inventor and artist Peter Bignell.
As close as you'll get to a traditional farm distillery from the 18th century, a pilgrimage to Belgrove has become mandatory for whisky enthusiasts across the globe keen to see Belgrove's zero waste, closed loop system making world class whisky from Peter's own rye-corn.
For our Club exclusive edition Peter selected a single Pinot Noir cask and cut it at 50% ABV to deliver a beautifully oily rye with apricot jam, bubble gum, nougat and just a sprinkle of sherbet!
A handful of bottles still remain, join the Club now to get your hand on one before they're gone for good.
WHISKY SPECS
Maturation: Pinot Noir Single Cask
Blegrove Distillery's History
Tasmania's Belgrove Distillery is truly a special place, and Peter Bignell is a very special whisky maker. Bignell built the world's greenest distillery in 2010, but what makes it the greenest in the world, you ask?
The distillery is zero waste and operates on a closed-loop system. In fact, the only thing that Bignell brings into the process is used cooking oil to make biofuel - but even that comes from the roadhouse just next-door to the distillery.
The biofuel plays a big part at Belgrove Distillery; it direct fires still, heats the water and also runs the tractors, forklift and other machinery on the property. Cooling water comes from the dam, and water waste is used for irrigation—often on the rye crop (of course he grows his own rye). And the spent mash is fed to the sheep.
Belgrove's grain is grown on-site, and then it's harvested and stored late in the summer. From there, the grain's malted, mashed, fermented and double distilled in his handmade and repurposed equipment. Malting is done in a repurposed laundromat tumble dryer, and the 500-litre copper pot still was built by Peter himself.
For Bignell, making whisky is a hands-on process - one that requires the senses to manipulate every step of the way, as he monitors and tweaks according to his eye, nose and tastebuds.
A visit to Belgrove should be on every whisky-lovers bucket list, a remarkable distillery run by a remarkable man.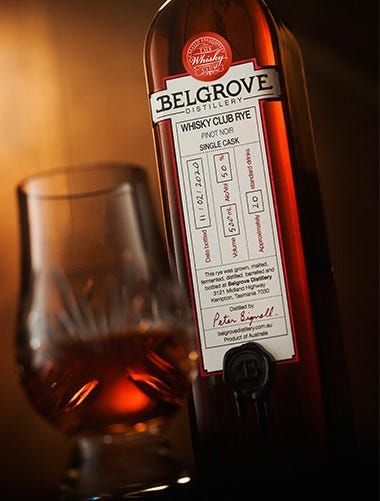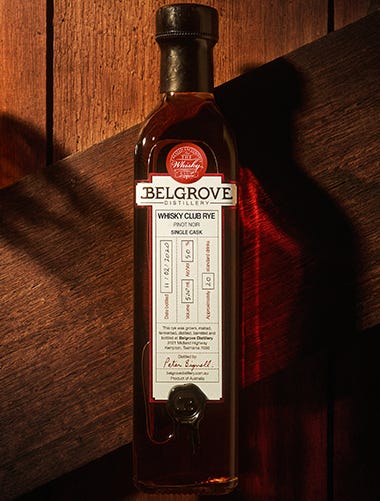 Distillery Facts
Origin: Belgrove Distillery - 3121 Midland Hwy, Kempton TAS 7030
Stills: 1 hand-built from scratch
Stop scrolling. Start dramming.