January 2023
Benriach 24 Year Old Single Cask Virgin Oak
Weighing in at an intensely satisfying 52.0% and bursting with baked apples, honey cream and sweet nectarine, this is the oldest exclusive Benriach single cask Australia's ever seen, hand-selected for the Club.
United Kingdom
Nose Honey cream and candied coconut with notes of baked apples, sweet Florida orange and toasted oak.
Palate Sweet nectarine and soft candy with vanilla, jasmine and bergamot tea, and lingering root ginger.
Finish Rich and viscous, baked stone fruits with white chocolate fudge and caramelised oak spices.
Overview
This is the oldest ever Benriach single cask to come to Australia, personally hand-selected by our good friends at the distillery and the wonderful Master Blender Dr Rachel Barrie, exclusively for the Club.
Weighing in at an intensely satisfying 52.0%, the Benriach 24 Year Old Single Cask Virgin Oak's got everything you want in a whisky, showcasing the classic Speyside flavours that everyone loves and amping them up to create an absolutely lavish whisky that's off the charts enjoyable.
It's a feast of baked apples, honey cream, sweet nectarine, white chocolate fudge and a divinely rich and viscous finish with enduring oak spices that'll linger long after the last sip.
If you like The Balvenie and The Glenlivet's single cask releases, you've found a new favourite in the Benriach 24 Year Old Single Cask Virgin Oak.
The distillery's single cask program is so highly sought-after. But thanks to our long-standing relationship with Benriach, we've secured one of their oldest uniquely slow-toasted virgin oak casks. We worked closely with Dr Rachel to make sure Members got hold of the very best Benriach before it gets even harder to find this magnificent whisky in Australia.
This is the ninth time we've collaborated with the distillery and our relationship spans all the way back to 2014. Since then, the Benriach's become a bona fide Club favourite. In fact, the Benriach is our most popular Add In of all time. Members will nab every last bottle in no time, and we don't have many to go around.
If you're not a Member of Australia's biggest whisky community, join free now to get hold of one of the last remainign bottles for $520.00.
Bottle Size: 700ml
THE SPECS
Maturation: Virgin oak hogshead
Ready to enjoy a world-class whisky collection?
Your free Club Membership gives access to exclusive single malt from Scotland, Australia and the world's best distilleries. Enjoy the unrivalled buying power of Australia's biggest whisky club.
Benriach's History
The story begins back in the mid-1870s when former publican and GlenDronach manager John Duff was about to embark on a wild ride of whisky success. A visionary and dreamer, Duff built the impressive Glenlossie distillery in 1876. He enjoyed success and growth as the whisky market went from strength to strength, prompting him to look to overseas opportunities. A move to South Africa in 1888 was short-lived thanks to the president of the country's mission against anything British, and unfazed by a similar fate to his efforts in the USA he moved back to Scotland and in 1894 partnered with George Thomson and Charles Shirres to build Longmorn Distillery.
Their malt was a hit with blenders, so after investing £20,000 into Longmorn, Duff bought Thomson and Shirres out of their shares, hoping to reap the rewards for himself. It was boom time, after all, so he decided to go all-in and punted a further £16,000 to build Benriach (meaning 'speckled mountain') Distillery in 1898. Located in north Speyside on the site of the old Riach farm, he made the most of the mineral-rich waters of the Burnside Springs, deep underground below the distillery.
It seemed like a good idea at the time. The whisky industry was booming, and conveniently Benriach and Longmorn were able to be joined by a private railroad on which 'The Puggy', a steam locomotive, used to transport coal, barley, peat and barrels. A fantastic set up by all accounts in the golden years of whisky making, but sadly the good times weren't going to last, and what seemed like a good idea at the time ended out ultimately becoming Duff's downfall.
You see Benriach was just one of at least 33 Scottish distilleries established in the industrial boom of the late 1890s to cater for consumers' ever-growing thirst for the golden nectar, 21 of which were also in Speyside… 100 points if you can guess what happened next. Yes, it all came crashing down in 1899 when Pattison's, one of the major buyers at the time, went into liquidation in what is now known as 'The Pattison Whisky Crisis'. An all-too-familiar tale of boom and bust.
The fires under the Benriach stills were soon put out, the distillery closed after only two years, though its malting floor remained in use by Longmorn. It was an unbelievable 65 years until the spirits flowed through the stills once more, when Glenlivet Distillers Ltd bought Benriach in 1965, only to sell to Seagram's in 1977. And so it continued as a second set of stills was added in 1985.
In 1994, BenRiach (note the new capital R in the name) became a brand unto itself with the release of the first-ever BenRiach 10 Year Old Single Malt. Growth ensued up to the point Seagram's was acquired by Pernod Ricard in 2001 and the distillery incredibly wound back operations to just three months of the year, only to be subsequently mothballed in 2002.
However, come 2004 the tables finally turned, and whisky history was made when the distillery was acquired by an independent consortium led by industry legend Billy Walker, backed by Wayne Kieswetter and Geoff Bell – a couple of whisky mad South Africans (funnily enough, given Duff's experience with that country). The BenRiach Distillery Company Limited was born and BenRiach won its independence.
Not keen to sit around, the guys turned BenRiach into somewhat of a cult distillery and expanded their portfolio in 2008 with the acquisition of the GlenDronach Distillery (another link to Duff!) followed by the Glenglassaugh distillery in March 2013.
Under Walker's watch, BenRiach continued their long-standing tradition of producing three styles - both peated and unpeated whisky (one of just a handful of Speyside distilleries to do so), as well as triple distilled whisky. We soon saw a wide range from BenRiach including a number of peated releases with names like Curiositas, Temporis, Importanticus Fumosus, Septendecim and Authenticus.
In 2015, The BenRiach Distillery Company won the Global Whisky Distiller of the Year at the Icons of Whisky Awards, a win that caught the attention of American giants Brown-Forman, who scooped the company up the following year for a record sum of £281 million, the three distilleries are now under the watchful eye (and nose) of Dr Rachel Barrie.
The distillery showed off a new look in late 2020, with a complete rebrand taking place including a new logo, dropping the capital R from "BenRiach", new bottle and label designs, and a few tweaks to the lineup. In keeping with the modern new look, the naming convention has been simplified, with the unusual Latinate names gone. BenRiach Curiositas is now Benriach The Smoky Ten, for example. The 12 Year Old has a new flavour profile and is now called Benriach The Original Twelve, and has been joined by a new expression in the range, Benriach The Smoky Twelve.
Benriach is famous for its incredibly wide range of whiskies. Creativity is the name of the game, with not only the three different styles of malt in production, but some rather experimental casks in use including Pedro Ximénez, Madeira, Dark Rum, Tawny Port, Claret, Burgundy and Rioja. Additionally, it's one of only two remaining Speyside distilleries to still do on-site floor maltings. Their stills are traditional onion-shaped copper pot stills, but interestingly don't have the boiling reflux bubble in the neck.
Putting the eclectic collection of casks from around the world to good use, Dr Rachel Barrie and the team continue to produce some of the richest, most multi-layered whiskies in Speyside.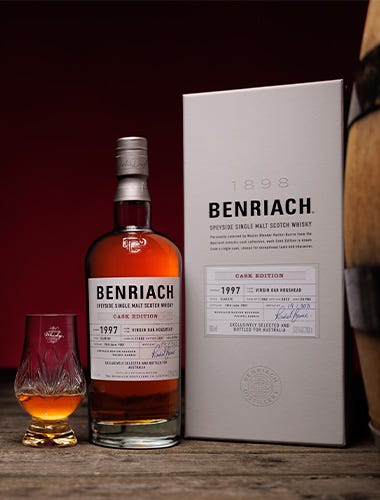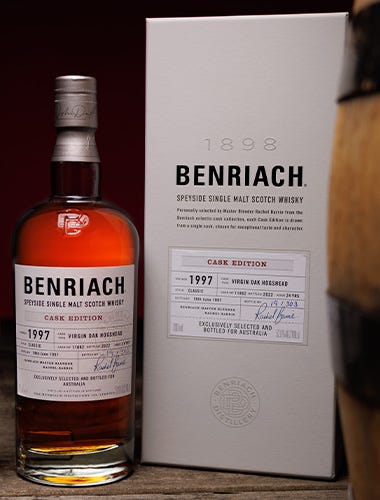 Distillery Facts
Origin: By Elgin, Morayshire, IV30 8SJ, Scotland, United Kingdom
Water Source: Burnside Springs
Washbacks: Stainless Steel
Stills: 2 wash and 2 spirit
Capacity: 2,800,000 litres of alcohol per year
Stop scrolling. Start dramming.