February 2020
Black Gate Club Exclusive Single Casks
Anyone who's had a Black Gate whisky knows they're in for a great time. In February we celebrated local whisky with a superb set of single casks from Aussie whisky's favourite husband and wife team.
Australia
//= /* @escapeNotVerified */ // __('Tasting notes') ?>
Nose Enticing port with rich forest fruits, sweetness and hints of boiled lollies.
Palate Big, rich, oily and buttery with forest fruits, rich berries and layers of complex spice, underpinned by beautiful warming subtle oak.
Finish Rich, oily and long with layers of fruit, spice, tingly pepper and complexity to boot.
Overview
Aussie whisky's favourite husband and wife team Brain and Genise Hollingsworth from Black Gate Distilery did the honours this month, selecting two fantastic single casks that best represent the essence of Black Gate's house style.
First up was Black Gate Whisky Club Exclusive BG51, a cracking Port Cask with a rich, oily and buttery mouthfeel packed with forest fruits, berries and layers of complex spice. Black Gate Whisky Club Exclusive BG59 was an absolutely belting Peated Sherry Cask oozing with dates, figs, dried red fruits and currants, underpinned by a gentle, sweet peat smokiness.
Unsurpisingly these two superb casks were snapped up by our Members in no time - make sure you join the Club now to avoid missing another local whisky exclusive!
Black Gate's History
Black Gate Distillery was the first hot-climate distillery in New South Wales, based in Mendooran, just out of Dubbo. Husband and wife team Brian and Genise Hollingworth decided to build the distillery after noticing the demand for Aussie whisky far outstripped supply. Given Brian had been an avid distiller for years, it seemed like a good idea to give it a crack, and we're glad they did! Their whisky and dark rum has gone on to high acclaim from fans and critics alike.
When establishing the distillery, the couple soon realised that they didn't have enough power to run stills, so the easiest alternative was to direct fire with LPG. Their latest still is a 630-litre pot still with a short neck that gives extra flavour, and cools through a worm tub condenser made from an old copper water tank.
The distillery started out using pale malt from Tasmania, peated post-malting with a smoker made from an old Ajax wool press, but has since moved on to mainland malt as well as heavily peated malt sourced from the UK. This is combined with Australian ale yeast and local water from the Castlereagh River.
While Black Gate brew and distil using traditional methods, the hot weather in central west New South Wales means the spirit matures quickly and tends to be on the richer end of the spectrum. Initially, Black Gate focused on using 100-litre sherry and port casks, but are now also filling 200-litre ex-bourbon casks.
After breaking the spirit down to bottle strength, it's left to rest for about two months to flock out. The unique conditions make for a distinctive brew that stands apart from other distilleries who use similar stills, equipment, wash and casks.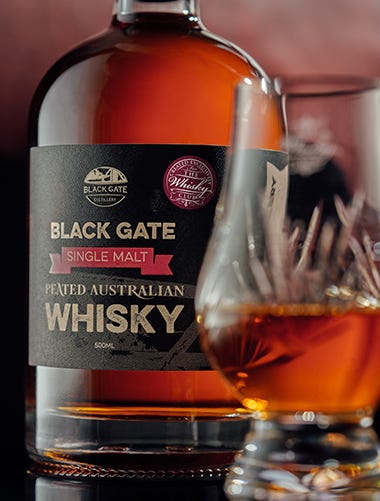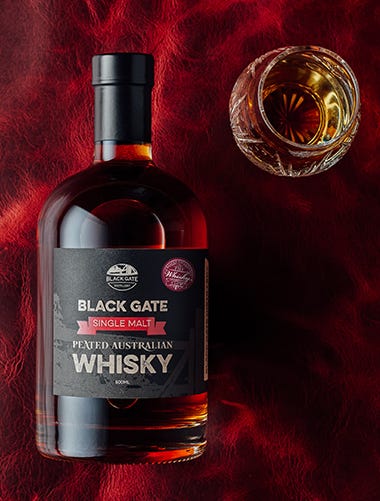 Distillery Facts
Origin: Black Gate Distillery, 72 Forrest Road, Mendooran NSW 2842
Water Source: Castlereagh River
Washbacks: 1, stainless steel
Stills: 2, stainless steel
Stop scrolling. Start dramming.