September 2019
Bladnoch Distillery's highly anticipated brand new 17 Year Old Californian Red Wine Finish Single Malt was our exclusive September Member Add-in (a special extra on-top of the superb Westward!).
United Kingdom
//= /* @escapeNotVerified */ // __('Tasting notes') ?>
Nose Rich and composed, dried fruit, coffee, cherries, toffee, vanilla and sweet oak.
Palate Lively but smooth. Spicy oak, prunes, orange marmalade, cherries, with hints of liquorice and cinnamon.
Finish Quite complex, malty, dried fruits, shortbread and spicy, lightly peppery oak.
Overview
We enjoyed Bladnoch Distillery's highly anticipated new 17 Year Old Californian Red Wine Finish as a special Member Add-in for those who wish to have a little red wine finish back-2-back competion against the superb Westward!
Aged 17 years in ex-bourbon barrels before a finish in Californian Red Wine casks, Master Blender Nick Savage created a magnificently rich and complex dram packed with juicy cherries, dried fruit, dark coffee, creamy toffee, vanilla and orange marmalade. Taking out Gold at the 2019 San Francisco World Spirits Competition, it sold out in absolutely no time! Join the Club now and never miss another one.
WHISKY SPECS
Maturation: Aged 17 years in ex-bourbon barrels and finished in Californian Red Wine casks
Bladnoch's History
For Bladnoch we're headed deep into the south of the Scottish Lowland – a Scotch whisky region we don't often visit – and a distillery that sits even further south than the Isle of Arran and Campbeltown. Bladnoch has had more than its fair share of ups and downs, not to mention a revolving door of owners, and given its location close to the sea crossing from Stranraer to Larne, it's no real surprise that it's been saved by the Irish not once but twice. This time around though its future's looking better than ever, thanks to Aussie entrepreneur and lifelong whisky fan David Prior. Pour yourself a drink and get ready to learn more about your next whisky.
The Bladnoch story started way back in 1817, when brothers John and Thomas McClelland gained a licence to produce whisky on the family farm in Bladnoch. As their whisky business grew, the buildings slowly evolved to become less farm, more dedicated distillery facility. On the whole, business was good, and the distillery remained in the family's hands until 1905, when it was closed (for the first of many times) due to over production and low sales, the same fate as much of the industry after the naughty Pattison boys went bust.
In 1911 the Irish stepped in to help when Belfast distiller Dunville & Co., who owned the Royal Irish Distillery, saved Bladnoch Distillery and continued whisky production on and off for the next quarter of a century. In 1937 Scottish powerhouse DCL (now Diageo) came out to say that Irish whiskey had no future and sparkled the biggest hissy fit in whisky history. The Irish took offence to being told their whiskey had no future, and bizarrely tried to flog Bladnoch to DCL, who refused to buy it from them, so they simply packed up their bat and ball and went home, amazingly leaving the profitable distillery, and its stock, in liquidation. Interestingly, till today Diageo (DCL) have never had any success with Irish whiskey, most notably failing to achieve success with cult status Bushmills in recent years.
Bladnoch was soon scooped up by Ross & Coulter who promptly offloaded the stock and the equipment was sent to Sweden. Things were, at this point in time, looking rather grim for Bladnoch. What was left of the distillery changed hands several times following this, though it wasn't recommissioned until the 1956 purchase by Bladnoch Distillery Ltd., this company in turn being bought by Ian Fisher in 1964. Along with this sale came a significant cash injection, the stillhouse being expanded to four stills in 1966 just in time for yet another change of ownership to Inver House Distillers Ltd. in 1973. Inver House moved it on to Arthur Bell & Son in 1983, with Bell's soon being taken over by Guinness/UD (now Diageo). Are you getting dizzy yet?
Diageo shut the distillery down again in 1993 and Bladnoch was converted to a heritage centre. Things went from bad to worse when the year after, two brothers from Northern Ireland bought the site with grand plans of converting it into a holiday village. This tragic and somewhat permanent demise of the distillery was thankfully avoided when the brothers got bitten by the whisky bug, and decided that, despite the conditions of the sale they would actually rather give making whisky a crack (or should that be a craic?) themselves. The brass at Diageo were less than keen for this to happen, and after some six years, the brothers finally negotiated permission to make a barely profitable 100,000 litres a year.
To survive, Bladnoch branched out into hosting events, tourism, and renting out their sadly under stocked warehouses to other distilleries. Resurrecting the distillery was clearly a bad business move for the brothers, who undoubtedly would have had greater success with their initial holiday village plans. Distillation ceased at Bladnoch in 2008, the facility mothballed in 2009, and it was back into administration yet again in 2014.
Timing is everything as they say, and in 2014 the timing was perfect for Melbourne entrepreneur David Prior, who was looking for his next venture having just sold his five:am yoghurt empire. It didn't take long for David to make history, becoming the first ever Australian to own a Scotch Whisky Distillery.
David Prior is not a man to do things by halves. After spending around £20m to buy the place, it took another £5m to get the distillery operating again including bringing industry legend Ian Macmillan on board as Master Distiller to oversee the revival, a job he'd done many times before and oversaw the gutting of the Bladnoch facility and its new state-of-the-art refit, and June 2017 spirits flowed once again.
2019 was another big year of change for Bladnoch, with Macmillan leaving early in the year, and ex-Macallan Master Distiller Dr Nick Savage making the move to the Lowlands, joining new Distillery Manager Neil Bulloch in the team. Additionally, their new Visitors Centre was opened, featuring an historical gallery, gift shop, the Melba Café, and a bar where visitors can sample the entire range of Bladnoch Single Malt, and Pure Scot Blended Scotch Whiskies. The centre was opened September 11 2019 by The Duke and Duchess of Rothesay (Charles and Camilla) who unveiled a plaque and signed a cask for release at a later date. After trying a dram of Bladnoch, His Royal Highness stated, "it keeps the mind, body and soul all together."
David, Nick, Neil and the team continue grow and improve Baldnoch, filling their beautiful, quintessentially Lowland grassy, malty spirit into barrels for release in coming years.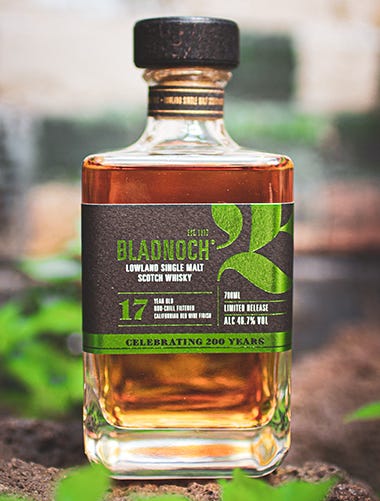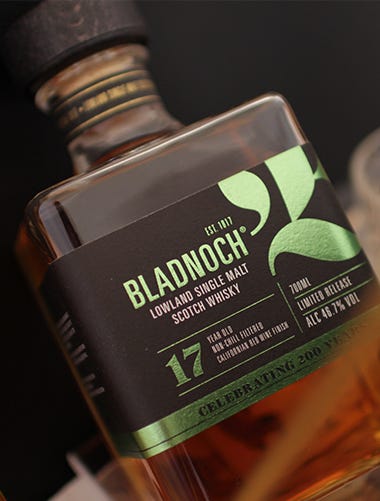 Distillery Facts
Origin: Bladnoch Distillery, Galloway, Scotland DG8 9AB
Water Source: Bladnoch River
Stills: 2 wash and 2 spirit
Capacity: 1,500,000 litres per annum
Stop scrolling. Start dramming.