December 2023
Bunnahabhain Fèis Ìle 2023 Canasta Cask
This limited edition Fèis Ìle release is from your favourite cult whisky icon of Islay. But don't worry about flying to Scotland and queueing for hours to get one — because we're bringing them straight to you.
United Kingdom
Colour Polished mahogany.
Nose Classic Sherried nose; sweet and caramelised fruits, honey roasted nuts, along with waves of cinnamon and clove.
Palate Maple syrup leads with creamy vanilla, dried figs, poached pears and a sprinkle of cocoa. A gentle twist of orange appears in the background.
Finish Long and sweet with notes of brown sugar, red apples and vanilla custard.
Overview
Treat yourself this festive season with the exquisite Bunnahabhain Fèis Ìle 2023 Canasta Cask, presented at a sumptuous 51.2% ABV and ready to be cracked open on a moment's notice for a humdinging good time.
Fèis Ìle is not only Scotland's biggest whisky festival, celebrating Islay's incredible whisky and culture, but also one of the biggest whisky festivals in the world. Every year, the island is awash with whisky fans from all over who line up for hours for the limited edition festival exclusives that Islay's distilleries bring out to mark this special occasion. And this year's focal release from Bunnahabhain is a Canasta Sherry indulgence.
If you're not familiar with Canasta, this delectable sweetened Sherry was invented circa 1860 and is made by blending a dry Sherry like Oloroso with naturally sweet Pedro Ximénez. This means you get the best of both worlds: a sweet and delicate balance of PX richness layered with those Oloroso baking spice notes, resulting in a complex whisky that'll rival your favourite Scotch Sherry bomb.
Completely unpeated, with silky waves of caramelised fruit, honey-roasted nuts, dried figs, poached pears, maple syrup and an indulgently sweet and long finish sprinkled with notes of brown sugar, this out-and-out Sherried rhapsody from Islay's icons was fully matured in rare William & Humbert Canasta Sherry casks. And of course, in true Bunna' style this single malt comes non-chill filtered with naturally occurring dark mahogany colour. It's no wonder this distillery has a cult following.
This is the perfect dram to have side by side on the Christmas table with your December Whisky of the Month, the Westward Vintage Muscat Cask.
Not a yet Member? Join free today to be a part of Australia's biggest whisky community.
THE SPECS
Maturation: Fully Matured in Canasta Sherry casks – A blend of Palomino and Pedro Ximénez grapes.
Ready to enjoy a world-class whisky collection?
Your free Club Membership gives access to exclusive single malt from Scotland, Australia and the world's best distilleries. Enjoy the unrivalled buying power of Australia's biggest whisky club.
Bunnahabhain Distillery's History
Step into the world of Bunnahabhain Distillery, where the name rolls off the tongue as 'Bunn-na-ha-venn', meaning 'mouth of the river' in Scots Gaelic. Nestled in the picturesque Bunnahabhain Bay on the shores of the Sound of Islay, it proudly holds the title of the most remote distillery on the island.
Choosing Islay's almost inaccessible northeast coast for his island dream, William Robertson (of Robertson & Baxter fame) partnered with Greenlees Brothers to construct more than just a distillery. Houses, roads, and a new pier to get barley in and whisky out were all part of the grand plan, costing a hefty £30,000 in 1881. Bunnahabhain merged with Glenrothes in 1887 to form Highland Distillers, known today as Edrington.
Bunnahabhain was widely used in blending, playing a pivotal role in many blended whiskies, in particular the iconic Famous Grouse, Cutty Sark, and Black Bottle blends.
The distillery was provided with electric light in 1894, the earliest recorded use of electricity on Islay.
1960 ushered in a new era for Bunnahabhain, with construction of a winding road to the distillery supplementing the challenging sea route, and making it easier to get supplies to the distillery. Despite the new road access, boats were still used for another 33 years, finally being retired in 1993.
Soon everyone was wanting to get their hands on a Bunnahabhain. In 1963 a second pair of stills joined the ensemble to meet rising production needs, although the same year saw the demise of the distillery's own floor maltings.
In 1979, Bunnahabhain 12 Year Old Single Malt was released to great acclaim, but the '80s were unkind to the industry. Mothballed in 1982, Bunnahabhain reopened with limited capacity two years later, finally re-emerging in the late '80s with the tagline 'the unpronounceable malt.' Even so, most of the distillery's output found its way into blends.
In 2003, Edrington handed over the distillery keys to Burn Stewart for £10 million, who in 2006 revamped Bunnahabhain's brand, unveiling a fresh look for the 12 Year Old and introducing an 18 and 25 Year Old to the lineup. By 2010, Bunnahabhain were back to bottling their whiskies non-chillfiltered, with natural colour and at 46.3% ABV.
Burn Stewart's owners, the Trinidad-based CL Financial, went belly-up in 2009. In 2013 the receivers sold Burn Stewart to its South African distributor, Distell, who promptly commenced heavy investment in Bunnahabhain. Following a 2017 packaging revamp, a three-year, £11 million distillery makeover kicked off in 2019, turning it into a 'world-class whisky destination'. Shoreline warehouses were demolished to make way for a brand new Visitor Centre, which opened in 2021.
Completed in 2022 was Bunnahabhain's Biomass Energy Centre, an industry-leading low carbon project and a model of good practice for sustainable whisky production in Scotland that results in the first Net Zero distillation process on Islay. Fuelled with a mix of spent process malt (draff) and local woody biomass, the clean burn biomass boiler is one of the cleanest systems in Europe and whisky's first example of three-zoned biomass combustion coupled with NOx reduction technology. It saves 5,500 tonnes of carbon emissions a year, representing a reduction of 95% over oil.
Bunnahabhain's stills are the tallest on Islay, however only around 47% of the stills' capacity is actually used, allowing more copper contact to create a light, delicate flavour. Maturation, usually in ex-Sherry casks, is done on-site in warehouses right on the water's edge, where the coastal sea air contributes an interesting briny undertone to the whisky.
Despite peat levels diminishing since the '60s, in recent years Bunnahabhain has been bringing peat back with around 20% of current production using peated Optic/Concerto malted barley.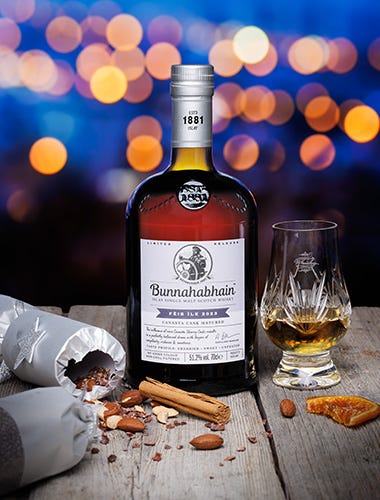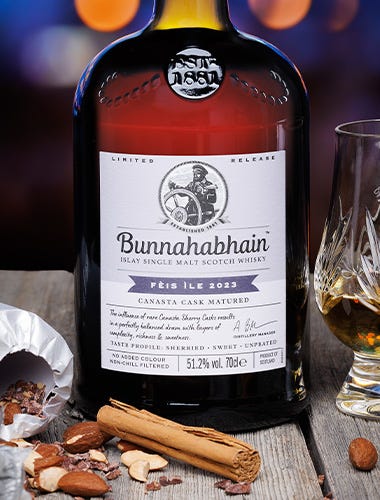 Distillery Facts
Origin: Bunnahabhain Distillery, Port Askaig, Isle of Islay, Argyll, PA46 7RP, United Kingdom
Water Source: Margadale Spring
Washbacks: 6, Oregon pine (capacity 66,500 litres each
Stills: 4 (2 wash, 2 spirit)
Capacity: 2,500,000 litres per annum
Ready to enjoy a world-class whisky collection?
Your free Club Membership gives access to exclusive single malt from Scotland, Australia and the world's best distilleries. Enjoy the unrivalled buying power of Australia's biggest whisky club.
Stop scrolling. Start dramming.