January 2023
Three decades of meticulous craftsmanship from the world's oldest licenced whiskey distillery, and only available to Whisky Club Members. This is peak luxury Irish single malt.
Ireland
Nose Rich inviting sweet aromas of raisins, figs, prunes and dates entwined with treacle toffee, soft clove and sweet spice delighted the senses.
Palate Exquisite, velvety and smooth mouth feel. Sweet hints of dates, raisins and figs followed by praline and orange peel before developing into vanilla and warm pastry notes. A truly delightful experience for the palate.
Finish Long complex finish that reminds you of the amazing number of years this whiskey has spent gaining its individual character. The dried fruit and toffee sweet notes are left lingering. The elegance and refinement of this exquisite single is enticing and de
Overview
One of the oldest and most exquisite releases ever from the legendary Irish distillery, Bushmills, is here. And it's only available to Club Members.
This masterpiece of malt was brought into being by the world's oldest licenced whiskey distillery, and was meticulously planned before a drop of whiskey went into a barrel.
"Thirty years ago, we specified the exact type, strength and colour of Pedro Ximénez Sherry we wanted to season our hand-crafted oak casks," says Master Blender, Alex Thomas.
"Pedro Ximénez is a dark Spanish fortified sweet Sherry wine made from white grapes. It's only made in specific regions, making each oak Sherry butt incredibly rare and sought-after.
Bushmills 30 Year Old was patiently matured in Bourbon barrels and Sherry butts for 14 years, then finished in these rare and highly sought after first-fill Pedro Ximénez casks for 16 years, resulting in a whiskey of unimaginable depth, elegance and complexity.
"I am so proud of this single malt," says Alex. "It really delights all the senses. It's all treacle toffee on the nose. Then velvety smooth raisins and figs with hints of clove and orange peel on the tongue."
Only 1,500 bottles of this exquisite single malt are available worldwide, and it's only available here to Members of Australia's biggest whisky community for $3,300 this January 5–7.
Join the Club free now for this masterpiece of malt and the world's biggest whisky exclusives.
THE SPECS
Maturation: Matured in bourbon barrels and sherry butts for 14 years then finished in first-fill Pedro Ximénez sherry casks for 16 years.
Ready to enjoy a world-class whisky collection?
Your free Club Membership gives access to exclusive single malt from Scotland, Australia and the world's best distilleries. Enjoy the unrivalled buying power of Australia's biggest whisky club.
Old Bushmill Distillery's History
Whiskey making has long been an Irish tradition, with monks known to have been distilling it as far back as the 11th Century. In fact, Ireland is believed to be the birthplace of whisk(e)y itself, the name coming from the Irish word 'uisce', meaning water. The spirit was often referred to as 'uisce-breatha', or 'water of life' (the Scottish equivalent is uisge-beatha). So now you know.
The world's oldest licensed whiskey distillery, Old Bushmills Distillery sits by Saint Columb's Rill, a tributary of the River Bush. The river is lined with a number of mills, and it is from this that the village takes its name. Today, much of the population work at the distillery, as the experience and knowledge of the craft has been passed down from generation to generation. As they say, "without the village there would be no whiskey, and without the whiskey there would be no village."
The story of whiskey production in Bushmills goes back, officially at least, to 1608 when King James I granted the first licence to distil in the area of the River Bush to Thomas Phillips. But rumour has it Thomas wasn't the first to make whiskey there - it's believed whiskey had been produced in the area illegally as far back as the 13th century, with tales of Sir Robert Savage of Ards, ground landlord of Bushmills fortifying his troops before battle with "a mighty drop of aqua vitae,' before battling the Irish in 1276.
What we do know for sure though is that the Bushmills Distillery was finally officially founded by Hugh Anderson in 1784 with the building of a new distillery in the village with the capacity to turn out 10,000 gallons a year.
It wasn't easy going though with many a lean year at Bushmills, the distillery being closed down several times due to a lack of demand. Records show no sign at all of operations in 1802 and 1822 but thankfully, if not miraculously, the business stayed afloat.
A further blow to the industry came in the 1850s, when the Crown decided to impose an excise on Irish distillers by placing a tax on barley. This tax changed Irish whiskey forever, as virtually all distilleries took the cheaper option of using corn and other grains in place of barley. Little has changed, with some of the biggest names in Irish blended whiskey today still using corn. Despite the increased costs Bushmills resisted the change, sticking to its guns and continued using malted barley exclusively. Even today, it's the only Irish distillery to be using malted barley in all its whiskeys.
Belfast spirit merchant James McColgan and Patrick Corrigan took over in 1860, subsequently forming a limited company, The Bushmills Old Distillery Co. Ltd in 1880. By this time, production had increased to 100,000 gallons a year. However, all this came to a grinding halt in 1885 when the distillery was destroyed in a fire (distillery fires were not an uncommon occurrence back in the day). Onwards and upwards though, Bushmills Distillery was soon rebuilt bigger and better than ever and ready to supply the ever-increasing U.S. demand - as short-lived as that was to be, at least.
Things were starting to look good for Bushmills – it won the only gold medal for whiskey at the Paris 1889 Expo. In 1890, it commenced operating its own steamship, the SS Bushmills which travelled across the Atlantic to deliver its payload of whiskey to America, docking at Philadelphia then New York City, then heading to Asia with stops in Singapore, Hong Kong, Shanghai and Yokohama.
Despite this, the company went into liquidation in 1895 but bounced back, only to be hit by another downturn in the 1920s thanks to Prohibition. Another Belfast wine and spirits merchant, Samuel Wilson Boyd bought Bushmills in 1923. An astute businessman, he realised Prohibition wouldn't last forever and did what he could to keep production going. It was a good move, and the moment Prohibition was repealed in 1933 he sent the biggest shipment of whiskey yet on the boat to America. This daring move paid big dividends, thrusting Bushmills into a period of strong growth and expansion which included the acquisition of Coleraine and Killowen distilleries in 1936.
Sadly, many other Irish distilleries didn't have such foresight. At the beginning of the 20th century there were 37 distilleries in Ireland. Only three of them – Bushmills, Cooley and Midleton – survived.
Just as things were looking up again for Old Bushmills Distillery, World War II struck, quite literally with the distillery's head office and warehouses in Belfast hit by German bombs and reduced to rubble. All documentation and a whole lot of whiskey was destroyed by the resulting fire. The remains of the Belfast buildings can still be seen in the Cathedral Quarter to this day. Despite the loss, Bushmills played its part in the war effort, slowing production to allow the billeting of American troops.
Following the war, it's been smooth sailing for Old Bushmills Distillery despite a number of ownership changes. These began with the 1946 take-over by textile magnate Isaac Wolfson who left the Boyd family to handle business-as-usual, but took Bushmills to a number of new markets around the world.
In 1964, brewery, off-licence and pub owning group Charington bought Wolfson out, moving bottling on-site. Perhaps more importantly, Charington introduced blended whiskey to the range.
Charington cashed in, selling Bushmills to the Irish Distillers Company in 1972. This move placed the entire Irish whiskey industry – Bushmills, Cooley and Midleton - under the control of the one parent company.
Pernod Ricard absorbed Irish Distillers Company in 1988, but sold Bushmills to Diageo in 2005 for around £200 million. Considerable cash was also thrown about marketing the brand in an effort to regain market share. Scotch was really starting to boom, and Irish whiskey was suffering for it.
Late in 2014, Diageo did a deal with the Mexican spirit powerhouse Jose Cuervo to swap Old Bushmills Distillery for the remaining 50% share of the Don Julio tequila brand.
The latest big change at Bushmills is the construction of a new sister distillery, right next door. As they say, if it ain't broke, don't fix it, so the new distillery is a copy of the original, using the same still shapes and sizes as well as production methods. It will allow production to be doubled which will also mean more warehouses will be needed. Thus, a new 20,000-barrel warehouse is set to be opened every eight months. They're not messing about here!
When a distillery's been around as long as Old Bushmills Distillery, it's hard not to become somewhat of a cultural icon. Since the skyrocketing exports of the 1950s and 60s, Bushmills has become entrenched in popular culture and the minds of the consumer. It's been mentioned in music, movies, and TV and the Bank of Ireland even featured an illustration of the distillery on a series of sterling banknotes, with Bushmills replacing the Queen's University of Belfast.
Today the Old Bushmills Distillery is one of Ireland's must-see tourist attractions. Around 100,000 visitors a year take part in the usual guided tours and tastings. Additionally, there's a narrow-gauge railway to take tour participants to the nearby Giant's Causeway, a spectacular coastal geological feature of around 40,000 mostly hexagonal interlocking basalt columns formed by ancient volcanic activity.
While the majority of Irish whiskey is produced with a continuous column still (the majority using the Coffey still), Bushmills uses more traditional Scotch-style copper pot stills. The main difference to the Scotch method of course is that Bushmills triple distil. Triple distillation results in the light, fruity, and smooth style of spirit that's become synonymous with Irish whiskey.
Bushmills is Ireland's second biggest distillery after Midleton. Water from St. Columb's Rill is combined with malted barley in the stainless steel mash tun. The washbacks are also stainless steel, though the ten tall, slender-necked pot stills are all copper. The whole setup runs 24/7, is entirely computerised and can be operated by one person alone.
Old Bushmills Distillery only produces single malt whiskey. Bushmills does have blended whiskies in its range, but these are made by blending its own in-house spirit with grain whiskey brought in from Midleton Distillery.
The Causeway Collection is a curated range of limited-edition rare cask-finished Irish single malts that takes its name and packaging design inspiration from the Giant's Causeway. It was launched in 2020 with the Bushmills 2006 Marsala Cask at 47.8%, created exclusively for The Whisky Club and released much to the excitement of our Members. This whiskey was both a hit with everyone who bought a bottle not to mention the European auction sites. This was followed by Bushmills Causeway Collection 2011 Vintage Banyuls Cask in 2021, and the release of Bushmills Causeway Collection 2012 Burgundy Cask rounded out the Heritage Cask trilogy.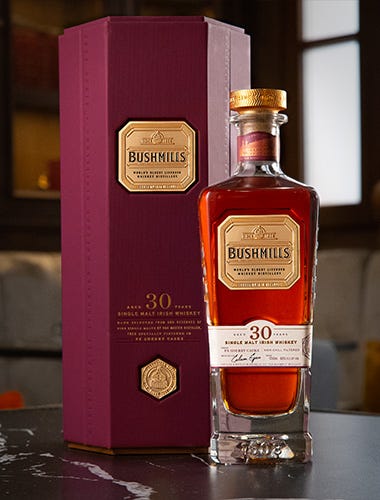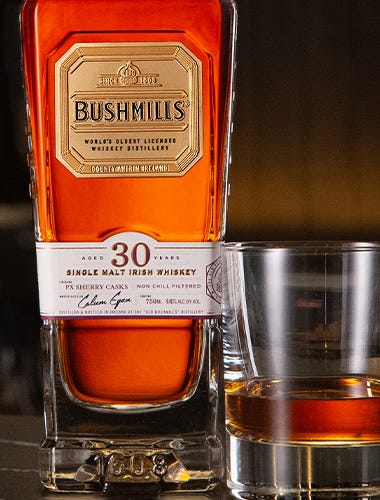 Distillery Facts
Origin: 2 Distillery Rd, Bushmills, County Antrim BT57 8XH, United Kingdom
Water Source: Saint Columb's Rill (a tributary of the River Bush)
Washbacks: Stainless Steel
Stills: Ten copper pot stills
Capacity: 4,500,000 litres per annum
Ready to enjoy a world-class whisky collection?
Your free Club Membership gives access to exclusive single malt from Scotland, Australia and the world's best distilleries. Enjoy the unrivalled buying power of Australia's biggest whisky club.
Stop scrolling. Start dramming.