January 2020
Dailuaine 16 Year Old Flora & Fauna
We kicked off 2020 in style with the impossibly elusive Dailuaine 16 Year Old. It was big. It was thick. It was sherried. And oh boy, it was delicious!
United Kingdom
Colour Deep, rich warm gold.
Nose Sherry, Christmas cake, forest fruits, old oak barrels, with hints of orange sweetness.
Palate A perfect orchestration of chocolate orange, berries and Christmas cake.
Finish Long and spicy with layers of oak, dried fruits, sherry and a nutty warmth.
Food Match Venison sausage, Parma ham and mature cheese platter.
Overview
Dailuaine has spent its life quietly toiling away, making whisky to go into some of the world's best loved Scotches, and it wasn't until 1991 that it finally got its moment in the limelight, with the first ever Dailuaine officially bottled as a single malt, which also just happened to be a 16 year old for the Flora & Fauna series.
Launched in 1991, the "Flora & Fauna" series (a nickname given to the releases by famous whisky writer Michael Jackson, after the different local plants and animals on each label) served to give each of United Distillers' (now Diageo's) workhorse distilleries a turn in the spotlight, giving whisky enthusiasts rare glimpses of what the distillery can create, and the individual building blocks of the blends. Back in 1991 there were some 22 featured distilleries, but today this number is down to just 11 as distilleries have been closed, sold, or had their own single malt range released.
Dailuaine uses an interesting methodology when brewing and distilling. The fermentation is long and slow, but the distillation is fast, and the condensers on the stills use stainless steel which cuts down on the copper contact – this in particular is rather unusual. It sure works though, the resulting new make coming out 'meaty', which when matured in ex-Sherry casks for 16 years, results in a deliciously rich and sweet whisky.
A real shame, then, that Dailuaine is so hard to come by, especially here in Australia… but good news for Club Members as we're in for a real treat this month. If you're a fan of Aberlour, Glenrothes and Macallan, then you're going to love this; heavy, incredibly complex, fruity, and substantially oily, with chocolate orange, berries and Christmas cake by the pound!
Orders for the Dailuaine 16 Year Old have now closed. Sign Up Free now to never miss another of our whiskies.
THE SPECS
Maturation: Matured in ex-Sherry casks.
Ready to enjoy a world-class whisky collection?
Your free Club Membership gives access to exclusive single malt from Scotland, Australia and the world's best distilleries. Enjoy the unrivalled buying power of Australia's biggest whisky club.
Dailuaine's History
Dailuaine is a distillery there's a good chance you've never heard of up until now, but there's every chance you've drunk some of its spirit. Part of the giant Diageo portfolio, its whisky has been going into blends for, well, nearly forever.
Dailuaine (pronounced dal-you-eene) was first established by William MacKenzie in 1853. Its name is taken from the Gaelic 'dail uaine' which means 'green valley', the perfect choice for the distillery in its idyllic location, in a hollow by the Carron Burn, right between Ben Rinnes and the mighty River Spey. The location becoming even better in 1863, when the Strathspey Railway opened, making it a lot easier to get supplies in, and whisky out.
Time ran out for MacKenzie in 1865 and following his death the distillery was leased to James Flemming, a banker from Aberlour. In 1879 William's son Thomas decided it was time to get back into the family business, becoming a partner in MacKenzie & Co, and in 1884 set to action his plans to modernise the distillery. His vision paid off, and within five years, Dailuaine had become one of the Highlands' biggest whisky producers and leading the pack in terms of design and innovation. Further upgrades in 1889 saw Dailuaine become the first distillery to be fitted with architect Charles Doig's revolutionary new pagoda roof, the pitch of which was very steep, minimising the contact time between peat smoke and drying malt, thereby removing the effect of the peat considerably, as was the new Speyside style.
In 1891 MacKenzie & Co became Dailuaine-Glenlivet Distillery Ltd, only to go through another merger in 1898 as Thomas MacKenzie consolidated his interests – he held quite a substantial interest in Talisker – a move that enabled him to become chairman and MD of the newly formed Dailuaine-Talisker Distilleries Ltd.
Further rail connections were established in 1907, linking the distillery with warehouses at Aberdeen and Imperial Distilleries in Carron, handy for MacKenzie who part owned them too.
Thomas MacKenzie died in 1915, with the business being taken over a year later by a consortium made up of John Dewar & Sons, John Walker & Sons, and James Buchannan & Co, who kept it running business as usual until 1917 when, following a decade of recession, much of the distillery, including its pagoda roof, was destroyed by fire. It took until 1920 for production to start back up again, and this time taking a new approach with the use of waterwheels and steam engines, perhaps in the hope of avoiding another fire.
Dailuaine was taken over by the DCL juggernaut in 1925, was connected to the national grid in 1950 but in 1959, disaster struck yet again with another fire all but destroying the place. Further upgrades in 1960 saw the distillery expanded from four to six stills, along with general modernisation of the stillhouse that took place over the following five years, and in the process their traditional malting floor replaced with a Saladin box. Steam heating finally came to the Dailuaine stills in 1965.
Now part of the massive Diageo portfolio, Dailuaine continues to supply malts to the company's blended whisky brands, and to this day is rarely seen as a Single Malt other than the annual small batch "Fauna & Flora" 16 Year Old and occasional appearances in the Special and Rare series. This month we truly are among the lucky few!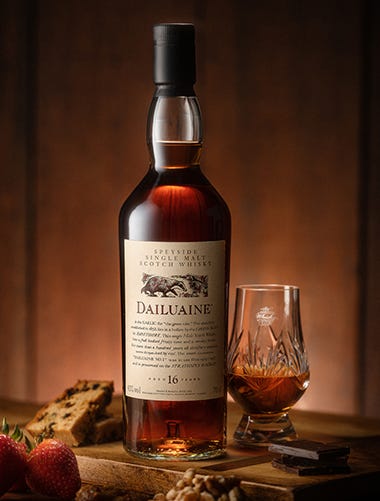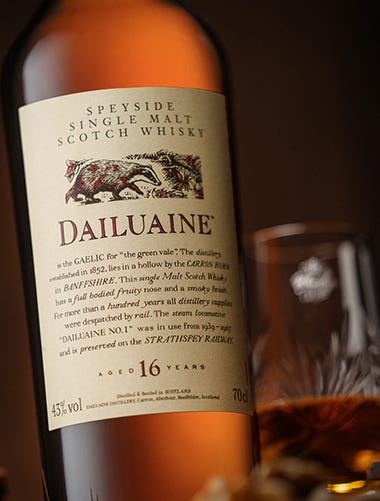 Distillery Facts
Origin: Dailuaine Distillery, Carron, Aberlour AB38 7RE, United Kingdom
Water Source: Balliemullich Burn
Washbacks: 10 – 8 wood, 2 steel
Stills: 3 wash and 3 spirit
Ready to enjoy a world-class whisky collection?
Your free Club Membership gives access to exclusive single malt from Scotland, Australia and the world's best distilleries. Enjoy the unrivalled buying power of Australia's biggest whisky club.
Stop scrolling. Start dramming.