January 2021
Dalmore Port Wood Reserve
Majestic and refined, with sumptuous flavours of sticky toffee pudding, creamy caramel, sweet red berries, oranges, and cherries. The double gold-winning Dalmore Port Wood Reserve is premium port matured Scotch done right, and one not to be missed.
United Kingdom
Nose Sweet red berries, Seville oranges, plummy fruits and sticky toffee pudding.
Palate Nectarines, creamy caramel, roasted chestnuts and Java coffee.
Finish Rich plums, sultanas, Sanguinello blood oranges and macerated cherries.
Food Match Cherry-smoked coffee-rubbed tomahawk steak with garlic-horseradish sauce
Overview
The use of Port Pipes at Dalmore came about thanks to Scotland's most famous whisky maker, Richard 'The Nose' Paterson's curious mind, and his interest in fine wines. He's been sourcing them directly from W & J Graham's Port in Portugal for over 20 years. These 600l casks often receive repairs to their staves and cask ends, and so end up as a blend of both American and European oak, bringing further complexity to the whisky.
As with all Dalmore, the double gold-winning Port Wood Reserve is initially matured in American oak ex-Bourbon casks, laying down foundations for the hand-selected Tawny Port Pipes to work their magic with… bringing sumptuous layers of rich plumbs, orange, coffee and sweet cherry. It's then bottled at a higher ABV than Dalmore normally bottle at - 46.5% ABV - which Paterson says gives "the optimum sensory experience".
The result… majestic and refined, you'll find flavours of sweet red berries, Seville oranges, and sticky toffee pudding on the nose, revealing juicy nectarines, creamy caramel, roasted chestnuts and coffee, and a fruity finish filled with rich plums, sultanas, oranges, and macerated cherries.
"Utterly individualistic, this noble spirit displays a multitude of exotic flavours - a complete revelation!" says Richard Paterson, and who are we to argue!
Don't miss your chance to grab the first official release of The Dalmore Port Wood Reserve in Australia. Be quick: Sign Up Free now to get your hands on a bottle while stocks last.
THE SPECS
Maturation: Matured in American oak ex-Bourbon barrels, finished in Tawny Port Pipes.
Ready to enjoy a world-class whisky collection?
Your free Club Membership gives access to exclusive single malt from Scotland, Australia and the world's best distilleries. Enjoy the unrivalled buying power of Australia's biggest whisky club.
The Dalmore's History
Located in Alness, just north of Inverness on the shores of Cromarty Firth in the Scottish Highlands, The Dalmore Distillery has been crafting whisky since 1839 when it was founded by well-to-do businessman Alexander Matheson. Matheson was a partner in Jardine, Matheson & Co, a Hong Kong headquartered firm that at the time was trading in smuggled opium, tea, and cotton. As the Jardine empire was well on its way to massive success (it's now one of the 300 largest public companies in the world), Matheson let others do the hard work and leased Dalmore out to a number of families, sadly with little success.
The distillery's fortunes changed though when in 1867 the lease was taken over by entrepreneurial brothers, 24-year-old Andrew Mackenzie and his little brother Chris. The brothers were direct descendants of the Clan Mackenzie. Legend has it that way back in 1263, Clan Chief Colin of Kintail saved King Alexander III from a charging stag. So thankful was the King that he granted the Mackenzie Clan the right to use the 12-pointed Royal Stag emblem on their coat of arms. It's this stag that became the distillery's logo, and today emblazons every single bottle of Dalmore produced.
Andrew and Chris went all-in, investing heavily in renovations and expansions to the now rundown building. They chose to repair but not replace the two original pot stills, as they felt smaller stills were the best choice, however in 1874 another stillhouse was built to house a second pair of stills.
There's no point expanding your production facility if you don't expand your business as well, so they developed an ever-widening network, appointing agents to reach more and more customers outside of their local area. Andrew was of the belief that whisky should be single malt, and vehemently opposed the idea of blending. As such, The Dalmore was known from the early days as a single malt. At the time, there were no laws requiring Scotch Whisky to be at least three years old, so they created a range of whisky that was virtually new make spirit, which meant they could easily get some cash flow, but at the same time they were also building up stocks of whisky matured in sherry casks.
Having the likes of Alexander Matheson on your team was always going to give you the upper hand, so naturally the Mackenzies called upon his contacts to expand their exports abroad, including of course, the Far East. The Dalmore can also lay claim to being the first Scotch Malt Whisky imported into Australia and New Zealand, an achievement unlocked by the early 1870s.
The third Mackenzie brother, William, came on board in 1881, and the three finally managed to purchase the distillery from the Matheson family in 1891 for £14,500, following Alexander's death a few years earlier. Now entirely in family hands, Dalmore underwent further expansion to increase production capacity, however with the market collapse around the turn of the century it ended up running at only half capacity for a couple of years. Andrew and his son Thomas decided to start dabbling in blending and bottling, but this was not successful, and they soon found themselves amidst legal battles and financial woes. They were forced to dump a lot of stock, much of which was picked up by John Dewar & Sons. This combined with a 1911 fire forced Andrew to sell off the 500-acre estate surrounding the distillery, just to stay afloat.
Just as things were starting to improve, war broke out and in 1917 the distillery site was taken over by the Navy, being used to assemble deep-sea mines. This operation caused considerable damage to the buildings, not the least when one fateful day in 1920 a mine was accidentally detonated. Oops. The subsequent explosion and fire destroyed much of the distillery. Understandably unimpressed with this, the Mackenzies commenced legal action against the Navy, the case lasted more than five years, and even made it to the House of Lords. Thankfully, it didn't take that long to rebuild, and production started back up again in 1922.
Back in production but hanging on by the skin of its teeth, Dalmore managed to survive to the end of prohibition under the care of Andrew's son, William, who tried unsuccessfully to sell the distillery. But of course, not long after prohibition ended, we were back to war, and the distillery doors closed from 1939 to 1945.
Following William's death in 1946, his son Major Hector Mackenzie took over and in his role as Managing Director commenced some serious upgrades and modernisation works at the distillery. Upgrades to the stills, three new warehouses, and replacement of traditional floor maltings with a modern Saladin box saw the Dalmore bang up to date. Finally, in 1960 it was sold to one of their biggest customers, blender Whyte & Mackay, and out of the Mackenzie family's hands for the first time in nearly 100 years.
The Dalmore had for some time been a major component of Whyte & Mackay's blends, and under their ownership, they wanted more, so following the acquisition the distillery sadly was restricted to just the one 12 Year Old single malt expression.
Further upgrades in 1966 saw another pair of stills added, bringing the total to eight, and the Saladin box was retired in 1982, and since then they've been buying their malt in.
Whyte & Mackay itself has had quite the ride since, with a number of ownership and name changes, and was purchased by Philippines-based Emperador, part of Alliance Global Inc in 2014.
For over 175 years, The Dalmore Distillery's set the standards that many others follow today... their long line of passionate master craftsmen working their rather unusual setup that creates the sumptuous, layered house style the distillery is known for.
Perhaps by design, or maybe just the result of history, Dalmore features an interesting range of stills, in both smaller and larger sizes. The wash stills are lantern shaped with a cropped head and the lyne arm extending from the upper deck. The spirit stills are onion shaped, with a boil ball and a water jacket on the neck to help with reflux. Also, a little out of the ordinary are the external horizontal shell-and-tube condensers. The spirit stills are charged while the low wines and feints receiver is full, varying the strength of the charge and creating different flavours. Not only that, the different still sizes need to be taken into account too. Once distillation is complete, the spirits are carefully vatted and allowed to marry together before casking. This really is a balancing act that requires the vigilant attention and years of knowledge and experience from master stillmen to perfect.
Overseeing the whole operation is Scotland's most famous whisky maker, Richard 'The Nose' Paterson OBE. He's been with Whyte & Mackay for some 50 years, but a recent move sees him concentrating solely on Dalmore. Inspired by Matheson and the Mackenzies, Paterson is a pioneer in the art of cask curation, using his decades of experience to hand select casks from the world's best bodegas and wineries. He's nurtured the century old relationship with sherry house González Byass ensuring an exclusive supply of casks which have held 30 year old Matusalem oloroso sherry.
Paterson harnesses the power of movement between casks to create rich and complex whiskies, something that's been taking place at Dalmore since the mid 1800s. The multi cask maturation process used sees all the Dalmore's whisky initially matured in American oak ex-Bourbon barrels, before being moved to sherry, port wine and fine wine casks for a second maturation.
The whisky is stored across nine on-site warehouses - four dunnage and five racked – there's space for a colossal 65,000 casks. Plenty of room then to stash away casks long term, and now Dalmore's sitting on some of the oldest whisky in the world, the prices of which can even rival those of Macallan.
Of course, Dalmore is no longer restricted to just the one 12 Year Old expression, and now offers a wide selection of single malts within The Principal Collection, featuring the 12, 15, 18, and 25 Year Olds, and a selection of No Age Statement whiskies including Port Wood Reserve, Sherry Cask Select, Cigar Malt Reserve and King Alexander III. This is complimented by the Dalmore Distillery Exclusives and the travel exclusive Fortuna Meritas Collection. They've recently released a 60 Year Old, containing liquid from the last two casks from the Mackenzie era, distilled in June 1951.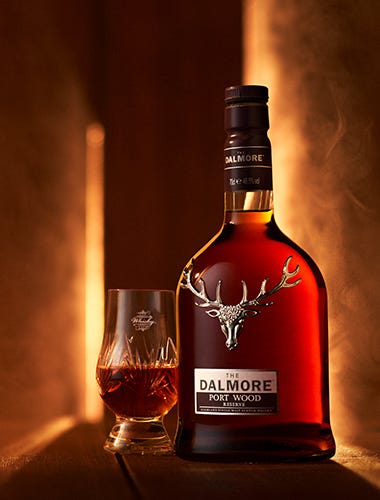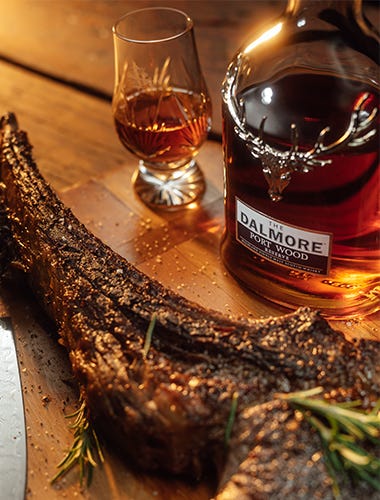 Distillery Facts
Origin: Dalmore Distillery, Alness, Ross-shire, IV170UT, United Kingdom
Stills: 4 wash and 4 spirit
Capacity: 4,200,000 litres per annum
Ready to enjoy a world-class whisky collection?
Your free Club Membership gives access to exclusive single malt from Scotland, Australia and the world's best distilleries. Enjoy the unrivalled buying power of Australia's biggest whisky club.
Stop scrolling. Start dramming.