March 2023
This 16-year-old Sherried single malt Scotch is big, full-bodied and lingering at 46.4% ABV, and ready to saturate your palate with lightly syruped figs, tropical fruit, moist ginger cake, and baked apple. And it's picked up a gold medal with 95 pts at the world's most prestigious international drinks competition.
United Kingdom
Colour Amber gold with sunrise flecks
Nose Dried fruits, lightly syruped figs, grapefruit, and notes of mature oak.
Palate Sunkissed raisins, ripe guava, patisserie spices and cocoa, followed by a crescendo of natural vanilla.
Finish Moist ginger cake, passionfruit, baked apple, underpinned with gentle notes of roasted coffee.
Overview
Using first and second-fill Oloroso, Pedro Ximénez Sherry casks and American oak casks, at $150 this is simply the best value 16 Year Old Single Malt Sherry cask Scotch you'll find in Australia.
Fettercairn has been established since 1824 and is a hidden gem in Scotland's Highland region. This special release is the third in a limited-edition 16 Year Old series which has never before made it to our shores – and you won't find it anywhere else in Australia outside of the Club.
Master Blender Greg Glass is the proud creator of both this Fettercairn 16 Year Old and the Dalmore No.1 Luminary 15 Year Old which sold out back in November last year for $450.
"The challenge for me was in ensuring the right amount of fine-tuning to get the exacting balance of cask influence that would deliver the profile we wanted, one that accentuates the flavour dimensions to make this taste incredible." - Greg Glass
With notes of lightly syruped figs, tropical fruits, patisserie spices, moist ginger cake, and baked apple saturating the palate, this release further showcases its Sherried cask maturation in being non-chill filtered and 100% natural in colour. Add to that its full body and lingering 46.4% ABV and you've got yourself a dram delicious enough to rival distillery favourites Aberlour 16 YO and The GlenDronach 15 Revival.
Orders for Fettercairn 16 Year Old have now closed. If you're not yet a Member of Australia's biggest whisky community, join the Club free today to get in on our next release.
THE SPECS
Maturation: Matured in a combination of first and second fill Oloroso, Pedro Ximenez and American oak casks
Ready to enjoy a world-class whisky collection?
Your free Club Membership gives access to exclusive single malt from Scotland, Australia and the world's best distilleries. Enjoy the unrivalled buying power of Australia's biggest whisky club.
Fettercairn Distillery's History
Named after the tiny nearby village of the same name, Fettercairn Distillery and those around it have played no small part in the history of Scotch whisky. Founder Sir Alexander Ramsay was one of the Scottish landowners who campaigned to legalise whisky distillation in Scotland, and as such was one of the first people to apply for a license in 1824.
Ramsay converted a corn mill on his Fasque Estate, in the foothills of the Cairngorm Mountains, into a distillery. Despite his efforts to establish the regulation of the industry, Sir Alex sought out illicit distillers to come on board and run his stills, recognising that they were the only people that had the knowledge, skills, and experience he was looking for.
The estate - distillery and all - was sold to Sir John Gladstone in 1829, whose son William would go on to become British Prime Minister for an unbeaten four non-consecutive terms. A true hero for Scotch, during his career William abolished the tax on malt and the Angel's Share, and legislated the legal sale of Scotch in glass bottles, allowing us to enjoy the sight of the liquid inside. Sir John and his family actually never ran the distillery themselves, leaving this to various tenants over the years.
Fettercairn was forced to close for some time following an 1887 fire, however, it remained in the Gladstone family's ownership until 1923, when they sold it to Ross & Coulter who mothballed it from 1926 until 1939 when they sold it to Associated Scottish Distillers who wasted no time in firing up the stills once more.
ASD ceased to trade in 1954, and Fettercairn ended out back in private hands, with Tom Scott Sutherland taking ownership. Demand for the whisky started to outgrow production capacity, so a second pair of stills were installed in 1966, and Fettercairn was purchased by Tomintoul-Glenlivet in 1971, who in turn got bought out by White & Mackay in 1973. United Spirits acquired White & Mackay in 2007, who then sold it to Emperador in 2014.
Fettercairn single malt was not unheard of but far from common, with most of the distillery's output going into White & Mackay's blends. However, in 2009 a new range of age-statement single malt releases was launched alongside two no-age statement bottlings; Fior and Fasque. The whole range was revised and relaunched in 2018, along with a new bottle design and age statements ranging from 12 to 50 years old.
Despite being quite a traditional distillery, with an open-topped mash tun, wooden washbacks and small stills, Fettercairn does have some interesting quirks and features. The wash stills have soap grinders on their sides that once were used to add a non-perfumed soap as a surfactant to stop the stills boiling over, and between 1995 and 2009 stainless steel condensers were used.
Perhaps the most quirky feature was added in the mid 1950s when Fettercairn's whisky makers were experimenting with ways to create a more pure spirit. They discovered that pouring cold water down the sides of the still cools the copper, creating more condensation and reflux, ensuring only the finest vapours could rise to the top for collection. This resulted in a lighter style of new-make. They devised a copper tube to go around the swan neck that showers the sides of the still with cold water. This innovation went on to become a defining feature of the distillery. As the years went by the water caused the stills to turn a lush teal colour, the same colour that now features on every single bottle and box that leaves the distillery.
After distillation, the spirit's filled into hand-selected casks; mostly first-fill American oak, alongside some virgin oak and fortified wine casks that are used for some older expressions. The casks are then left to rest in one of their 14 dunnage warehouses.
The nearby Fettercain village, set in the heart of rich farming land, is a popular rural retreat. In 1861, Queen Victoria and her hubby Prince Albert took an incognito trip to enjoy it for themselves, staying at the Ramsay Arms and indulging in secret drinks and a meal in the pub. After the visit, the excited locals erected a grand arch in the centre of the village to commemorate the event. The unicorn stands for purity and strength, has been a symbol of Scotland since King Robert III, and is also in the Ramsay clan crest. Over the years, both the arch and unicorn have been incorporated into Fettercairn's identity, with the unicorn at the centre of their logo to this day.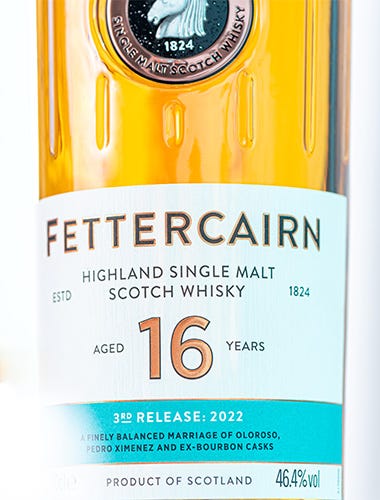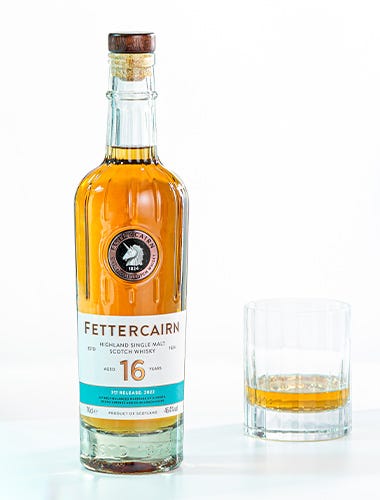 Distillery Facts
Origin: Distillery Road, Fettercairn, Laurencekirk, AB30 1YB
Water Source: Springs on the nearby mountains
Stills: 4 (2 wash, 2 spirit)
Capacity: 2,200,000 litres of alcohol per year
Stop scrolling. Start dramming.