October 2023
Fuji Single Malt Japanese Whisky
A phenomenally silky and multi-layered creation of preserved peaches and spiced crème brûlée, melding into juicy layers of red berries and crisp apple. Launching in Australia only to Club Members, discover why this Japanese single malt has already been awarded gold at the International Spirits Challenge 2023.
Japan
Nose Apple, soft citrus peel, tropical fruit of ripe pineapple, with chocolate wafer and crème brûlée.
Palate Luscious white peach, fresh nectarine Danish, and thick honey over oat porridge with light spice.
Finish Complex with a multi-layered rich aftertaste of cookie dough, sticky nougat and Morello cherries in syrup.
Food Match Braised duck with creamy mash and broccolini with caramelised apple to finish.
Overview
Six months ago you raved about the honey-noted, mouthwatering Japanese blend that we brought to your doorsteps. Now Fuji Gotemba Distillery are coming to the Club once again, this time with the inaugural release of their opulent Single Malt.
Following a series of gold medals for their Single Blended and Single Grain, Fuji Gotemba's Single Malt has also taken out gold at the prestigious International Spirits Challenge 2023. Taking out three golds is a fitting way to celebrate their golden anniversary.
We're truly honoured to be partnering with Fuji in celebration of their 50th birthday to bring you this first release of Fuji Single Malt to Australia. Thanks to the generosity of Master Blender Jota Tanaka and his team at Fuji Gotemba Distillery, the rest of Australia will have to wait until sometime next year, while Club Members get the first taste.
For this release, Fuji have employed unique and distinctive cask styles including ex-Bourbon, French oak red wine barriques and beer casks. Jota-san's masterful combination of these add Fuji's signature stamp of layered complexity to the whisky, which the distillery has been perfecting for over half a century.
Meticulous Japanese craftsmanship shines through juicy layers of red berries, preserved peaches and crisp apple, wrapped around a spiced and silky crème brûlée core at a rich 46% ABV. The finish is a long, gentle tide of nuanced flavour that leads you back to the glass in search of the next wave.
For $140, this is an absolute steal for an authentic Japanese single malt from one of Japan's leading distillers. Don't miss the chance to have your own bottle of this silky liquid before anyone else. Extremely limited numbers remain.
Not yet a Member? Join Australia's biggest whisky community of dram chasers and whisky worshippers today.
THE SPECS
Maturation: A marriage of ex-Bourbon, French oak red wine barriques, beer casks, new American white oak and refill barrels.
Ready to enjoy a world-class whisky collection?
Your free Club Membership gives access to exclusive single malt from Scotland, Australia and the world's best distilleries. Enjoy the unrivalled buying power of Australia's biggest whisky club.
Fuji Gotemba Distillery's History
In 1972, four of the biggest names in drinks from around the world joined forces to open a new distillery in Japan. None other than Scotland's Chivas Brothers, Four Roses from the States, Canada's Seagram and the Kirin Brewery Company from Japan formed Kirin-Seagram Ltd. and by late 1973 production was underway at the new site.
Originally known as Gotemba Distillery, with its name later changed to Fuji Gotemba Distillery, it's nestled at the southeastern foot of Mt. Fuji, just 12km from the summit, in the city of Gotemba. At an altitude of 620m above sea level, the distillery enjoys a climate similar to what you'll find in Scotland; cool, with an average temperature of just 13°C and an almost constant blanket of fog, meaning the mountain itself can only be seen around a third of the year.
Fuji Gotemba Distillery is no ordinary distillery, as it uniquely features multiple still types to produce four different types of whisk(e)y. There are pot stills for Scotch-style malt, and a range of column stills to make grain whiskies in the Bourbon, Canadian and Scotch styles. By integrating these with Kirin's brewing technology and expertise, Fuji Gotemba Distillery creates whiskies that are neither Scotch nor Bourbon, but rather a whisk(e)y to fit the culture and tastes of the people of Japan and lovers of Japanese whisky from around the world.
Covering 520,000 square metres, Fuji Gotemba Distillery is the world's largest distillery. It features separate still rooms for the malt and grain stills and its own cooperage and bottling plant. Its unique setup allows it to produce single malts and single grains on site and the world's first-ever Single Blended Whisky.
All the water used, of course, comes from Mt. Fuji, having fallen as snow before spending more than 50 years to reach the aquifer that runs 100m deep underground. The water, the climate, and the terroir result in a mellow and delicately fruity range of whiskies, every aspect of which is overseen by Master Blender Jota Tanaka.
With over 30 years of experience in both the US and Japan, Jota San's only the second Master Blender in the distillery's history. Having first joined Kirin in 1988, he soon moved to Napa Valley to work as a winemaker. In 1995 he moved back to Japan and took on Wine Quality Assurance and Product Development for Kirin Distillery Co., before moving to the distillery as a blender in 1998. Jota San ended out Stateside again in 2002 as Director of Quality in charge of Product Development at sister distillery Four Roses in Kentucky, where he created Four Roses Small Batch and their Limited Edition series, among others.
2010 saw Jota San appointed as Chief Blender for Kirin Whisky, and 2017 was a massive year for him as he was appointed as their second Master Blender, and named Master Blender of the Year at the Icons of Whisky awards. The accolades continued in 2019 when he was inducted into the Order of the Writ – Spirit of Kentucky Bourbon (the US equivalent to Keeper of the Quaich) and then into the World Whisky Awards Hall of Fame in 2022.
Having kept its whisky-making abilities quiet and focusing on the Japanese market until recently, Fuji Gotemba Distillery has won numerous awards including Japanese Whisky of the Year, World's Best Grain Whisky and numerous Gold Medals. As it celebrates its 50th anniversary it's finally heading out into the world, so expect to see a lot more from Fuji Gotemba Distillery in the years to come.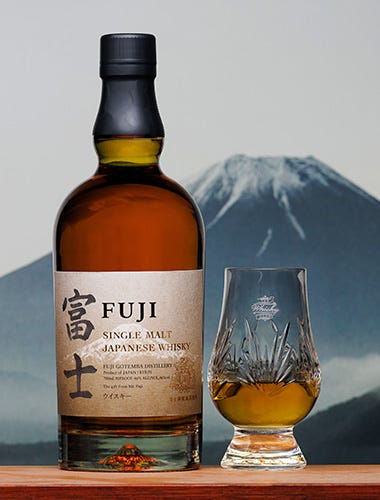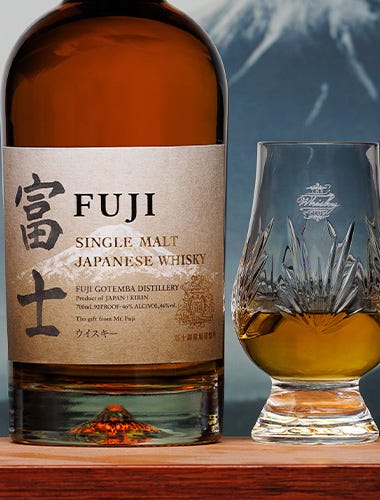 Distillery Facts
Origin: 970 Shibanta, Gotemba, Shizuoka 412-0003, Japan
Stills: 4 pot stills, 5 continuous column stills, 3 kettle stills, 1 column doubler still
Capacity: 12,000,000 litres per annum
Stop scrolling. Start dramming.