August 2020
Glen Grant 15 Year Old Batch Strength
One of the world's most highly awarded whiskies has come Australia for the first time ever, Exclusive to The Whisky Club. The multi-gold winning Glen Grant 15 Year Old Batch Strength 1st Edition is here to take your whisky journey to another level.
United Kingdom
Nose Citrus fruit, lemon meringue, vanilla, creamy milk chocolate, malt and toffee.
Palate Big, gristy, with brown sugar and spiced pears, tangerines, dried apricots, malt and vanilla.
Finish Delicate notes of soft fruit, walnut biscuit, malt and honey.
Overview
This one's been a long time in the making… The Club's bringing one of the world's most highly awarded whiskies to Australia for the first time ever! The multi-gold winning Glen Grant 15 Year Old Batch Strength 1st Edition is here, Exclusive to The Whisky Club.
Rated 96.5/100 and crowned Best Single Malt Scotch Aged 11-15 Years in Jim Murray's 2020 Whisky Bible and awarded a coveted Double Gold at the San Francisco World Spirits Competition, this is flawless, signature Glen Grant, here to take your whisky collection to another level.
Made by Dennis Malcolm, the longest serving Master Distiller in Scotland (he was born at Glen Grant Distillery in 1946) it's end-to-end uncompromising, full-bore Champion whisky; milk chocolate and malt on the nose, followed by big, gristy brown sugar melting in your mouth with spiced pear and apricot jam, and a long lingering finish of soft fruit and walnut biscuit.
As Jim Murray puts it: "One of the maltiest malts of the year! Just a joy!"
For whisky lovers, the 15 Year Old Batch Strength represents a rare and unprecedented opportunity, in fact the only opportunity, to taste an official bottling from one of the world's best distilleries in a more raw, natural form; 50% ABV, non chill-filtered and natural colour.
Orders for the Glen Grant 15 Year Old Batch Strength 1st Edition are now closed. Join Australia's biggest whisky community now to receive incredible malt whiskies delivered to your door.
THE SPECS
Maturation: Matured in hand-selected first-fill ex-bourbon American Oak casks.
Ready to enjoy a world-class whisky collection?
Your free Club Membership gives access to exclusive single malt from Scotland, Australia and the world's best distilleries. Enjoy the unrivalled buying power of Australia's biggest whisky club.
Glen Grant's History
You could hardly have called James and John Grant nobodies, even before they established Glen Grant distillery. James, an engineer, was one of the leaders of the "Raid on Elgin", the last clan revolt in Scottish history. The story goes that the men of the Grant Clan were far from happy that their chief and his family were practically under house arrest by the people of the Elgin lowlands. James and his 700 clansmen marched, wearing an 1819 Wilsons of Bannockburn tartan waistcoat, which to this day is proudly displayed at the distillery. James went on to become Lord Provost (the Scottish equivalent of Mayor) of Elgin. John, a landowner, had tried his hand at whisky making in the past, so in 1840 the brothers decided to establish a distillery.
These were not men that would do things by halves, so the distillery was never going to be a small one. Positioned in the valley that took their name, with the sea and the port of Garmouth nearby, the mighty River Spey to the south, and plentiful barley fields nearby, pretty much everything needed was close to hand.
Not only did they build a big distillery, they helped create the transport infrastructure it needed to survive, with the brothers – particularly engineer James – being heavily involved in the building of the first Northern railroad running from Lossiemouth to Elgin. In 1851 one of the trains was bestowed with the name "Glen Grant". Further to this, the brothers paid for a line extension all the way to Rothes in 1858. Transport sorted!
The distillery and Glen Grant House flourished, featuring sizeable greenhouses and formal gardens, largely thanks to John's son James, AKA 'The Major'. The Major finally got his chance to take over the running of the distillery in 1872 after the death of both his father and uncle. Not a bad inheritance, and being a budding entrepreneur himself, he took the bull by both horns and drove the distillery to a very successful future.
Like many entrepreneurs, The Major lived quite a lifestyle – hunting, travelling, socialising and investing. He embraced the latest technologies, with Glen Grant being the first distillery to feature electric lighting, and he's believed to have owned the first car in the Highlands. Like his uncle, The Major was an engineer too, and it was he who designed the unique stills that create the clear, light and fresh spirit that's become the defining characteristic of the distillery's whisky.
The turn of the century saw massive demand for whisky, and The Major not only upgraded Glen Grant from two coal fired stills to four, but he built a second, sister distillery over the road in 1898. Creatively called Glen Grant No. 2, it featured pneumatic malting drums and delivered its new-make to Glen Grant via a pipe running from the stillhouse and across the road. Glen Grant No. 2 was short lived, and like so many others closed its doors in 1902, however it continued to supply malt to Glen Grant for some time.
All was not lost though for Glen Grant No. 2, it was given a second chance in 1965 when it was brought back to life, and even got its own name - Caperdonich. While the design of the distillery and its stills was identical to Glen Grant, as is often the case when a sister distillery is built (the same thing happened with Lagavulin, for example) the whisky just wasn't the same. Caperdonich was closed in 2002, the buildings knocked down to make way for other developments.
Glen Grant saw some upgrades during the 70s and 80s, with a new stillhouse containing two new gas fired stills being built in 1973, followed by another four in 1977. Ten stills were run at Glen Grant until 1983 when the original stillhouse was closed and a further two larger stills were installed in the new building. At the same time, the stills were converted back to coal firing for the wash stills, and the spirit stills to steam. Nowadays though, they're all indirect fired.
Major Grant died in 1931 and was survived by three daughters and one of the biggest names in distilleries in the world. The reigns to the distillery were passed to his grandson, Douglas MacKessack, who in 1952 merged the distillery with George & JG. Smith to form The Glenlivet & Glen Grant Distillers. In the early 1970s, this company merged with both Hill, Thomson and Co. Ltd, and Longmorn Distilleries Ltd, to become Glenlivet Distillers Ltd. The family retained their interest in the company, but were joined by two major shareholders, Courage Ltd for the fermentation process, and Japanese distilling giant, Suntory. This all changed though in 1977 when the entire company was bought out by Seagram's.
Seagram's passed their whisky business to Pernod Ricard 2001, and in 2006 Glen Grant was bought by Gruppo Campari for €115m, following Pernod Ricard's acquisition of Allied Domecq. This was a great move for Campari, as Italy was Glen Grant's biggest market.
Today, Glen Grant remains one of the biggest selling Single Malts in the world, in fact it's the second biggest selling Single Malt here in Australia, second only to Glenfiddich. It's run under the watchful eye of the longest serving distiller in Scotland, Dennis Malcolm, who's spent a lifetime at the distillery, having been born at Glen Grant in 1946 and worked there since 1961. One of only eight Master Distillers in the distillery's 180 year history, Dennis Malcolm uses natural spring water, sourced from both private springs and Black Burn, and malt made to his own specification - dry, crispy, crumbly and aromatic.
The key to Glen Grant's crisp, clear, fresh and light spirit though, is the unique stills of The Major's own design. Firstly, they're incredibly tall and slender, and feature almost squared off bulbs – these massively increase the copper surface area of the stills. Additionally, the stills include pre-condenser vapour coolers, or purifiers, that reflux heavy elements back down into the still, ensuring only the absolute finest vapours make the cut and creating a fresh, light whisky.
Glen Grant choose only the best bourbon and sherry casks, hand-picked by Dennis and limited in their reuse to ensure they produce great colour and retain the fresh, fruity flavour. These days, the vast majority of Glen Grant's spirit is aged in ex-bourbon and refill casks. Sherry casks, however, are rarely seen outside of independent bottlings.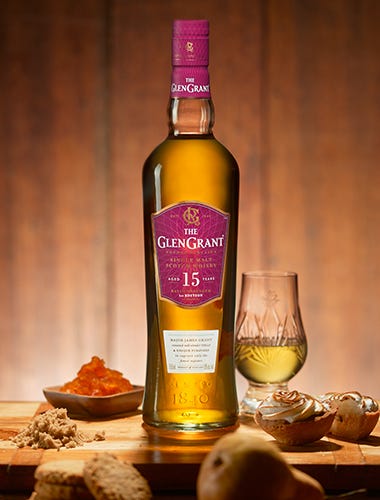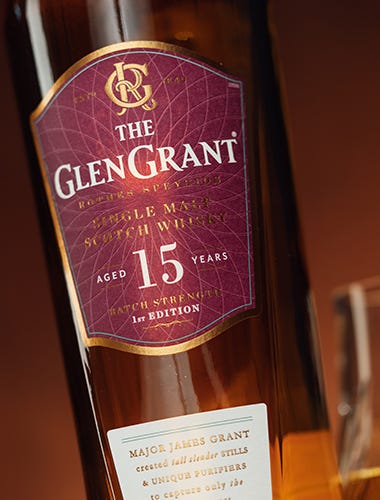 Distillery Facts
Origin: Glen Grant Distillery, Elgin Road, Rothes, Aberlour, Moray, AB38 7BS, United Kingdom
Water Source: Private Springs and Black Burn
Stills: 8 - 4 wash, 4 spirit. Wash stills feature unique boil balls and purifiers
Capacity: 6,200,000 litres per annum
Ready to enjoy a world-class whisky collection?
Your free Club Membership gives access to exclusive single malt from Scotland, Australia and the world's best distilleries. Enjoy the unrivalled buying power of Australia's biggest whisky club.
Stop scrolling. Start dramming.