December 2020
Glen Scotia 2009 Caribbean Rum Cask
Sea-salted caramel banana pudding covered in melted white chocolate... Straight out of Campbeltown, the whiskiest place in the world, comes our ravishingly delicious Christmas dram, the Glen Scotia 2009 Caribbean Rum Cask Finish, Created Exclusively for the Club.
United Kingdom
Nose Sea-salted caramel and ripe bananas
Palate Ripe green apples and smooth, creamy white chocolate
Finish Long and deep with bursts of vanilla sweetness and citrus peel
Food Match Hot apple pie with vanilla ice-cream
Overview
Wrapping up a massive year of whisky from January's Dailuaine to November's Aberlour – we're ending on a high with the ravishingly delicious Glen Scotia 2009 Caribbean Rum Cask Finish, and it's hands down one of the tastiest Glen Scotias ever released.
A big call, a fair call: it's nothing less than a series of single casks Created Exclusively for the Club by Glen Scotia's legendary Master Blender, Michael Henry…
Distilled in September 2009, Glen Scotia Caribbean Rum Cask Finish was first matured in 100% first fill ex-Bourbon barrels from Heaven Hill Distillery in Kentucky, before spending a further 12 months in first fill ex-Caribbean rum casks for a sublimely indulgent finish. These were bottled individually to capture each finishing cask's subtle nuances for an incomparable malt whisky experience.
Glen Scotia's famously maritime influenced malt combines with the rum casks, resulting in a delicious fusion of sea-salted caramel, ripe bananas, creamy white chocolate, vanilla and citrus peel. Bottled at 46% ABV, it's non-chill filtered and non-coloured, just the way it should be!
This is a dram that will leave you reaching for more – front to final pass, it's a masterclass.
Orders for Glen Scotia 2009 Rum Cask have closed. Sign Up Free to Australia's biggest whisky community now to get incredible single malt whiskies delivered straight to your door.
THE SPECS
Maturation: Matured in 100% first fill American oak ex-Bourbon barrels from Heaven Hill Distillery and finished in first fill Caribbean rum barrels from Barbados.
Ready to enjoy a world-class whisky collection?
Your free Club Membership gives access to exclusive single malt from Scotland, Australia and the world's best distilleries. Enjoy the unrivalled buying power of Australia's biggest whisky club.
Glen Scotia's History
Tiny Glen Scotia is one of Scotland's most historically significant distilleries and represents the highs and lows of Campbeltown, the prolific Scotch whisky region that almost disappeared.
In the 1800s Campbeltown was the undisputed whisky capital of the world and Glen Scotia was one of its brightest stars. It survived both Campbeltown's crash and the Great Whisky Purge, but as Speyside came into vogue in the 1900s, Glen Scotia's distinctive Campbeltown-style whisky was used almost exclusively for blending and was all but impossible to get hold of as a single malt. Whisky lovers were from time to time teased and reminded of the exceptional malts from this distillery with the very occasional distillery release or independent bottling, but by and large this stuff was like hen's teeth. Fortunately, all that's changed.
It's well known that today's Scotch industry grew from a "black market" of illicit distilling, but in Campbeltown probably more than anywhere else, the black market played a huge part in the establishment of the formal industry. Distillation had been taking place on the Kintyre peninsula since at least 1609, and by 1795 Campbeltown was home to at least 21 illicit stills, with a further ten not far from town.
An abundance of natural resources like barley, water and peat were easy to come by, but copper pot stills, especially ones that could avoid detection by HM Customs & Excise, weren't. And that's precisely what set Campbeltown and the Kintyre peninsula apart. In 1811, a cunning and industrious man by the name of Robert Armour set up a coppersmith's shop in Campbeltown, providing the perfect cover for a roaring trade in his specially designed four-part still that could be dismantled to avoid detection. The result of course was that production on the peninsula went into overdrive.
As the market for Scotch grew, the Kintyre peninsula's small illicit distilleries made way for bigger commercial operations, but unlike the rest of Scotland where the distilleries were located on farms in remote Highland glens, all the action was in and around Campbeltown itself. This made for excellent economies of scale in all aspects, especially shipping, with whisky able to be shipped to Glasgow in as little as nine hours. A staggering 29 distilleries were established between 1823 and 1844, and Campbeltown quickly became known as the world's whisky capital.
Glen Scotia, or simply Scotia as it was originally named, was established in 1832 by the town's Dean of Guild James Stewart, and Provost John Galbraith. While the region's fame endured the entire 1800s, distillery numbers were decimated around the turn of the century, thanks to a perfect storm of factors: the Great Depression, the First World War, Prohibition in the US, the Pattison Crisis, improved transportation links to distilleries in Speyside, a decline in overall quality as well as the closure of the nearby Drumlemble Colliery in 1923, meaning an end to local, affordable fuels. Ouch. No wonder Campbeltown's whisky industry imploded.
The distillery remained in the Galbraith family's hands until 1919, when it became one of the founding members of West Highland Malt Distilleries – a short-lived coming together of six Campbelltown distilleries in an effort to spread costs and reduce their risk of closure. Unfortunately, it didn't work. Five of the six closed their doors in the coming years, the carnage of Campbeltown continued and soon all that was left of the world's whisky capital was Scotia, Springbank and Ri-Clachan - a far cry from the heady days of the 1800s.
Scotia was purchased by WHMD director, leading industrialist and Glen Nevis founder Duncan MacCallum in 1924. MacCallum threw a bunch of money into the distillery and built the large malting floor buildings along High Street, however his time with Scotia was short and ended in tragedy. In 1930 he lost his life savings to a scam. Scotia soon fell silent and sadly Duncan took his own life. Campbeltown locals claim his ghost still haunts the distillery to this day.
It wasn't long before Scotia was once again fired up and renamed Glen Scotia by new owner, Bloch Brothers (who also bought Glengyle but did nothing with it, and Scapa) in 1933. Ri-Clachan closed its doors the year after leaving just Glen Scotia and Springbank in Campbeltown.
The Bloch's held on until 1954 when they passed the reigns of their distillery estate to Canada's Hiram Walker, who in turn flipped it to blender A.Gillies & Co, which became part of Amalgamated Distilled Products Ltd. Despite conducting works on the site in the late 70s, ADP mothballed the distillery in 1984. Gibson International took over and reopened Glen Scotia in 1989, but when Glen Catrine Bonded Warehouse Ltd took over Gibson's whisky business in 1994 Glen Scotia was virtually closed once again, running only sporadically as and when required.
Things were looking up in Campbeltown by the turn of the millennium – 1999 saw Glen Scotia in full swing again, and Springbank's owner J&A Mitchell bought the Glengyle distillery site the year after and set about the massive project of resurrecting the distillery, reopening in 2004 after some 80 dormant years. With three operating distilleries, Campbeltown, as a whisky region, was finally back on the map!
Following a century in the limelight and another on the backburner, the 2014 takeover by private equity firm Exponent heralded a new era in Glen Scotia's history. New management tasked Master Distiller John Peterson, a highly accomplished industry veteran with over 40 years' experience with the careful development and revival of Glen Scotia's single malts. The distillery was given a spruce up, production capacity increased, the dunnage warehouse expanded to allow exposure of the casks to the salty sea air, and finally a visitors' centre was built. John's since retired, leaving the distillery in the capable hands of Campbeltown's own Iain McAlister.
Little has changed at Glen Scotia over the years, it remains one of the smallest Scotch whisky distilleries, with one 11,800 litre wash still, one 8,600 litre spirit still and only ten staff on the books. That being said, Iain - a former engineer - has developed and enhanced production, all while preserving the craftsmanship and traditional skills in place, as well as much of the distillery's original design. The mashtun, stillroom, and dunnage warehouse all date from the 1830s, and many other original features and pieces of equipment are still in use.
One of the advantages of its years spent as a supplier of fillings for blends is that Glen Scotia has a good degree of in-built flexibility: it's able to produce a variety of styles both unpeated and peated, with either nutty or fruity characters depending on fermentation time. Unpeated whisky is by far the most produced style, with only around six weeks a year allocated to peated malt production.
Speaking of malt, Glen Scotia no longer malt their own barley on Duncan MacCallum's malting floors, rather it's made to their exact specification in the east of Scotland. Glen Scotia us a long fermentation time, on average 128 hours, allowing the yeast to complete its fermentation and time for a secondary lactic acid bacteria fermentation which increases the amount of fruit flavours created during fermentation. This element contributes to the banana, apple and citrus flavours in the tasting notes.
Both the wash still and spirit still are relatively small and contribute to a fuller bodied new make spirit. This carries through maturation giving a weight and viscosity to the spirit. A little water is added, the new make is barrelled at 63.5% ABV, then laid down in the dunnage warehouse to let the wood and the weather work its magic. Being so close to the sea, the spirit picks up a real coastal character, a deliciously distinct saltiness that shows through in every dram.
Since the take-over, the distillery's range has seen a major overhaul including rebranding and repackaging, and most importantly for whisky lovers around the world, a very strong focus on malt whisky production. Having spent the previous eighty or so years limited mainly to independent bottlings and blends, this incredibly historically significant distillery is finally back, and we're all the better for it!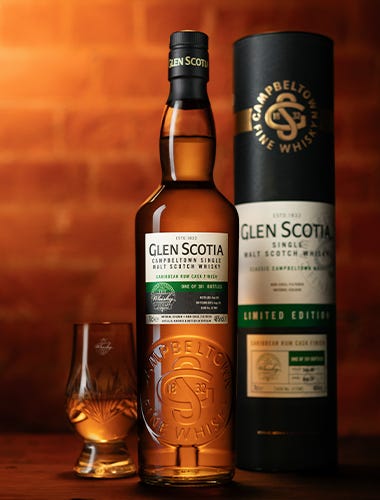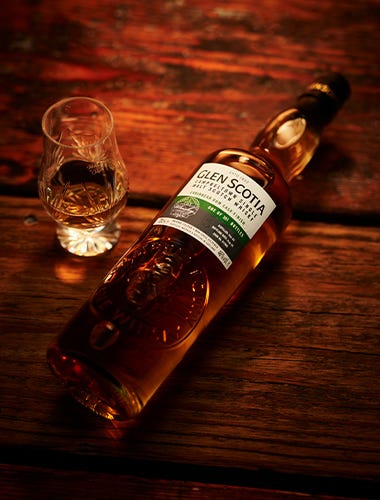 Distillery Facts
Origin: 12 High Street, Campbeltown, Argyll, PA28 6DS, United Kingdom
Water Source: Crosshill Loch
Washbacks: 9, Stainless Steel each with 25,000 litres capacity
Stills: 1 wash and 1 spirit
Capacity: 750,000 litres per annum
Ready to enjoy a world-class whisky collection?
Your free Club Membership gives access to exclusive single malt from Scotland, Australia and the world's best distilleries. Enjoy the unrivalled buying power of Australia's biggest whisky club.
Stop scrolling. Start dramming.