March 2020
Glenfarclas 2005 Oloroso Sherry Cask
Club Exclusives simply don't get better than a big red bottle of inimitable Glenfarclas, made specially for our Members from exceptional, hand-selected Oloroso Sherry casks.
United Kingdom
Nose Sweet, tropical fruit combined with delicious aromas of vanilla, malt and toffee. Fresh and inviting.
Palate An exciting combination of sweet sherry with light caramel, followed by tempting notes of boiled apples, stewed fruit and spiced crumble.
Finish Smooth butterscotch, lightly spiced with a soft mouth feel and lingering sweetness.
Food Match Roast lamb with caramelized roast root vegetables finished off with pecan pie and mature cheddar.
Overview
The Glenfarclas operation is large, boasting the biggest stills in Speyside and the biggest mashtun in the industry. Great care has been taken, at the expense of forgoing more cost-effective modern technologies, to ensure that the whisky's flavour remains consistent over the decades. Their stills are some of the few that are heated in the traditional manner by direct fire (from gas burners) rather than internal electric elements. The distillery experimented with elements the early 80s but found that this method changed the flavour of the spirit and the experiment was soon canned, with that batch of spirit being sold off to blenders.
Very early on the distillery replaced their wooden mashtuns with steel, and later stainless steel when the steel ones kept rusting through. The move away from the traditional wooden tun came from the need for consistent wash. Wooden mashtuns are favoured by some distilleries because an element of yeast remains in the wood after cleaning and can give the wash interesting flavours, but lacks the consistency of stainless steel, something that Glenfarclas values highly. Nowadays whenever a new system is trialled it's run alongside the old and is only implemented once an identical result is achieved and current chairman, John Grant, personally oversees all barley and barrel purchasing.
Glenfarclas has substantial onsite warehousing facilities with 28 traditional dunnage warehouses, some more than 200 years old, holding a massive 52,000 casks, the majority of which are traditional Spanish sherry casks. This is of course because, above all, Glenfarclas whisky is a traditional old-style Speyside malt, unpeated and synonymous with sherry casks. In the early days, sherry was the cask of choice for all Scotch whisky, but as the demand for whisky matured in these casks outgrew the amount of sherry that the world drinks, the resulting shortage drove the price up. This coincided with the expansion of American whiskey, where a law dating back to 1935 prohibits American distillers from reusing bourbon barrels. Suddenly there were vast amounts of affordable American oak barrels on the market, and with their very attractive vanilla and caramel influences, the Scots snapped them up. Such has been the popularity of the cheaper American oak casks that today around 97% of all Scotch whisky is matured in American oak bourbon casks. Glenfarclas and a handful of distilleries including Glendronach and Macallan resisted this temptation, remaining true to sherry casks despite the fiscal advantages of American oak casks. It is precisely this kind of long-term thinking that has ensured that the Glenfarclas that you taste today is identical to that which you would have tasted fifty years ago.
Having worked with George Grant and the team at Glenfarclas on two Club releases already, we were super excited to be able to delve into their warehouse once again to see what we could come up with, and the results have blown us away. A select batch of Oloroso hogsheads and butts, all laid down in 2005, were deemed perfect for bottling and brought together to create our 2005 Glenfarclas Club Exclusive Oloroso Sherry Cask release. Bottled at 48% ABV on January 22, 2020 without chill filtration or colour added, this is a notably different whisky to the regular Glenfarclas 15 Year Old, which is not only a lower 46% ABV, but is the only expression in the line-up to be a mixture of sherry and American oak casks.
This is a one-way ticket to luxury sherried Speyside heaven, where you'll find layers of sweet tropical fruit and delicious aromas of vanilla, malt and toffee that lead to decadent sherry with creamy caramel, stewed fruit and spiced crumble, and finishing very long with a lingering smooth butterscotch sweetness. Incredibly easy to drink, you're sure to find yourself pouring another glass.
THE SPECS
Maturation: 100% Oloroso Sherry Cask
Ready to enjoy a world-class whisky collection?
Your free Club Membership gives access to exclusive single malt from Scotland, Australia and the world's best distilleries. Enjoy the unrivalled buying power of Australia's biggest whisky club.
Glenfarclas's History
Glenfarclas has one of the most remarkable stories in Scotch whisky history. Fiercely independent, it is one of only three distilleries that has remained in the same family since establishment. While recent times have seen a number of distilleries such as Benromach, Edradour, Benriach and Glendronach returning to independent family ownership, for many years Glenfarclas, Glenfiddich and Springbank were the only family owned distilleries in Scotland, resisting the aggressive consolidation of the market that resulted in the vast majority of distilleries coming under foreign, corporate ownership.

Robert Hay built the distillery on his farm, Rechlerich, in 1836 and sold the farm and distillery to John Grant in 1865, when the story begins. The Grants were prominent local farmers in the area, breeding Aberdeen Angus cattle, and bought Rechlerich to serve as a halfway post between their farm in Glenlivet and the market in Elgin.

Initially John Grant's cousin John Smith ran the distillery, but he had his hands full running his own operation, which included the Glenlivet Distillery, and he eventually left in 1870 to establish Cragganmore Distillery. The Grants boys stepped in to take over from their cousin and things ticked over peacefully until the 1890s, when at the height of the whisky boom, they formed a joint-venture called the the Glenfarclas-Glenlivet Distillery Company with the infamous Pattinson brothers. If you've been paying attention over the past couple of years of these emails, you can guess what happened next; Pattinson's went bankrupt and the Grants almost followed suit. Fortunately for us, the Grants just managed to stay afloat and with the dissolution of the Glenfarclas-Glenlivet Distillery Company they established J&G Grant, the name under which the company still operates today. Times were tough but by 1914, after many years of hard work and the kind of shrewd accounting which the Scots are famous for, the family had secured the future of Glenfarclas Distillery.

But for the last 115 years or so following the Pattinson's kerfuffle all has gone blissfully well at Glenfarlas Distillery. Notable events include the 1960 expansion from two stills to four and the 1976 addition of a further two stills. The 20th century saw the distillery continue to be run by a succession of Grant men, notably George S. Grant who served as Chairman for a remarkable 52 years and had one of the most profound effects on the company. He decided to limit the amount of casks sold to blenders and the result is that at a time when stocks of aged Scotch whisky are at an all time low, Glenfarclas has one of the largest holdings of old casks in Scotland, which explains the presence of a 40 year old as a core product in the portfolio while others are forced to introduce Non-Age-Statement whiskies. John L.S. Grant succeeded his father George S. Grant as Chairman in 2002, and in 2007 released the first of the now hugely sought after Family Casks range with a bottling from every vintage between 1952 and 1994. He also has a son, George, who represents the sixth generation of the Grant family and is the firm's Brand Ambassador.

Glenfarclas is indeed a true cult whisky, synonymous with sherry and known for its unrivalled consistency of flavour over the decades. Perhaps their status in the industry is best summed up in the words of a rival distiller, who wrote to the Grant family in May, 1912: "of all the whiskies, malt is king, of all the kings, Glenfarclas reigns supreme".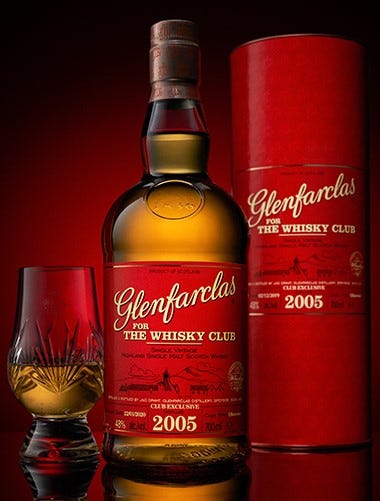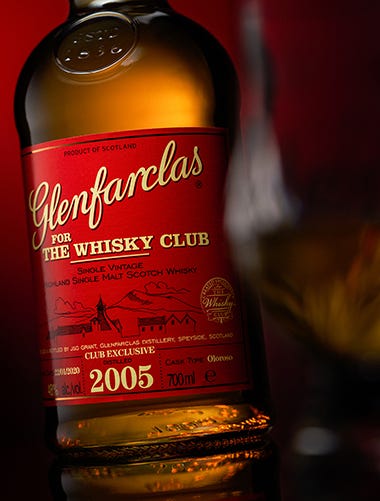 Distillery Facts
Origin: Glenfarclas Distillery, Ballindalloch, Speyside, Banffshire AB37 9BD, United Kingdom
Water Source: Ben Rinnes mountain
Washbacks: 12, Stainless Steel
Stills: 3 wash and 3 spirit
Capacity: 3,000,000 litres per annum
Ready to enjoy a world-class whisky collection?
Your free Club Membership gives access to exclusive single malt from Scotland, Australia and the world's best distilleries. Enjoy the unrivalled buying power of Australia's biggest whisky club.
Stop scrolling. Start dramming.