January 2022
Glenfiddich Grande Couronne 26 Year Old
It's the crowning glory of the Glenfiddich Grand Series. With its second maturation in Cognac casks, The Glenfiddich Grande Couronne 26 Year Old is here to take your whisky collection to dizzying new heights of luxury.
United Kingdom
Nose Vibrant and lively with abundant aromas of toasty oak sweetness, reminiscent of a French patisserie, with freshly baked Tarte Tatin and buttery choux pastry.
Palate Deep, velvety smooth and indulgently sweet. Café crème with soft brown sugar and a hint of spice.
Finish Very long-lasting sweet oak.
Food Match Baked chicken breast with honey mustard sauce followed by an apple and cinnamon Danish pastry.
Overview
From the most awarded Single Malt in the world, the Glenfiddich Grande Couronne (Great Crown in French) 26 Year Old with its second maturation in Cognac casks is the is the epitome of opulence. It's the crème de la crème in the Glenfiddich Grand Series, which also includes the Caribbean Rum cask finished Gran Reserva 21 Year Old, Spanish Sherry cask finished Gran Cortez 22 Year Old, and our March 2021 Add In, the Cuvée cask finished Grand Cru 23 Year Old.
Highly respected Glenfiddich Malt Master Brian Kinsman said "The Grand Series perfectly encapsulates Glenfiddich's spirit of innovation and our ability to experiment with aged liquid and intriguing finishes. Grande Couronne is the latest to exemplify that approach. It is the only Glenfiddich single malt that has matured in American and European oak casks and finished in rare French Cognac casks. The length of the finish, two years, is highly unusual and adds extra layers of sweet, toasted oak and velvety aromas of café crème, brown sugar and soft spice."
As well as those extra layers added by the Cognac casks, you'll find Glenfiddich's signature orchard fruits amongst a range of patisserie items full of baking spices; the 26 years in cask has really brought out some lovely desert notes.
The Glenfiddich Grande Couronne 26 Year Old is whisky grandeur at its best, a decadent liquid for both collectors and anyone wanting to save a special bottle for a significant moment. It's mouthwateringly delicious and most certainly worthy of the crown bestowed to it.
Orders for Glenfiddich Grande Couronne 26 Year Old have now closed. Sign Up Free now to get your hands on our upcoming releases.
THE SPECS
Maturation: Matured in American oak ex-Bourbon and European Oak then finished in rare French Cognac Casks for two years
Ready to enjoy a world-class whisky collection?
Your free Club Membership gives access to exclusive single malt from Scotland, Australia and the world's best distilleries. Enjoy the unrivalled buying power of Australia's biggest whisky club.
Glenfiddich's History
The Glenfiddich Distillery was established in 1886 by William Grant and is one of the greatest success stories of Scotch whisky, single-handedly creating the single malt category and now accounting for about 30% of all single malt sales worldwide.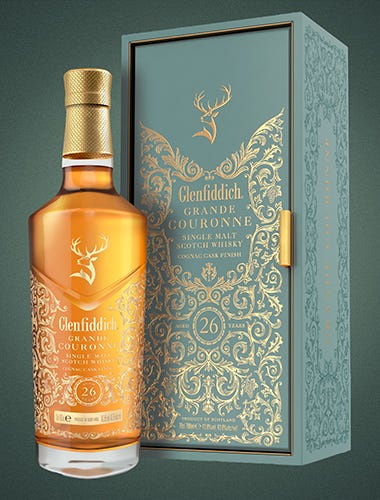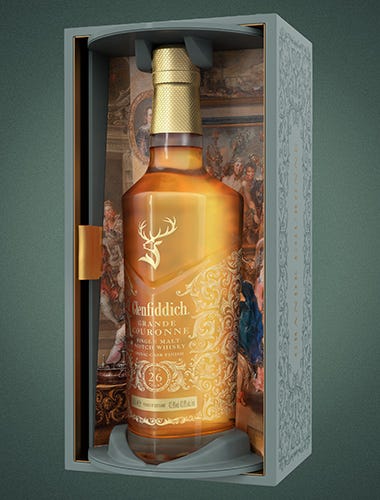 Distillery Facts
Origin: The Glenfiddich Distillery, Dufftown, Banffshire, AB55 4DH, Scotland, United Kingdom
Water Source: Robbie Dhu Spring
Capacity: 20,000,000 litres per annum
Stop scrolling. Start dramming.