August 2021
The Glenlivet 14 Year Old First Fill ex-Oloroso Sherry Butt
Our 2021 instalment of peak whisky connoisseuring is here! The Club Exclusive Glenlivet 14 Year Old First Fill ex-Oloroso Sherry Butt is bottled at 59.3%ABV and is bursting with plums, poached pears, marzipan, toasted almonds and a hint of dark chocolate.
United Kingdom
Nose A burst of fresh citrus kicks in along with plums and poached pears, rounded out by freshly baked banoffee pie with a dusting of cinnamon.
Palate Lemon peel, marzipan and ginger spice really sing. Dried fruits of sultanas and raisins come through before treacle toffee and a hint of dark chocolate take over.
Finish Prolonged and lingering. Traces of toasted almonds ease into warming spice.
Overview
Speyside's most iconic distillery makes another appearance in its extremely rare single cask form.
Cask 210770 is a single First Fill ex-Oloroso Sherry Butt that's been maturing for 14 years in anticipation for this moment, hand-selected by Glenlivet's Master Distiller and industry legend Alan Winchester.
Bottled at its natural cask strength of 59.3%ABV and without chill filtration, The Glenlivet 14 Year Old First Fill ex-Oloroso Sherry Butt is a whisky that'll send you to Speyside Sherried heaven. With plums and poached pears on the nose, marzipan, dark chocolate and lemon peel on the palate, and a long lingering finish of toasted almonds and warm spice, it's a sumptuous Sherry Bomb that you simply can't miss.
Strictly limited and exclusive to The Whisky Club, this very special Glenlivet Single Cask release presents an extremely rare opportunity to savour the world's biggest selling single malt in its most natural state - bottled pure, straight from a single cask at natural cask strength. This one sold out in mere moments. Not yet a Member? Sign Up Free to Australia's biggest whisky community now to get incredible single malt whiskies delivered straight to your door.
THE SPECS
Maturation: First-fill ex-Oloroso Sherry Butt, cask number 210770
Ready to enjoy a world-class whisky collection?
Your free Club Membership gives access to exclusive single malt from Scotland, Australia and the world's best distilleries. Enjoy the unrivalled buying power of Australia's biggest whisky club.
Glenlivet's History
Known as 'the single malt that started it all', Glenlivet Distillery was established in 1824 by farmer George Smith and was the first distillery in the Speyside region to be licensed under the new Excise Act of 1823. As we've explored in previous months, due to unfavourable legislation Scotland was a hotbed of illegal distillation for much of the 18th and early 19th century but the Excise Act provided a sensible framework upon which to bring the small operators in from the black market and create a scalable industry that has subsequently grown in to the multi-billion dollar powerhouse that it is today.

READ MORE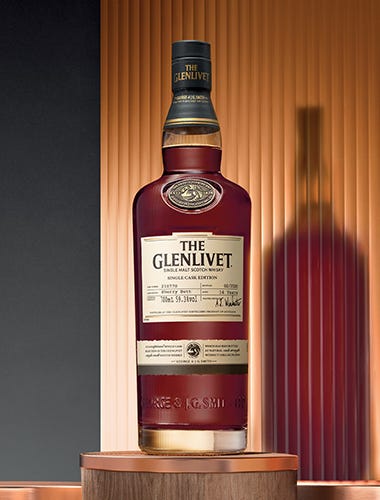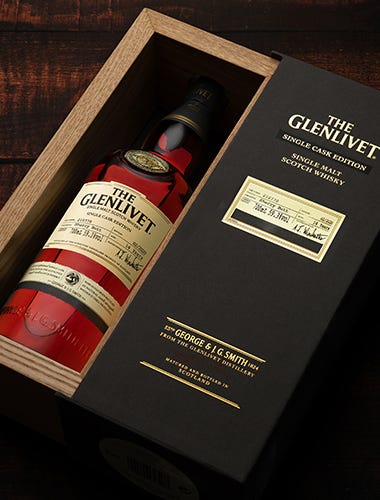 Distillery Facts
Origin: The Glenlivet Distillery
, Ballindalloch, 
Banffshire,
 AB37 9DB, Scotland, United Kingdom
Water Source: Josie's Well
Stills: 7 wash and 7 spirit
Capacity: 10,500,000 litres of alcohol per year
Stop scrolling. Start dramming.