August 2021
The Glenlivet 17 Year Old First Fill American Oak Barrel
We've got double Glenlivet goodness this month. The Club Exclusive Glenlivet 17 Year Old First-Fill American Oak Barrel is bottled at 56.1%ABV and is bursting with peaches, toffee, red apple, sweet mandarin rounded off with roasted almond and delicate oak.
United Kingdom
Nose The aroma of juicy ripe peaches complements sweet lychee and the captivating combo of vanilla toffee and golden syrup.
Palate A citrus tang kicks off along with some deliciously fresh orchard fruits of soft red apple and sweet pears before being rounded off by an intense burst of lovely orange marmalade.
Finish Punchy and soothing. Light fruits team up with roast almonds and integrated oak.
Overview
This very special Glenlivet Single Cask release presents an extremely rare opportunity to savour the world's biggest-selling single malt in its most natural state — bottled pure, straight from a single cask at natural cask strength.
Hand-selected by legendary Master Distiller Alan Winchester, Cask 29769 is a single First Fill ex-Bourbon American Oak Barrel that's been slowly maturing in Glenlivet's warehouse until the absolute Goldilocks moment when it was ready to be bottled at natural cask strength with no chill filtration.
This is the stuff of whisky dreams from the superstars of Speyside: a 17 year old American oak barrel bottled at 56.1% ABV, with peaches and toffee on the nose, red apple and poached pear with a sweet burst of mandarin rounded off with a satisfying finish of subtle fruit, roasted almond and delicate oak.
It's a masterclass in whisky in every sip, and an example of why The Glenlivet is one of the world's most enduring distilleries. But stock is painfully limited and exclusive to the Club, so don't pass up this opportunity to taste the greatness that is The Glenlivet 17 Year Old First-Fill American Oak Barrel. This one sold out in mere moments. Not yet a Member? Sign Up Free to Australia's biggest whisky community now to get incredible single malt whiskies delivered straight to your door.
THE SPECS
Maturation: American Oak Ex Bourbon, cask number 29769
Ready to enjoy a world-class whisky collection?
Your free Club Membership gives access to exclusive single malt from Scotland, Australia and the world's best distilleries. Enjoy the unrivalled buying power of Australia's biggest whisky club.
Glenlivet's History
Known as 'the single malt that started it all', Glenlivet Distillery was established in 1824 by farmer George Smith and was the first distillery in the Speyside region to be licensed under the new Excise Act of 1823. As we've explored in previous months, due to unfavourable legislation Scotland was a hotbed of illegal distillation for much of the 18th and early 19th century but the Excise Act provided a sensible framework upon which to bring the small operators in from the black market and create a scalable industry that has subsequently grown in to the multi-billion dollar powerhouse that it is today.

READ MORE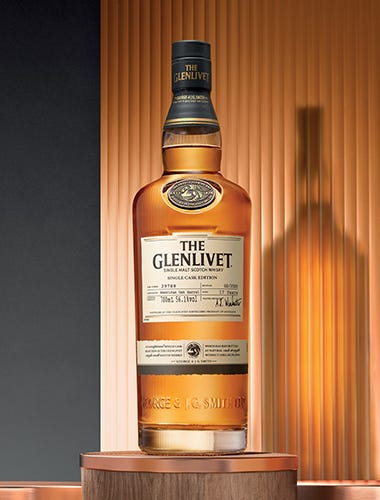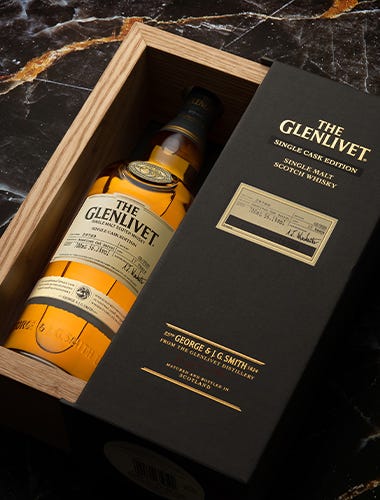 Distillery Facts
Origin: The Glenlivet Distillery
, Ballindalloch, 
Banffshire,
 AB37 9DB, Scotland, United Kingdom
Water Source: Josie's Well
Stills: 7 wash and 7 spirit
Capacity: 10,500,000 litres of alcohol per year
Stop scrolling. Start dramming.