July 2020
The Glenlivet 2003 First Fill ex-Oloroso Sherry Butt
Back by overwhelmingly popular demand! Get your hands on the mighty Glenlivet straight from the cask... specifically, a superbly delicious 15 year old Sherry Butt bottled at 58.6%ABV and only the second ever Glenlivet single sherry cask to come to Australia (guess who brought the first one?)
United Kingdom
Nose Plums and poached pears with banoffee pie, rounded off by a burst of fresh citrus and cinnamon
Palate Ginger spice, raisins and sultanas, treacle toffee, marzipan, and a hint of dark chocolate with lemon peel
Finish Long with a lingering trace of toasted almonds and warming spice
Overview
Back by overwhelmingly popular demand,here's your chance to get your hands on the mighty Glenlivet straight from the cask.
We may be grounded, but Covid can't stop us from visiting Speyside's most iconic distillery for an extremely rare opportunity to indulge in the mighty Glenlivet as nature intended; straight from the cask, non-chill filtered and natural colour, thanks to TWO Glenlivet single casks hand selected by Master Distiller Alan Winchester…
This superb Sherry bomb is from cask 54310, a 15 year old Sherry Butt bottled at 58.6%ABV and only the second ever Glenlivet single sherry cask to come to Australia.
Plums and poached pears with banoffee pie, rounded off by a burst of fresh citrus and cinnamon on the Nose, ginger spice, raisins and sultanas, treacle toffee, marzipan, and a hint of dark chocolate with lemon peel on the Palate, and Finishing long with a lingering trace of toasted almonds and warming spice. This is as good as it gets!
Strictly limited numbers, Sign Up free before Sunday 5 July to get your hands on one, or both, of these superb single casks.
THE SPECS
Maturation: First-fill ex-Oloroso Sherry Butt
Ready to enjoy a world-class whisky collection?
Your free Club Membership gives access to exclusive single malt from Scotland, Australia and the world's best distilleries. Enjoy the unrivalled buying power of Australia's biggest whisky club.
Glenlivet's History
Known as 'the single malt that started it all', Glenlivet Distillery was established in 1824 by farmer George Smith and was the first distillery in the Speyside region to be licensed under the new Excise Act of 1823. As we've explored in previous months, due to unfavourable legislation Scotland was a hotbed of illegal distillation for much of the 18th and early 19th century but the Excise Act provided a sensible framework upon which to bring the small operators in from the black market and create a scalable industry that has subsequently grown in to the multi-billion dollar powerhouse that it is today.

But things weren't easy for Smith in the early days, because people had grown wealthy trading whisky on the black market, and there was a feeling that once one distillery went clean the rest would have to follow, bringing an end to the status quo. Resentment and friction from his old colleagues became so bad that at one stage he had to carry two pistols with him for protection. Fortunately he survived and prospered, and in 1858 Glenlivet expanded to meet demand, and expanded again a few years later to meet up with the new Spey Rail line which gave Smith access to markets in England and the rapidly expanding British Empire. George Smith passed away in 1871 leaving the distillery in the capable hands of his son John Gordon Smith, who'd helped him establish the business, and his grandson George Smith Grant.

They say that imitation is the sincerest form of flattery and as Glenlivet's reputation for quintessential light, fruity and floral Speyside malt grew, other local distilleries in the Livet Glen and beyond began to use the name Glenlivet, so much so that a joke from those days was that the name 'Glenlivet' meant 'The Long Valley' because so many distilleries were located there. Young George Smith Grant took them to court in 1881 and won the right to call his whiskies "The Glenlivet", while only distilleries in the Livet Glen were allowed to use the hyphenated "- Glenlivet" in their names, a practice carried out until recently by neighbours Tamnavulin and Tomintoul.

Business continued to prosper and two more stills were added in 1897. Crucially, as with the other leading Scotch distilleries today, Glenlivet managed to survive both the Pattinson Crisis and the Great Depression. This put them in a fantastic position to capitalise on the end of prohibition in the USA where they are still in the top spot now. Glenlivet didn't escape a mothballing during the Second World War however, by Government decree mind you, but by 1947 production levels were back to pre-war levels thanks to Britain's post-war export drive to repay war debts. Overseas demand for Scotch made this an ideal export, and the distillery received preferential access to resources such as manpower, fuel and barley, despite ongoing bread rationing for the poor general population.

Glenlivet profited hugely from the 1950s Scotch boom and in 1953 merged with Glen Grant Distillery to form The Glenlivet and Glen Grant Distillers, Ltd. before a further merger with Hill Thomson & Co., Ltd. and Longmorn-Glenlivet Distilleries, Ltd. in 1970. They changed their name to Glenlivet Distillers Ltd in 1972 and were purchased by Canadian drinks and media company Seagram in 1977. Seagram sold their alcohol interests to Pernod Ricard and Diageo in 2000 with ownership of Glenlivet Distillers passing to Pernod Ricard, who later sold Glen Grant Distillery to Campari Group in 2005. By this time, thanks to careful stewardship from its owners, Glenlivet had become the second biggest selling single malt in the world and remained one of the world's best known and loved whiskies.

As a testament to the distillery's ongoing success none other than HRH The Prince of Wales opened a further extension in 2010. The addition of a mash tun, eight washbacks and six stills increased capacity by a whopping 75%. Today The Glenlivet is the best selling malt whisky in the USA and the fourth best selling in the UK. Glenlivet is also the world's second best selling single malt whisky (after Glenfiddich at Number 1) with current sales at over 13.6 million bottles per annum. It's widely regarded not only as the true embodiment of Speyside but also one of the greatest whiskies ever made.
The Glenlivet's whiskies are noted above all others to best represent the modern Speyside style. In fact, George Smith's greatest achievement, other than being the grandfather of the modern whisky industry, was creating a new style of whisky to become the house style of the entire Speyside region. He designed incredibly tall lantern shaped stills with wide necks that enabled the spirit to have maximum contact with the copper, while the height ensured that only the lightest vapour reached the top to condense and form a light, sweet, floral spirit with an estery character. This alternative to the heavy, dense and rich style of whisky produced in Speyside at the time proved to be hugely popular and remains so today.

The distillery's 2010 expansion and refurbishment upgraded Glenlivet into one of the most modern distilleries in Speyside, featuring a vast Brigg's mash tun, sixteen washbacks and a whopping fourteen stills with the capacity to produce a staggering 10.5 million litres a year. The stills continue to be made to the exact specifications of George's original design as Glenlivet continues to produce the same signature style of single malt even after all these years.

The distillery draws water from Josie's Well, supplemented by Blairfindy Well a short distance from the distillery, and malt comes from Crisp Malting in Portgordon. In terms of oak, The Glenlivet uses a mixture of traditional oak casks, American Oak ex-bourbon casks, ex-sherry, French Limousin oak and now ex-Cognac casks. Glenlivet has a well-stocked range that includes NAS, 12yo, 15yo, 18yo, 21yo, 25yo, 50yo, the cask-strength Nàdurra range and single cask range.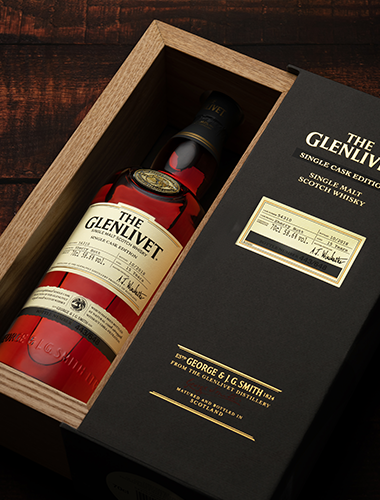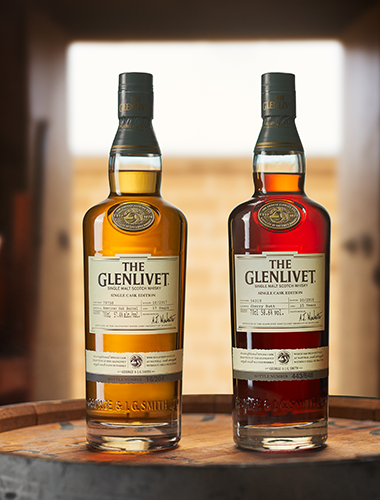 Distillery Facts
Origin: The Glenlivet Distillery
 Ballindalloch 
Banffshire
 AB37 9DB, Scotland, United Kingdom
Water Source: Josie's Well
Stills: 7 wash and 7 spirit
Capacity: 10,500,000 litres of alcohol per year
Ready to enjoy a world-class whisky collection?
Your free Club Membership gives access to exclusive single malt from Scotland, Australia and the world's best distilleries. Enjoy the unrivalled buying power of Australia's biggest whisky club.
Stop scrolling. Start dramming.