May 2022
The Glenlivet 21 Year Old Single Cask
This is for serious whisky lovers only: a bottle of The Glenlivet that's been aged in one single cask for 21 years. Thanks to our ongoing Club Exclusive Glenlivet Single Cask series, now's your chance to own one.
United Kingdom
Nose Decadent floral notes, melted butter and peaches in syrup by orange & poppy seed cake. Crème brûlée topped with dried apricots, almonds, and vanilla oak.
Palate Lemon meringue, tropical fruits and banoffee pie. Strawberries & cream with dashes of cinnamon, nutmeg, and caramelised oak.
Finish Long-lasting and rounded, white chocolate alongside marshmallow, toasted wood, and mocha.
Overview
We've been able to get our hands on the oldest official Glenlivet Single Cask to enter Australia. This stunning whisky showcases the pinnacle of the biggest producer of Single Malt in the world… the renowned Glenlivet Distillery.
Once a year, legendary Master Distiller Alan Winchester picks out a limited number of exceptional casks of all ages that embody the true essence of The Glenlivet. Exclusively for the Club, he's selected American Oak Cask #1383 which was filled in 2000, a 21 Year Old whisky that's spent all of its years softly maturing in the dark cask warehouses of the distillery. This is whisky in its most pure form, bottled non-chill filtered and non-coloured at natural cask strength, 56.1% ABV.
It's bursting with floral notes, peaches in syrup and crème brûlée topped with dried apricots and almonds on the nose. The palate reveals the decadence of this Single Malt with layers of tropical fruits alongside lemon meringue and strawberries & cream, with dashes of cinnamon and nutmeg spice. The finish is long-lasting and well rounded, white chocolate alongside marshmallows, toasted wood and rich mocha linger on the tongue to complete this delightful experience.
Take it as a tip from your friends at the Club, compared to other A-list Scotch distilleries, this Glenlivet Single Cask offers ridiculous value at $395 and is available for Member Exclusive Add-In this May.
Orders for The Glenlivet 21 Year Old Single Cask have now closed. Sign Up Free now to get your hands on our upcoming releases.
THE SPECS
Maturation: American oak ex-Bourbon, Single Cask #1383
Ready to enjoy a world-class whisky collection?
Your free Club Membership gives access to exclusive single malt from Scotland, Australia and the world's best distilleries. Enjoy the unrivalled buying power of Australia's biggest whisky club.
Glenlivet's History
Known as 'the single malt that started it all', Glenlivet Distillery was established in 1824 by farmer George Smith and was the first distillery in the Speyside region to be licensed under the new Excise Act of 1823. As we've explored in previous months, due to unfavourable legislation Scotland was a hotbed of illegal distillation for much of the 18th and early 19th century but the Excise Act provided a sensible framework upon which to bring the small operators in from the black market and create a scalable industry that has subsequently grown in to the multi-billion dollar powerhouse that it is today.

READ MORE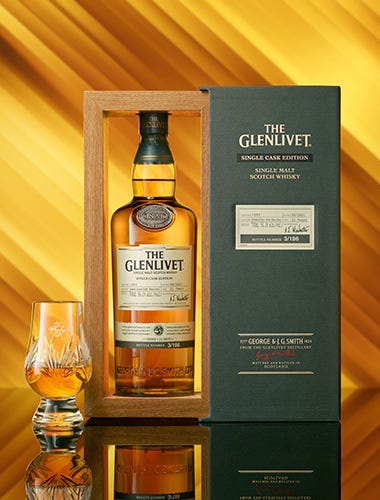 Distillery Facts
Origin: The Glenlivet Distillery
, Ballindalloch, 
Banffshire,
 AB37 9DB, Scotland, United Kingdom
Water Source: Josie's Well
Stills: 7 wash and 7 spirit
Capacity: 10,500,000 litres of alcohol per year
Stop scrolling. Start dramming.