February 2023
Glenmorangie Amontillado Sherry Cask
Glenmorangie's first-ever collaboration on a single malt. Created exclusively for The Whisky Club, our gold-medal-winning Glenmorangie is in an elite category of single malt Scotch whiskies to be awarded 95 pts at the world's most prestigious international drinks competition.
United Kingdom
Nose Freshly baked orange and poppy seed cake, with peaches in syrup, cashew nuts and classic dried fruit sherry notes.
Palate Orange sherbet, fruit & nut chocolate, and ginger snaps interwoven with shades of hot toddy alongside rich sherried oak, and walnut oil.
Finish Slow and lingering. Sticky butterscotch, honey-glazed nuts, and a touch of old leather.
Food Match Arnott's Tim Tams
Overview
Glenmorangie's limited edition single malts have taken out two gold awards in the International World Spirits Competition this past year alone, and Whisky Hall of Fame inductee Dr Bill Lumsden hasn't let landing the title of Master Distiller of the Year on seven separate occasions get in the way of creating a bespoke dream dram for The Whisky Club.
This rare cask creation from Glenmorangie is the first time this old Highland distillery has released an exclusive collaboration and, boy, are you in for a real treat with this one.
Highly sought after and exquisitely hard to come by, Amontillado barrels were sourced from the legendary Miguel Martin Sherry bodega in the south of Spain to finish Glenmorangie's famous single malt for a luxurious four years. These casks are Dr Bill's personal favourite and it's been a labour of love for him to find these rich and rare barrels to create such a divine single malt, non-chill filtered and no colour added, exclusive for Club Members.
This single malt fantasy really is the ultimate Glenmorangie experience: beautifully mouthcoating, with the aroma of freshly baked orange and poppy seed cake coupled with peaches in syrup. And the palate is simply brimming with orange sherbet and ginger snaps interwoven with rich sherried oak and honey-glazed nuts.
If you're familiar with Glenmorangie, home of the tallest stills in Scotland, then it will come as no surprise that this 12 year old, 46% ABV bespoke drop is sumptuously slow on the palate, with a lingering viscous finish that just won't stop.
With the hugely popular Glenmorangie 12 Year Old Malaga and 15 Year Old Cadboll Estate long gone, this is one dram you'll want to Double Up on before it's too late.
As Dr Bill has confessed, "This is niche, this is limited, and I'm not certain when or if I will use Amontillado casks again. So grab yourself a bottle while you can, and sip and savour and enjoy it."
Not yet a Member? Sign Up Free to join Australia's biggest whisky community and nab yourself one of the last remaining bottles of Glenmorangie 12 Year Old Amontillado Cask for $140.
THE SPECS
Maturation: 8-year-old Glenmorangie transferred into Amontillado Sherry casks for a 4 year finish
Ready to enjoy a world-class whisky collection?
Your free Club Membership gives access to exclusive single malt from Scotland, Australia and the world's best distilleries. Enjoy the unrivalled buying power of Australia's biggest whisky club.
Glenmorangie's History
Glenmorangie Distillery sits on the banks of the scenic Dornoch Firth just outside the township of Tain in Ross-shire, northern Scotland. It seems the residents of Tain were a thirsty bunch, they've been said to have been brewing beverages in the area since the Middle Ages.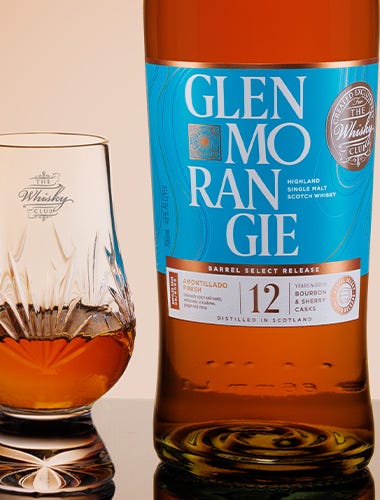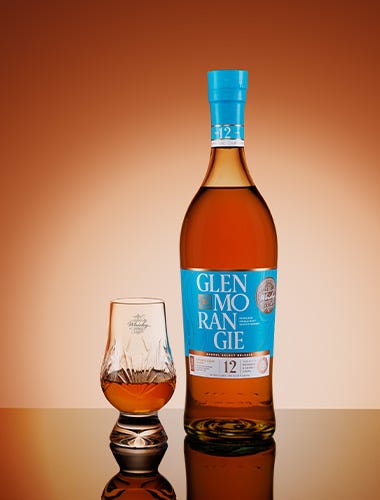 Distillery Facts
Origin: Glenmorangie Distillery, Tain, Ross-shire, IV19 1PZ, United Kingdom
Water Source: Tarlogie Spring
Washbacks: 16 - 48,500 litres, stainless steel
Stills: 12 (6 wash, 6 spirit)
Capacity: 6,000,000 litres per annum
Stop scrolling. Start dramming.