February 2022
Glenmorangie The Cadboll Estate 15 Year Old
Delectable, collectable, multi award-winning and only available from the Club, Glenmorangie The Cadboll Estate 15 Year Old is Single Estate field-to-glass perfection from the freshly crowned Master Distiller of the Year Dr Bill Lumsden, bringing the ultimate creaminess and an absolutely heavenly drinking experience.
United Kingdom
Nose A full and fruity aroma with orange and honeyed apricots. Creamy vanilla candy, toasted almonds, and a hint of coconut and sugared almonds.
Palate A rich, smooth silky texture, followed by bursts of poached pear in syrup, apricot, and zesty lemon. Ginger and cinnamon spices sizzle before being tempered by a cooling freshness.
Finish Long and lingering, with layers of orange oil, toasty oak, and eucalyptus.
Food Match Greek salad with plenty of Feta, followed by strawberries and cream.
Overview
Just a short drive from the distillery itself, Glenmorangie's 440-acre Cadboll Estate produces just enough of their own unique strain of barley for no more than two weeks production per year. A lot of time and care goes into making sure the exceptionally precious barley is exactly what Dr Bill Lumsden's after. He specifies the varieties and fields they'll be planted in, and upon harvest makes sure the barley's dried and malted just as he chooses.
Dr Bill said: "Our rugged and remote homeland is so special, that we wanted to share its spirit and flavour in this delicious whisky, crafted at Glenmorangie from field to glass. The Cadboll Estate barley brings an extra creaminess to our delicate, fruity spirit. For those of you who do not live in the Highlands – in other words, most of you – enjoying our Cadboll Estate whisky is the next best thing to being here."
The small first release distilled in 2004 was followed by Glenmorangie The Cadboll Estate 15 Year Old 2005 Vintage, which reflects the subtle changes in the barley crop. Distilled in 2005 and matured in first fill American White Oak ex-Bourbon casks, it's already found fame by picking up Best Single Malt Scotch 15 Year Old at the 2021 International Whisky Competition, Double Gold at the 2021 San Francisco Spirits Competition, and Gold at the 2021 International Spirits Challenge.
This second batch release of Glenmorangie The Cadboll Estate 15 Year Old has wondrously silken depths; it layers rich cinnamon and ginger, orange, eucalyptus, and creamy vanilla candy.
The whisky sings in the glass and showcases the absolute best of Glenmorangie. Orders have now closed. Sign Up Free now to get your hands on our upcoming releases.
THE SPECS
Maturation: First-fill American White Oak ex-Bourbon casks
Ready to enjoy a world-class whisky collection?
Your free Club Membership gives access to exclusive single malt from Scotland, Australia and the world's best distilleries. Enjoy the unrivalled buying power of Australia's biggest whisky club.
Glenmorangie's History
Glenmorangie Distillery sits on the banks of the scenic Dornoch Firth just outside the township of Tain in Ross-shire, northern Scotland. It seems the residents of Tain were a thirsty bunch, they've been said to have been brewing beverages in the area since the Middle Ages.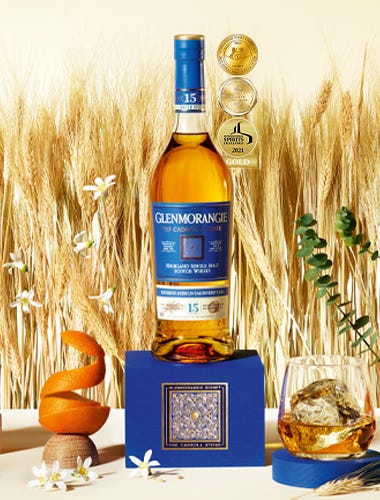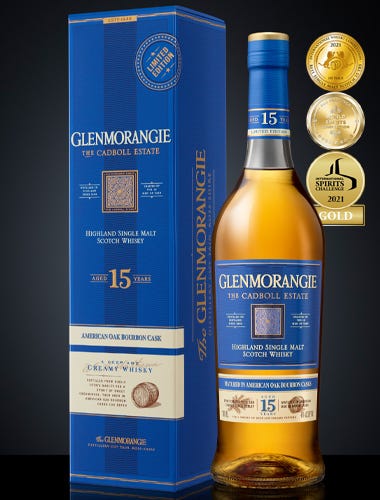 Distillery Facts
Origin: Glenmorangie Distillery, Tain, Ross-shire, IV19 1PZ, United Kingdom
Water Source: Tarlogie Spring
Washbacks: 16 - 48,500 litres, stainless steel
Stills: 12 (6 wash, 6 spirit)
Capacity: 6,000,000 litres per annum
Stop scrolling. Start dramming.