August 2020
Hellyers Road 16 Year Old Single Cask
In a first for Hellyers Road, this is a marriage of three of their very best 16 Year Old American Oak ex-bourbon casks, then finished in casks that previously held Hellyers' Gold Medal winning Peated whisky for an extra layer of depth, complexity and indulgence.
Australia
//= /* @escapeNotVerified */ // __('Tasting notes') ?>
Nose Delicately sweet. Honey on toast mingles with a gentle campfire smoke.
Palate Thick and oily, it melts in your mouth leaving maple syrup and hints of vanilla, with bush honey and a deft smoky haze.
Finish The long, smoky finish carries notes of charred jam and warm toffee syrup.
Overview
The next in our ongoing range of exceptional, hand-picked local whiskies representing the cream of Aussie whisky, this exclusive Finishing Cask Release is a first for Hellyers Road Distillery.
Richly complex and fruity, it's a marriage of three of their very best 16 Year Old American Oak ex-bourbon casks (Cask #3240.01, Cask #3240.03 and Cask #3149.04) finished in casks that previously held Hellyers' Gold Medal winning Peated whisky for an extra layer of depth, complexity and indulgence.
Bottled as Single Finishing Casks at natural cask strength, these are two absolutely superb, heavy and richly complex Tasmanian single malts with notes of bush honey and vanilla overlaid with a subtle smokiness and charred jam.
Don't miss one of the oldest, most delicious Tasmanian single malts ever released.
Above all else, this is whisky made for the Club by one of the Club - our great friend and Club Member Mark Littler, one of many Aussie distilling legends who we count as fellow Members. It's all the more special as one of Mark's final releases before departing Hellyers at the end of 2020 after two decades at the helm of one of Australia's founding distilleries - we'll raise a dram to that!
So be very quick and Sign Up Free now to be in line for a bottle of Aussie whisky history.
WHISKY SPECS
Maturation: Three 16 Year Old American Oak ex-bourbon casks (Cask #3240.01, Cask #3240.03 and Cask #3149.04) finished in casks that previously held Hellyers's Gold Medal winning Peated whisky
Hellyers Road's History
As far as distillery histories go, Hellyers Road's is one of the most charming. The distillery was established in 1999 by a group of whisky-mad dairy farming families from the wild and windswept northwest of Tasmania and today remains firmly and very proudly in the hands of these same families. The story actually begins way back in 1956 when the previous generation gathered to talk business. Faced with the typical challenges of dairy farming, these hard-working generational men and women of the land wanted greater control over the pricing and distribution of their milk. The discussions culminated in the sensible conclusion that strength lies in unity and the formation of the Betta Milk Cooperative, now Tasmania's leading milk producer.

All was well (as well as it can be with dairy farming of course) until 1994 when Australia's Dairy Industry was deregulated. Faced with the new challenges and uncertainty presented by the open market, the Betta Milk families did what all good farmers do and diversified. Except instead of following conventional wisdom and going into things like cropping or meat they took a massive leap of faith left-field and made single malt whisky… and it's paying off in spades.

Located in prime dairy farming country on the North West Tasmanian coast, Hellyers Road Distillery was named after Henry Hellyer, a legendary surveyor from the Van Dieman's Land Company who made his name mapping northern Tasmania. His greatest achievement, other than having a distillery named after him of course, was digging out the Old Surrey Road – an enormous job with a handful of men and only the most basic tools. And you've guessed it, Hellyers Road Distillery is located on Hellyer's very own Old Surrey Road.

The first spirit flowed through the Hellyers Road stills 19 years ago on January 29, 1999 and seven years later in 2006 the first whisky was bottled. A lot changes in twelve years and as far a good punt goes, the decision to make whisky has been as good as gold because today the Tasmanian whisky industry couldn't possibly be in a better place.

But it wasn't always so rosy. Back in 1838 Tasmania was home to no fewer than 16 legal distilleries and countless illegal ones, and with a growing population of thirsty locals the industry boomed. At least it did up until the point Lady Jane Franklin, wife of Tasmanian Governor John Franklin, said "I would prefer barley be fed to pigs, than it be used to turn men into swine". Needless to say Tasmania ended up with a lot of happy pigs and no shortage of bacon, but sadly no more local whisky after Lady Jane had her way and laws were introduced that forced the closure of all Tasmanian distilleries at the time.

The drought was broken in 1991when a chap by the name of Bill Lark went trout fishing in Tasmania's Highlands with his father-in-law, Max. Enjoying a dram in a park in Bothwell, Bill questioned why nobody was making whisky in Tasmania – after all, not only is the climate perfect, there's an abundance of crystal-clear water, locally grown barley and peat bogs. It just seemed logical. So, Bill being Bill set out to have a go, but upon applying for a license discovered Lady Jane's law was still in place. Undaunted he contacted his local MP, the law was abolished and Lark Distillery was formed in 1992, paving the way for the Australian whisky industry as we know it. Hot on the heels of Lark came Small Concern Distillery (1992), Sullivans Cove (1994) and Hellyers Road.

Together these distilleries forged ahead and were joined along the way by others including Nant, Overeem, Belgrove and McHenry, and in recent years Old Kempton, Shene, Spring Bay, Fannys Bay, Adams, Launceston and Killara to name only a few of the forty or so (that's almost as many as Speyside!) distilleries that make Tasmania the whisky isle of the South.

Tasmania has become a whisky region in itself, the name being used in the same breath as the long established Scotch regions like Speyside and Islay, and there's been no shortage of awards either – with Sullivans Cove, Belgrove, Lark, Overeem, Nant and of course Hellyers Road all achieving international accolades from the likes of Jim Murray and the World Whisky Awards in London.

Today Hellyers Road Distillery is not only Australia's biggest selling local whisky but can be found all across Europe, as well as Japan, China and the United States and in 2017 was named Tasmania's Exporter of the Year.

Of course as a fledgling industry, the recognition that comes from winning major international awards is a massive boost and Hellyers Road is no stranger to the podium. Awards include being named Australia's Best Whisky in 2010 by the Malt Whisky Society of Australia, Best New World at Whisky Live Paris in 2013 while the Slightly Peated scooped up both Gold and Champion Single Malt status at the Australian Distilled Spirits Awards, plus a Gold at the 2018 World Whisky Awards.

Topping it all off, Visitor Centre manager Sharon Dean was named a 'World Whisky Icon' for her outstanding work at the distillery. One of the original team members, Sharon has seen the distillery's Visitor Centre grow from a few thousand visitors a year to becoming one of Tasmania's most popular tourism destinations with over 40,000 visitors a year, many making the pilgrimage from overseas to visit the home of their favourite malt.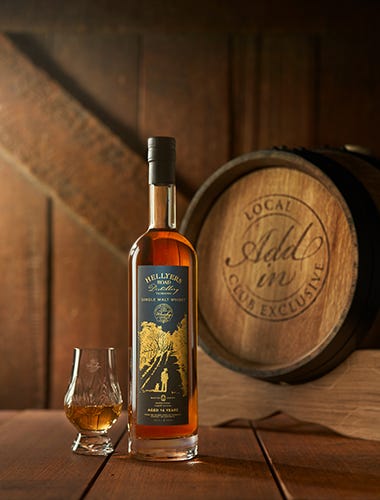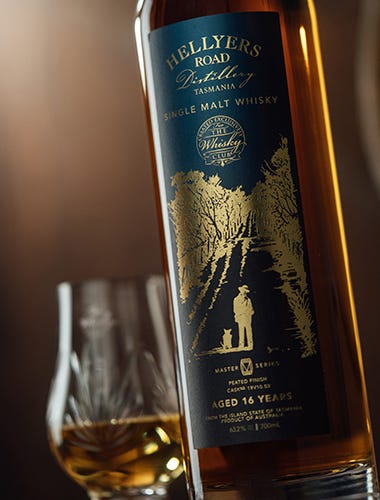 Distillery Facts
Origin: 153 Old Surrey Rd, Havenview TAS 7320
Water Source: Romaine Dam
Stills: 1 wash and 1 spirit
Capacity: 120,000 litres per annum
Stop scrolling. Start dramming.