March 2021
Hellyers Road Aged 16 Years Pinot Noir Cask Finish
An explosion of ripe apples, rich summer berry pudding and icing sugar coated Turkish Delight, Hellyers Road Aged 16 Years Pinot Noir Cask Finish has matured for over half the time the Tassie whisky industry has even existed – and it's finally ready for our exclusive drinking pleasure.
Australia
Nose Icing sugar coated Turkish delight fills the nostrils. Then along comes mandarin, ripe apple and rhubarb strudel and some rich mahogany.
Palate A creamy mouthfeel dancing around the palate with a mix of sweet and savoury. Choc orange, musk sticks, and sultanas give way to BBQed pork chops lathered with apple sauce.
Finish Long and refreshing. Summer berries and cream, a hint of ginger and toasted nutmeg mellows out into some nice soft oak.
Food Match Creamy bacon carbonara followed by white chocolate cheesecake
Overview
We're ABSOLUTELY THRILLED to present the Grand Finale in our hugely popular series of historic single malts from Australia's biggest selling whisky distillery to Australia's biggest community of whisky lovers:
Hellyers Road Aged 16 Years Pinot Noir Cask Finish.
Created Exclusively for The Whisky Club by Master Distiller and long-time fellow Club Member Mark Littler, as his very last whisky project before leaving Hellyers Road after nearly two decades at the helm, this historically significant malt bears witness to the story of Tasmanian whisky.
Distilled at a time when there were only four other whisky distilleries in Australia and made using Gairdner barley, a variety used in the early 2000s to make some of Tasmania's best whiskies including Lark and Sullivans famed older single casks, this is a whisky that's matured for over half the time the Tassie whisky industry has even existed.
Selected from whisky laid down in 2003 and 2004 it was finished last year in the freshest Tasmanian Pinot Noir casks from Tasmania's famous Tamar and Coal River valleys, the terroirs of the two wine regions imparting an added layer of complexity to compliment Hellyers' unique marrying process.
As soon as the finishing casks reached an optimum maturation point and a flavour profile that Littler was happy with, they were married using an old Scottish technique that's unique to Hellyers in Australia and assists with integration of the whisky and helps it mellow out before being broken down to its final ABV for bottling.
The secret is to dilute the whisky in the marrying vat to a unique 'marrying' strength before putting it into special 'marrying casks' and leaving them to settle for a further six months. Letting the whisky settle at a different ABV in these casks, and changing its solubility with the added water, affects its interaction with the sugars in the oak and this helps the whisky with its amalgamation even further.
Once this process was completed, the whisky was decanted for a third time and broken down to 46.2% ABV and bottled non-chill filtered and natural in colour, exclusively for The Whisky Club.
What the French Oak Tasmanian Pinot Noir casks add to the already elegant and complex whisky is astonishing with the fruity orchard and berry notes of the wine casks really taking it to another level. This fruit forward whisky is complimented by some lovely buttery and integrated oak notes, leading to a fuller palate and a well-rounded finish as the flavour explodes in your mouth just like a chocolate liqueur. The flavours take you on a tour of Tasmania starting off with the apples and cherries of the Huon Valley, then along comes the malt and barley fields of Northern Tasmania before leaving you at one of Tasmania's many wineries, with the rich wine influence remaining from the cask.
Crafted from Tasmanian barley and pure Tasmanian water, drawn from the best first fill American Oak casks in the distillery and then finished in the freshest Tasmanian wine casks, this is Hellyers Road at its finest.
At a time when limited edition local whiskies can set you back upwards of $250 and Tasmanian whiskies of a similar age fetch $1000s, don't miss out on some of Hellyers', but also Tasmania's oldest whisky for only $130 a bottle. Be quick: Sign Up Free now to get your hands on a bottle while stocks last.
THE SPECS
Maturation: First matured in 15 years American oak ex-Bourbon casks, then finished in first-fill French Oak Tasmanian Pinot Noir casks.
Ready to enjoy a world-class whisky collection?
Your free Club Membership gives access to exclusive single malt from Scotland, Australia and the world's best distilleries. Enjoy the unrivalled buying power of Australia's biggest whisky club.
Hellyers Road's History
As far as distillery histories go, Hellyers Road's is one of the most charming. The distillery was established in 1999 by a group of whisky-mad dairy farming families from the wild and windswept northwest of Tasmania, and today remains firmly and very proudly in the hands of these same families. The story actually begins way back in 1956 when the previous generation gathered to talk business. Faced with the typical challenges of dairy farming, these hard-working generational men and women of the land wanted greater control over the pricing and distribution of their milk. The discussions culminated in the sensible conclusion that strength lies in unity, and the formation of the Betta Milk Cooperative, now Tasmania's leading milk producer.
All was well (as well as it can be with dairy farming of course) until 1994 when Australia's Dairy Industry was deregulated. Faced with the new challenges and uncertainty presented by the open market, the Betta Milk families did what all good farmers do and diversified. Except instead of following conventional wisdom and going into things like cropping or meat they took a massive leap of faith left-field and made single malt whisky… and it's paying off in spades.
Located in prime dairy farming country on the North West Tasmanian coast, Hellyers Road Distillery was named after Henry Hellyer, a legendary surveyor from the Van Diemen's Land Company who made his name mapping northern Tasmania. His greatest achievement, other than having a distillery named after him of course, was digging out the Old Surrey Road – an enormous job with a handful of men and only the most basic tools. And you've guessed it, Hellyers Road Distillery is located on Hellyer's very own Old Surrey Road.
The first spirit flowed through the Hellyers Road stills 22 years ago on January 29, 1999 and seven years later in 2006 the first whisky was bottled. A lot changes in 14 years and as far as a good punt goes, the decision to make whisky has been as good as gold because today the Tasmanian whisky industry couldn't possibly be in a better place.
But it wasn't always so rosy. Back in 1838 Tasmania was home to no fewer than 16 legal distilleries and countless illegal ones, and with a growing population of thirsty locals the industry boomed. At least it did up until the point Lady Jane Franklin, wife of Tasmanian Governor John Franklin, said "I would prefer barley be fed to pigs, than it be used to turn men into swine". Needless to say, Tasmania ended up with a lot of happy pigs and no shortage of bacon, but sadly no more local whisky after Lady Jane had her way and laws were introduced that forced the closure of all Tasmanian distilleries at the time.
The drought was broken in 1991 when a chap by the name of Bill Lark went trout fishing in Tasmania's Highlands with his father-in-law, Max. Enjoying a dram in a park in Bothwell, Bill questioned why nobody was making whisky in Tasmania – after all, not only is the climate perfect, but there's also an abundance of crystal-clear water, locally grown barley and peat bogs. It just seemed logical. So, Bill being Bill set out to have a go, but upon applying for a license discovered Lady Jane's law was still in place. Undaunted he contacted his local MP, the law was abolished, and Lark Distillery was formed in 1992, paving the way for the Australian whisky industry as we know it. Hot on the heels of Lark came Small Concern Distillery (1992), Sullivans Cove (1994) and Hellyers Road.
Together these distilleries forged ahead and were joined along the way by others including Nant, Overeem, Belgrove and McHenry, and in recent years Old Kempton, Shene, Spring Bay, Fannys Bay, Adams, Launceston and Killara to name only a few of the sixty or so (that's more than Speyside!) distilleries that make Tasmania the whisky isle of the South.
Tasmania has become a whisky region in itself, the name being used in the same breath as the long-established Scotch regions like Speyside and Islay, and there's been no shortage of awards either – with Sullivans Cove, Belgrove, Lark, Overeem, Nant and of course Hellyers Road all achieving international accolades.
Today Hellyers Road Distillery is not only Australia's biggest selling local whisky but can be found all across Europe, as well as Japan, China and the United States. In 2017 it was named Tasmania's Exporter of the Year.
Of course, as a fledgling industry, the recognition that comes from winning major international awards is a massive boost and Hellyers Road is no stranger to the podium. Awards include being named Australia's Best Whisky in 2010 by the Malt Whisky Society of Australia, Best New-World Whisky at Whisky Live Paris in 2013 while the Slightly Peated scooped up both Gold and Champion Single Malt status at the Australian Distilled Spirits Awards, a Gold at the 2018 World Whisky Awards, Best Australian Single Cask at the 2020 World Whisky Awards and most recently following that up with Category Winner for Australian Single Malt, No Age Statement with the Hellyers Road Henry's Legacy Freestone Cove at the 2021 World Whisky Awards.
Topping it all off, Visitor Centre manager Sharon Dean was named a 'World Whisky Icon' for her outstanding work at the distillery. One of the original team members, Sharon has seen the distillery's Visitor Centre grow from a few thousand visitors a year to becoming one of Tasmania's most popular tourism destinations with over 40,000 visitors a year, many making the pilgrimage from overseas to visit the home of their favourite malt.
In 2019 the Betta Milk Cooperative sold the milk side of the company off, to be able to completely focus on and expand the Hellyers Road Single Malt brand.
Mark Littler, former CEO and Master Distiller, has had a long history with The Whisky Club, being one of our very first Members, and created a series of historic and fanatically popular malts specially for his fellow Members over the years. Our March 2021 malt, Hellyers Road Aged 16 Years Pinot Noir Cask Finish, was his very last project at Hellyers and needless to say holds a very special place in the Club's hearts and whisky shelves.
One of the biggest distilleries in Australia, Hellyers Road has been at the centrepiece of Australian whisky since the first spirit was laid down in 1999. With a capacity of 120,000L when they first started, they were able to hit the ground running and put down a constant stream of casks in those early years. Their trademark fruity notes and rich malt characteristics are two of the many reasons Hellyers Road is the biggest-selling Australian whisky.
Using predominantly Tasmanian barley, malted just down the road at the local malting house at Joe White, they import a very small amount of peated barley from Scotland to help with the production of their peated products.
Hellyers Road Distillery boasts not only the biggest stills in Australia, but their stills are also actually bigger than any currently in Scotland. The size of these stills helps give Hellyers Road a unique and distinctive flavour profile that works extremely well in the heavily charred ex-Bourbon casks they use to mature their whisky in for the better part of its life. With less reflux in their massive still, the spirit has been designed to spend a longer time in cask than most Australian whiskies. As a result of this, Hellyers Road sits on the largest aged stock of whisky in the country.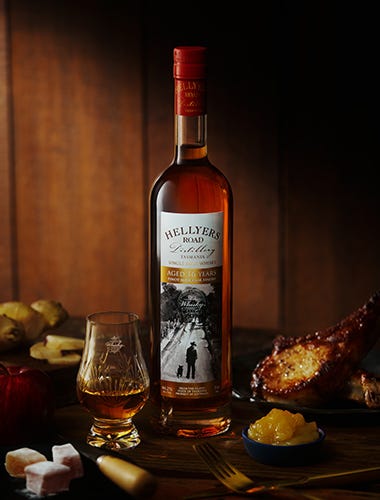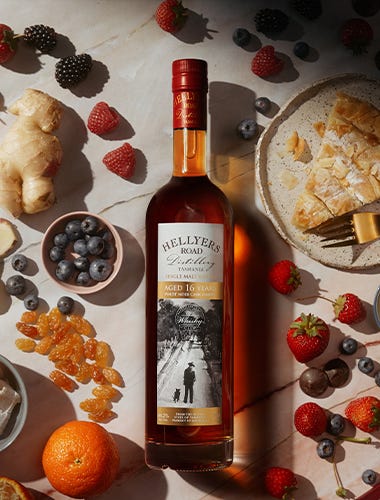 Distillery Facts
Origin: 153 Old Surrey Rd, Havenview TAS 7320
Water Source: Romaine Dam
Stills: 1 wash and 1 spirit
Capacity: 120,000 litres per annum
Ready to enjoy a world-class whisky collection?
Your free Club Membership gives access to exclusive single malt from Scotland, Australia and the world's best distilleries. Enjoy the unrivalled buying power of Australia's biggest whisky club.
Stop scrolling. Start dramming.