July 2023
Hobart Oloroso Sherry Finish
The first release from Hobart Whisky created exclusively for the Club. This spectacular 12-month Oloroso Sherry finish results in a delightful viscosity of sticky caramel and dates with a rich blackberry finish.
Australia
Nose Lovely light floral notes, stewed apples and Monte Carlo biscuits, matched with figs and light spice.
Palate Zesty orange alongside strawberries and cream, sticky caramel and dates with rye bread.
Finish Freshly ground coffee meets dark chocolate with a rich blackberry finish.
Overview
The first of its kind from Hobart Whisky, say hello to the Hobart Whisky Oloroso Sherry Finish, Created Exclusively for the Club.
A spectacular feast of stewed apples, sticky caramel and dates, and dark chocolate with a rich blackberry finish, this single malt showcases its exceedingly long 12-month finish in a decades-old Oloroso Sherry cask, bringing to the Club the flavours we know you love.
Maybe you haven't heard of this hidden gem of a distillery yet, but with the ever-growing whisky scene in Tasmania, local whisky lovers have been quick to get on board since they first came on the scene. Now it's your turn to get in on the secret of their liquid gold with this limited-release, small-batch collaboration between Hobart Whisky x The Whisky Club.
The hallmark characteristic of Hobart Whisky is quality, quality, quality. And everything these folks do happens on-site, from mashing to fermentation and distilling. Such small volumes of production in fact, that all maturation is contained within their city-based distillery in Hobart, Tasmania. It's no wonder they took out the spot for NAS (No Age Statement) category winner for Australia at the World Whisky Awards in 2022.
What you see is what you get with this deep natural colour of roast chestnut, complete with non-chill filtering and a perfect ABV of 48.1%. But the French Oak Oloroso Sherry hogshead sourced from Spain is the crème-de-la-crème, the first time Hobart Whisky have ever finished a release using only an Oloroso Sherry cask.
And while your mouth's already watering, we have an extra special something – because just by ordering a bottle you'll also go into the draw to win a one-off barrel hoop knife with wicked etching on the blade, all made by the hand of Distillery Manager John Jarvis using Hobart Whisky's barrels.
Orders for Hobart Whisky Oloroso Sherry Finish have now closed.
Not yet a Member? Join free now to unearth upcoming exclusive, small-batch releases made just for you by the very best distilleries in the world.

Bottle size: 500ml
THE SPECS
Maturation: Matured in Apera and American Oak casks for five years, with a long 12-month finish in a decades-old Oloroso Sherry cask.
Ready to enjoy a world-class whisky collection?
Your free Club Membership gives access to exclusive single malt from Scotland, Australia and the world's best distilleries. Enjoy the unrivalled buying power of Australia's biggest whisky club.
Hobart Whisky's History
Established in 2014 as Devil's Distillery by the legendary Hobart businessman Ralph Caccavo and his son Rocky, Hobart Whisky was always a passion project with the philosophy of "making whisky for us, that we love, and want to share".
Spirit started flowing from the still in 2015, and as the distillery was a passion project, it had the luxury of flying under the radar for some time, quietly filling spirit into barrels in its unassuming building in the back streets of Moonah.
While in the early days wash was purchased from David Walsh of MONA fame's brewery, Moo Brew, the distillery took over with on-site brewing in 2017.
Using Tasmanian malted barley and of course that crystal clear water Tassie is known for, fermentation takes place in a pair of 2,400-litre fermenters before being run through their 1,800-litre Knapp Lewer copper pot still.
The decision was made early on to concentrate on American oak ex-Bourbon casks for maturation, initially using 40 to 80-litre ex-Hillrock Distillery Bourbon casks at the recommendation of Tasmanian Cask Company's cooper, Adam Bone, who when asked by Rocky about how to approach with filling, suggested not re-coopering them and just filling them straight up. Not only was ex-Bourbon matured whisky the style "that we love", but the barrels also don't overwhelm the spirit, allowing the unique character and flavour of the spirit to shine through. It also sets it up perfectly for finishing in special and unusual casks, which has become something Hobart Whisky's known for.
The first Hobart Whisky release came out in 2018, with the first core-range whisky, the ex-Bourbon cask Signature released in 2020, and joined by the Pedro Ximénez Solera in 2022. Along the way, there's been a large number of limited releases featuring whiskies that have been treated to finishing in a mind-boggling range of casks including fortified & wine casks, rum casks, beer & stout casks, ex-Laphroaig casks and more, not to mention their maple-based Dark Mofo Winter Feast releases.
All Hobart Whisky is hand bottled and labelled in the distillery, and every bottle is individually and uniquely numbered.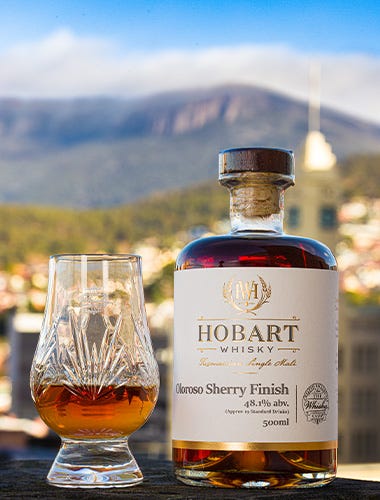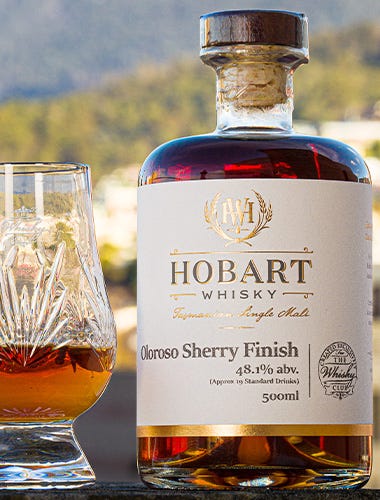 Distillery Facts
Origin: 1 Gormanston Rd, Moonah TAS 7009
Water Source: Filtered Tasmanian water
Stop scrolling. Start dramming.