December 2019
Iniquity Whisky Club Christmas Edition
December's Whisky of the Month came straight to us out of Adelaide's legendary Tin Shed Distillery: Iniquity The Whisky Club Christmas Edition, created exclusively for the Club by a Club Member. It was the perfect dram to celebrate Christmas 'Aussie-style'!
Australia
Nose Melted butter, caramel and honey notes that carry hints of Cadbury's Fruit & Nut with orange peel and nutmeg.
Palate A Christmassy combination of raisins, chocolate, fruit cake and vanilla combine with forest fruits, butterscotch, and spice, along with hints of mango and apricot.
Finish Long and fruity with honey and chocolate. Leaves your mouth feeling buttery smooth and satisfied.
Food Match Christmas dinner
Overview
It was never the intention to flood world markets with oceans of beige whisky, or to make whisky just for the sake of it. Instead, Ian and Vic's aim is to handcraft a family of small batches of passionate, interesting malts with personality and individual character. Every step of the process is hands-on; from milling the malt, stirring the mash, making the cut and moving the barrels, through to judging which casks to use and when, bottling, labelling and shipping. Machines? Who needs them?
They use only the best locally sourced materials, including traditional ale malt, some from Joe White, some from Coopers, and distil the spirit through both the original 600 litre still, and their new 2200 litre electric fired copper pot still.
Since they're known for their mastery of port and sherried whiskies, it was a no-brainer for us to ask them to create something special for The Whisky Club's Members to celebrate Christmas with. Club Member Vic has put together a rather special rare and exclusive one-off release for the Club, designed to create a delicious Christmas feast for your glass. Predominantly made up with perennial festive favourites, port and sherry casks, with the balance a selection of wine and bourbon casks.
The result is an incredibly complex whisky that remains true to Iniquity's famous 'house style'. This is one seriously delicious dram; richly complex, earthy and oily to the last drop, and packed with rich forest fruits, sherry, spice, and all-things-nice. Cut at a festive 44% ABV, non chill-filtered and natural colour, it'll be the perfect accompaniment to Christmas dinner. In fact, it's the perfect whisky for an Aussie summer.
THE SPECS
Maturation: Vatting of predominantly ex-port and ex-sherry casks, with a small amount of ex-wine and ex-bourbon casks.
Ready to enjoy a world-class whisky collection?
Your free Club Membership gives access to exclusive single malt from Scotland, Australia and the world's best distilleries. Enjoy the unrivalled buying power of Australia's biggest whisky club.
Iniquity's History
For many of us, setting up a distillery and making our own whisky is the ultimate dream. Very few of us ever get to make it a reality, but it does happen. And happen it did for Ian Schmidt and Vic Orlow (who also just happens to be a Whisky Club Member), founders of one of the leading craft distilleries in the country, Tin Shed Distilling Co – the home of Iniquity Single Malt Whisky.
Like any distillery, there's a tale to tell, and while it may not be centuries old like some of the Scottish distilleries, it's a tale no less. The seeds were sewn when Ian and Vic were leaning on the school fence talking about Vic's Russian heritage and his desire to make vodka for his dad. Ian had learnt a little about distilling from acclaimed winemaker Peter Lehman and his father, who he had also inherited a small copper pot still from, the still being somewhat of a family heirloom, having been originally owned by Ian's grandfather. And so in 2004, Ian, Vic, and a third partner founded the Southern Coast Distilling company, and fired up not only granddad's still, but a new 600 litre still for the first time.
Southern Coast Distilling was a tad unusual, in-so-far-as unlike so many other distilleries that are the product of a large company standing there throwing huge amounts of money at the project, it was entirely the result of the partners putting in the hard yards themselves around their day jobs. A true side-hustle, Vic was working as a postie and Ian as a flagpole maker. For the first five years, the distillery was tucked away in a corner of the flagpole factory, and it's only in the last year or two that the flagpoles have been moved out and the distillery expanded. Chalk that up as a win for whisky, but to the uninitiated, the distillery is still disguised as a flagpole factory!
Southern Coast Distilling went on to produce whisky of world renown, Jim Murray himself calling it "one of the most astonishing whiskies it has been my honour to taste" and that it "brought me to my knees", but sadly internal conflicts meant the distillery was brought to its knees too, and Southern Coast Distilling wound up in 2013.
Of course, we know the story doesn't end there, and like a Phoenix rising from the ashes came the new Tin Shed Distilling Company. Ian and Vic's new company saw the guys back in production, complete with a new brand, Iniquity Single Malt Whisky. While the bird in the logo looks a lot like a double-headed Phoenix, it also resembles the Piping Shrike, which appears on the flag of South Australia. Sitting, as it does, on a strand of barbed wire, it proclaims their South Australian heritage and the difficult journey Ian and Vic have travelled in realising their dream. One head looks back to the distilling traditions of the past and the other looks not only to the future but to their philosophy – to make the very best whisky they can because they only want to sell and drink the best. Who are we to argue?
Tin Shed releases Iniquity in small batches, having started with Batch 001 back in 2015, using carefully selected barrels. They bottle the whisky when they like how it tastes, the only rule is it needs to be a whisky they'd consider good enough to enjoy drinking themselves and share with their mates.
Such was the success of these releases, a new 2200 litre copper pot still which features a very short swan neck and oversized condenser was installed in 2016, allowing the lads to really ramp up production, much to the delight of their fans.
But it's not just the customers who love their work, with the distillery picking up a swag of awards along the way, including three Icons of Whisky Awards, a best in class World Whisky Award, a couple of world Whisky Awards gold medals, Australian medals of all colours and Liquid Gold ratings in Jim Murray's Whisky Bible. Not bad for a couple of blokes in the back of a flagpole factory!
Two distilleries and fifteen years later, The Whisky Club's Christmas whisky is Iniquity – distilled, matured and bottled by hand, by Ian and Vic.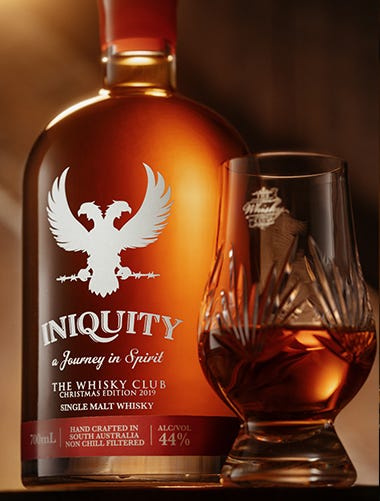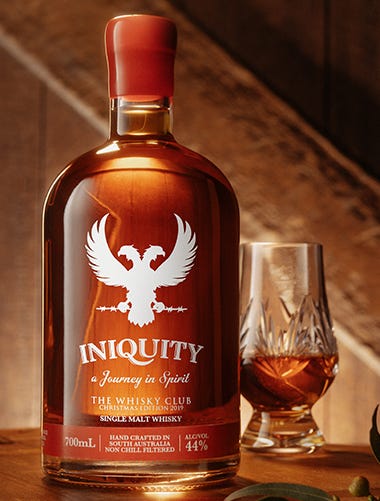 Distillery Facts
Origin: 2/154 Frederick Street, Welland, SA 5007 Australia.
Water Source: South Australia
Washbacks: 3 x 2500 litre Stainless steel
Stills: 3 – 1 x 2200 copper pot electric with shell and tube condenser, 1 x 600 litre copper pot with water jacket condenser, 1 x 80 litre direct fire
Capacity: 41,000 litres per annum
Ready to enjoy a world-class whisky collection?
Your free Club Membership gives access to exclusive single malt from Scotland, Australia and the world's best distilleries. Enjoy the unrivalled buying power of Australia's biggest whisky club.
Stop scrolling. Start dramming.