April 2022
Lagavulin 26 Year Old The Lion's Jewel
Are you sitting down? We've got it, the most prized whisky in the highly coveted Legends Untold collection. This is your chance to get one of only 200 bottles of Lagavulin 26 Year Old The Lion's Jewel coming to Australia.
United Kingdom
Colour Deep autumn leaves
Nose Baked fig, butterscotch and a sweep of fragrant smoke on the nose.
Palate Ultra-smooth and oily, sweet before salt and pepper season a savoury, smoke-wreathed intensity.
Finish A long, sweet, and warming slowly to a glowing finish.
Overview
It's one of the most anticipated times in the whisky calendar — the unveiling of Diageo's Special Releases collection. Each year, drinks goliath Diageo releases a collection of older, rarer, distinctive, and unusual expressions. And when they do, whisky lovers and collectors across the globes scramble to get their hands on a bottle.
Only an exceptional few make it into the Special Releases collection. And there's none more exceptional than the Lagavulin 26 Year Old The Lion's Jewel.
Nobody but Lagavulin, the pinnacle of Islay malts, could produce such a rare gem. Fully matured in first-fill Pedro Ximénez and Oloroso sherry-seasoned casks, this is the first 26 year old to be released from the cult distillery, and one of only a handful of sherry casks.
The Lion's Jewel absolutely grips the senses with a smouldering intensity. Bottled at natural cask strength of 44.2%, get set for baked fig, butterscotch and a sweep of fragrant smoke on the nose, an ultra-smooth and savoury palate with lashings of Lagavulin's trademark sweet smokiness and a long, warming, slowly glowing finish.
It's not every day you get the chance to experience an absolute unicorn of a whisky. Don't miss out on this once-in-a-lifetime opportunity. Stock is limited and no doubt it'll sell out in a flash. So, get up early and get ready to Add In this prized whisky to your collection.
Orders for Lagavulin 26 Year Old The Lion's Jewel have now closed. Sign Up Free now to get your hands on our upcoming releases.
THE SPECS
Maturation: 26 Year Old Lagavulin from first-fill Pedro Ximénez and Oloroso seasoned casks
Ready to enjoy a world-class whisky collection?
Your free Club Membership gives access to exclusive single malt from Scotland, Australia and the world's best distilleries. Enjoy the unrivalled buying power of Australia's biggest whisky club.
Lagavulin's History
Illicit distillation was taking place on the site in the scenic Lagavulin Bay from the mid-1700s, but it was farmer John Johnston who legally founded Lagavulin in 1816. Located on the south coast of Islay (right between Laphroaig and Ardbeg distilleries and a short distance from Port Ellen), the distillery perfectly takes advantage of its coastal location, allowing the sea air to work its magic on the spirit as it rests in the barrels.

READ MORE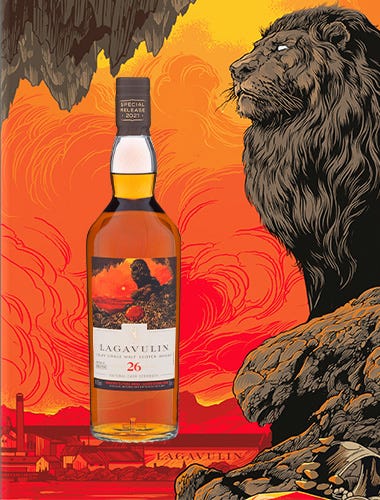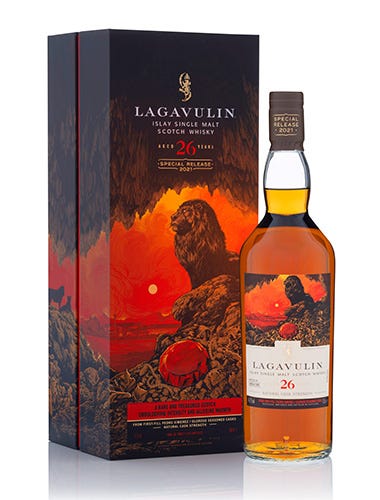 Distillery Facts
Origin: Lagavulin Distillery, Port Ellen, Isle of Islay, Argyll, PA42 7DZ, United Kingdom
Water Source: Lochan Sholum
Stills: 2 wash and 2 spirit
Stop scrolling. Start dramming.