May 2023
Lagavulin Offerman 11 Year Old Charred Oak Cask
The most in-demand whisky in the world right now is coming. Join the ballot now to secure your bottle of the mighty Lagavulin Offerman 11 Year Old Charred Oak Cask - Lagavulin's smokiest whisky yet.
United Kingdom
Nose Peaty, chocolate, with some red berry notes. A little bit of creaminess comes through, without taking over.
Palate Peaty, woody and spicy, cocoa. Sweet berry notes. Chocolatey and warming on the palate.
Finish Warm, lingering, spicy, sensational.
Overview
Nick Offerman is best known for his role as libertarian government worker Ron Swanson in the cult TV show Parks and Recreation… a man's man who loves meat, woodworking, and Lagavulin whisky – which by sheer coincidence just happened to be Nick's favourite whisky too. The whisky and even the distillery makes regular appearances on the show across its seven seasons, with Ron declaring Lagavulin 16 Year Old to be his drink of choice, and the nectar of the gods.
Since Parks and Rec wrapped up, Offerman's forged a strong relationship with Lagavulin, and has sipped a dram on New Year's Eve, Father's Day, and during the world-renowned Yule Log video that's become a Christmas favourite for whisky lovers around the world.
Now comes the third edition in Lagavulin's 'Offerman Edition' series, and it's exclusive to the Club in Australia.
Get set for the smokiest, charriest, most behemoth Lagavulin yet. This is Laga cranked up to 1000, using only the most heavily charred casks for that trademark big, bold, full-bore flavour. And it's already picked up Double Gold at the 2022 San Francisco World Spirits Competition.
As the big man says himself: "Your mission, if you have the guts to accept it, is to pair this new Offerman Edition with an exquisite steak and a mug of action. You won't be sorry… if you survive the pleasure."
Demand for Lagavulin is off the charts (the 16YO has shot up to over $175 from under $100 in just a few years), and with stocks running low worldwide, this is your best opportunity to land a limited-release bottle, let alone an Offerman Edition!
Very few countries are getting Lagavulin Offerman 11 Year Old Charred Oak Cask, and we're one of them. Once again, the Club's here to make sure Australia doesn't miss out. As we said, this is the most in-demand whisky in the world right now, so we're selling these by ballot which closes at midnight 4th May, 2023. Bottles will be charged for and shipped with the May 2023 Whisky of the Month.
You need to be a Member to join the ballot. Not already? Join Free Now.
THE SPECS
Maturation: Finished in heavily charred ex-Scotch and ex-red wine casks
Ready to enjoy a world-class whisky collection?
Your free Club Membership gives access to exclusive single malt from Scotland, Australia and the world's best distilleries. Enjoy the unrivalled buying power of Australia's biggest whisky club.
Lagavulin's History
Illicit distillation was taking place on the site in the scenic Lagavulin Bay from the mid-1700s, but it was farmer John Johnston who legally founded Lagavulin in 1816. Located on the south coast of Islay (right between Laphroaig and Ardbeg distilleries and a short distance from Port Ellen), the distillery perfectly takes advantage of its coastal location, allowing the sea air to work its magic on the spirit as it rests in the barrels.

READ MORE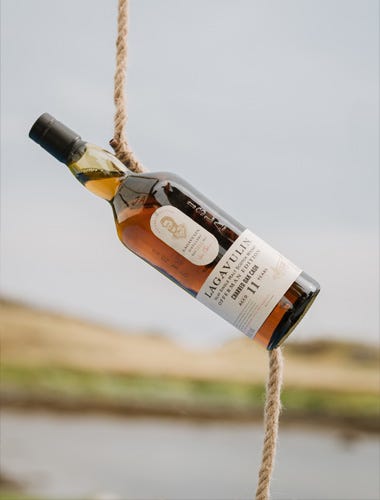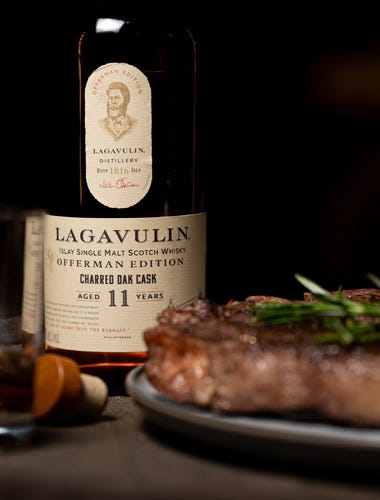 Distillery Facts
Origin: Lagavulin Distillery, Port Ellen, Isle of Islay, Argyll, PA42 7DZ, United Kingdom
Water Source: Lochan Sholum
Stills: 2 wash and 2 spirit
Stop scrolling. Start dramming.