June 2021
Lark Cask Strength PX Sherry Finish
Dripping with luscious jam and layers of crème brûlée, fig and apricot, this is classic Lark finished in PX Sherry. With the regular Lark Cask Strength at $250, for $200 this is one of the best value Larks you'll find.
Australia
Nose Jammy apricot and fig lead into Crème Brûlée a whisp of beeswax. Dried fruits of apple and raisins lie alongside buttered scones and Tasmanian barnyard peat.
Palate Orange and mango are at the forefront mixed with hay and chewy toffee. Spices of nutmeg and cinnamon on top of oven fresh muffins sit well with plum sauce and toasted pastry crust.
Finish Deep and encroaching. Mixed berries and stewed fruits envelop before dark chocolate and espresso kicks in on top of rich old drying oak.
Overview
wLark's Classic Cask Strength has been a staple of whisky aficionados since the days you could count the number of distilleries in Australia on your fingers. While the whisky scene has grown and evolved over the last 20 years, so too has Lark Cask Strength. From the early Single Cask releases, winning World's Best in 2009 and 2012 at the World and Chicago International Whisky Awards respectively, and then on to the move from Single Cask releases into increasingly larger marriages of casks, the Lark team has always sought to over deliver on the quality of the liquid they produce. Nowadays we're so fortunate to see Lark Cask Strength on shelves all around the country with its delicious rich malty notes on top of candied orange and dried fruits.

For this special Club Exclusive, one of the best whisky makers in Australia, Head Distiller Chris Thomson, has done something Lark's never done before - taken the award-winning Port matured Classic Cask Strength and then treated it to finishing in rich old 300L Seppeltsfield Pedro Ximénez Hogsheads that had held Pedro Ximénez for multiple decades deep in the cellars of one of the Barossa Valley's oldest vineyards.

These Pedro Ximénez casks arrived at Lark having been decanted just days before, and still contained the thick sticky residue of the fortified wine stuck to the insides of the casks. They were then promptly filled and left in Lark's tin shed bond stores, well renowned for producing some of the top whisky in the world.

Finishing in the 300L Pedro Ximénez hogsheads has created a mind-blowingly big and supremely juicy single malt that's absolutely dripping with luscious jammy notes and layers of fig, apricot, and crème brûlée. Fresh off Lark's Gold medal wins for other Seppeltsfield fortified finishes in Muscat (96 points) Sherry (95 Points) at the most recent IWSC (International Wine & Spirits Competition), this PX Sherry finish is the cherry on top and takes Lark to another level being Cask Strength at 58.0% ABV, non-chill filtered and natural colour. This superb collector's edition is everything you love about Lark, dialled right up to 11. It's like nothing Lark's ever released before.
Our special relationship with the distillery has once again allowed us access to some of their best liquid, so don't miss out. Sign Up Free now to get your hands on a bottle for just $200 while it lasts.
Bottle size: 500ml
THE SPECS
Maturation: Matured in Port casks, then finished in Pedro Ximénez casks from Seppeltsfield
Ready to enjoy a world-class whisky collection?
Your free Club Membership gives access to exclusive single malt from Scotland, Australia and the world's best distilleries. Enjoy the unrivalled buying power of Australia's biggest whisky club.
Lark's History
The story of Lark Distillery is, in essence, so much more than that of just the distillery itself – it forms the genesis of the modern Australian whisky industry as we know it.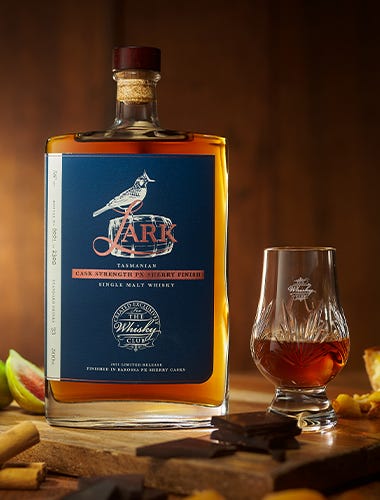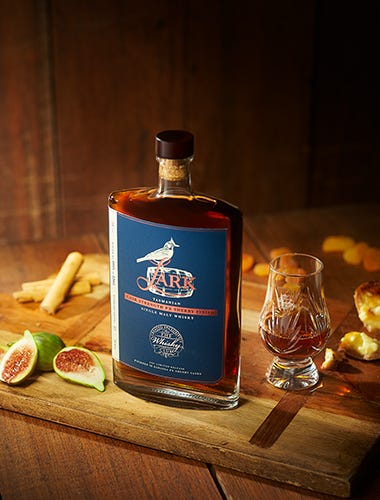 Distillery Facts
Origin: 40 Denholms Rd, Cambridge TAS 7170
Water Source: Meadowbank Dam
Washbacks: 23 x 2000L stainless steel
Stills: 4, 2 wash and 2 spirit
Capacity: 150,000 litres per annum
Stop scrolling. Start dramming.