June 2020
Lark Head Distiller's Release
One of the tastiest Larks ever released thanks to a special project by Lark Head Distiller Chris Thomson and Bill Lark, the Godfather of Tasmanian whisky. This is the must-have malt from the birthplace of Tasmanian whisky.
Australia
//= /* @escapeNotVerified */ // __('Tasting notes') ?>
Nose Opens with citrus, toffee apple, treacle and plum pudding backed up by sweet caramel and balanced oak with just the very faintest hint of sweet Tasmanian peat
Palate Decadently rich, supremely balanced, overflowing with mandarin and ginger syrup cake, nuts and raisins
Finish Long and rewarding with raisins, figs and chocolate, and of course Lark's signature candied orange peel
Food Match Tasmanian cheeseboard
Overview
This month we're taking our whisky game all the way to the top with an unprecedented exclusive Club release thanks to something very special that Chris Thomson, Lark Head Distiller, and Bill Lark, the Godfather of Tasmanian whisky have been working on just for us.
The result? A masterpiece from one of Australia's most respected whisky makers. Lark Head Distiller Chris Thomson hand-selected a combination of 100L ex-Port and ex-Sherry casks, specially chosen to deliver complexity, balance and fruitiness, and using his award-winning blending skills worked with us to accentuate the best part of each cask to create a mouth-watering, bespoke single malt for the Club's exclusive enjoyment.
The Head Distiller's Release is decadently rich and supremely balanced opening with citrus, toffee apples, treacle and plum pudding on the Nose, before rising to mandarin and ginger syrup cake, nuts and raisins on the Palate, and a long rewarding Finish with raisins, figs and chocolate… and of course Lark's signature candied orange peel.
Without question, this is the must-have malt from the birthplace of Tasmanian whisky.
Thanks to the unrivalled buying power of Australia's biggest Whisky Club it's coming to our Members at only $135, absolutely incredible value for Lark, or indeed any limited edition Tasmanian single malt.
Orders for the Lark head Distiller's Release are now closed. Join free Now and never miss another Club malt!
WHISKY SPECS
Maturation: Matured in 100L first-fill ex-Port and ex-Sherry casks. Bottle size: 500ml
Lark's History
The story of Lark Distillery is, in essence, so much more than that of just the distillery itself – it forms the genesis of the modern Australian whisky industry as we know it.
Back in the 1800s, the powers-that-be saw Tasmania as being somewhat of a "breadbasket" for the rest of the colonies - its perfect farmlands ideal for growing barley - but why bake bread when you can make whisky, right? The Sorell Distillery on the banks of the Hobart Rivulet was the first to open in 1822, closely followed by an ever growing number of distilleries keen to peddle their wares to the booming population (many of whom had come over as convicts) who, let's just say, enjoyed a drink or three. It wasn't long before there were at least 16 legal distilleries (and who knows how many illegal ones) in operation in Tasmania.
As the story goes, in 1838 the wife of Tasmanian Governor John Franklin and resident killjoy Lady Jane Franklin stated "I would prefer barley be fed to pigs, than it be used to turn men into swine". And with that, in an effort to maintain domestic peace and harmony, the Guv immediately outlawed the distilling of spirits in Tasmania, and it was all over for the local industry.
With Australia's Federation at the turn of the century, the Distillation Act of 1901 allowed some opportunities for those in the fortified wine game, but given the minimum legal still size was around 2700 litres, it was not such an easy proposition to set yourself up as a craft spirit producer. There's little doubt some moonshiners remained in operation, but it was going to be another century before we'd actually see any legitimate whisky come out of Tasmania.
Fast-forward to 1989, and a chap by the name of Bill Lark went on a trout fishing trip in Tasmania's Highlands with his father-in-law, Max. Enjoying a dram in a park in Bothwell, taking in the sights of the Georgian buildings, barley fields and the Clyde River, Bill questioned why nobody was making malt whisky in Tasmania – after all, not only is the climate perfect, there's an abundance of crystal-clear water, locally grown barley and peat bogs. It just seemed logical. So, Bill being Bill set out to have a go, but upon applying for a license discovered Lady Jane's law was still in place. Undaunted he contacted his local MP and before long the law was abolished, allowing Lark Distillery to be formed in 1992, paving the way for the modern Australian whisky industry as we know it today. Hot on the heels of Lark came Small Concern Distillery (1992), Sullivans Cove (1994) and Hellyers Road (1999) in Tasmania. Together these distilleries forged ahead and were joined along the way by others including Nant, Overeem, Belgrove and McHenry, and in recent years Old Kempton, Shene, Spring Bay, Fannys Bay, Adams, Launceston and Killara to name only a few of the forty or so (that's almost as many as Speyside!) distilleries that make Tasmania the whisky isle of the South.
So, what came out of your last fishing trip?
Lark has continued to grow over the years, having progressed from Bill's kitchen bench to a large facility in the heart of one of Tasmanian's best known wine regions, Coal River Valley, just a stone's throw from Sullivans Cove Distillery. The distillery features an 1800 litre wash still, and a 900 litre spirit still which both run 7 days a week. Looking at the size of the stills in use by Lark today, it's no wonder the minimum 2700 litre size specified by the Distillation Act of 1901 made it impossible for anyone to be in the business back then...
Lark brew their own wash on site, using Tasmanian grown barley, around half of which is gently smoked with peat cut from their own peat bog in the Tasmanian Highlands. If a big Islay Peat is not your thing, have no fear, this is nothing like an Ardbeg or Laphroaig. After fermenting for 7 days, the spirit is run through the stills, the new make spirit then broken down from 72% to 63.4% ABV with ultra-filtered water and transferred to 100 litre Australian Port, Apera and 200 litre American Bourbon oak casks where it's left for anywhere between 4 and 10 years before being released to the public.
Each of the locally sourced casks is checked for quality by the head distiller Chris Thomson, who allocates each parcel of casks to a release. After maturation, the casks are married together ensuring each release of Lark whisky fits within their house style, or are tailored for limited releases, like our Whisky Club Exclusive release.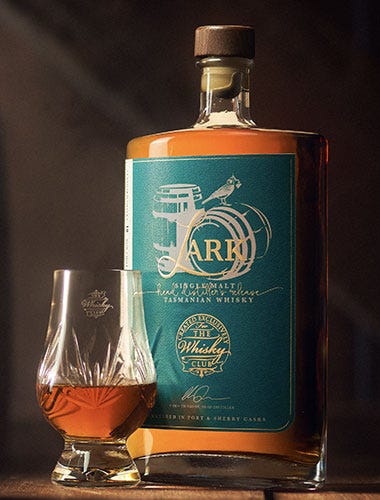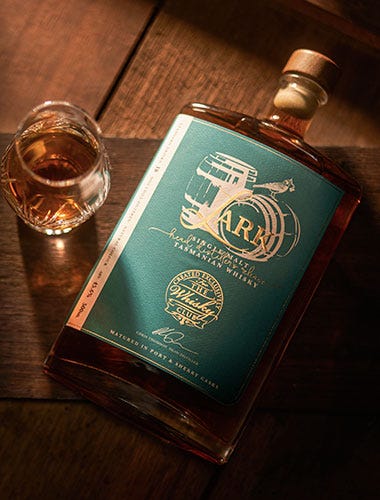 Distillery Facts
Origin: 40 Denholms Rd, Cambridge TAS 7170
Water Source: Meadowbank Dam
Washbacks: 23 x 2000L stainless steel
Stills: 4, 2 wash and 2 spirit
Capacity: 150,000 liters per annum
Stop scrolling. Start dramming.