July 2022
The Rising Tide is a union of Australia's craft distilling community and a celebration of our shared story that 30 years ago. We're truly humbled to present one of the most significant Australian whiskies ever made.
Australia
Nose Floral orange and toffee, stewed apple pie, dusty with a touch of maritime.
Palate Wonderful citrus followed by roasted malt, caramel and buttery honey.
Finish Big and continuous, maple syrup and coconut with fruit mince pie and dark chocolate.
Food Match Pork knuckle with crackling and gravy followed by spiced apple crumble.
Overview
In the late 80s, Bill Lark famously asked the question that spawned Australia's craft distilling movement: why wasn't anybody making whisky in Tasmania?
It made sense, with the abundance of locally grown barley and the purest water known to man flowing down from the untouched snow-capped mountains of the Tasmanian Highlands. Not to mention the climate…
This simple question sparked an idea, which led to reform. Lark Distillery was founded in 1992 which created a movement, and the rest is whisky history.
Bill and Lyn Lark's efforts pioneered Australia's whisky industry and ignited a craft distilling boom — with over 300 distilleries across the country, from Cygnet to Sydney, Mendooran to Melbourne and beyond. And there isn't one of them that hasn't been influenced by the Larks.
In celebration of this very special moment in Australian distilling history, we worked with Bill himself, together with his successor, Chris Thomson, to create an iconic whisky worthy of marking 30 years of craft distilling in Australia.
The Rising Tide is a marriage of single malts from six Tasmanian distilleries not only close to Bill's heart but encapsulating the DNA of Tasmanian whisky, showcasing what put Tassie whisky on the global map
Coming from distilleries all around the state, The Rising Tide is made with single malts matured both close to the ocean and in the Tasmanian Highlands. Predominately Australian Port and Sherry casks, some were matured in a dunnage style warehouse, lying on the cold floor of near 200-year-old buildings, while others were racked three casks high in tin sheds, maximising the effect of changes in the weather.
Coming in at 51.4% ABV it's a decadent malt masterpiece of stewed apple pie and sticky toffee on the nose, citrus, chewy caramel and buttery honey on the palate, and a long, continuous finish with thick maple syrup, fruit mince pie and dark chocolate.
Chris Thomson sums it up: "To be able to have a blended malt Tasmanian whisky is a massive milestone in this industry. Why do I love it? It's because it's a representation of what Tasmanian whisky is. A snapshot of what we love about Tasmanian whisky."
The Rising Tide is, at $140, incredible value at a time when limited edition Tasmanian malts can set you back hundreds of dollars. Not yet a Member? Sign Up free to grab one of the last remaining bottles.
Bottle size: 500ml
THE SPECS
Maturation: Predominately Port and Sherry casks, from six Tasmanian distilleries.
Ready to enjoy a world-class whisky collection?
Your free Club Membership gives access to exclusive single malt from Scotland, Australia and the world's best distilleries. Enjoy the unrivalled buying power of Australia's biggest whisky club.
Lark's History
The story of Lark Distillery is, in essence, so much more than that of just the distillery itself – it forms the genesis of the modern Australian whisky industry as we know it.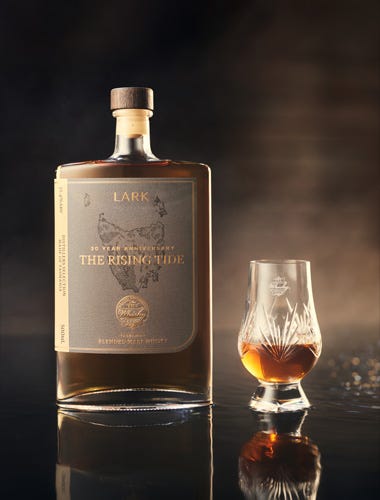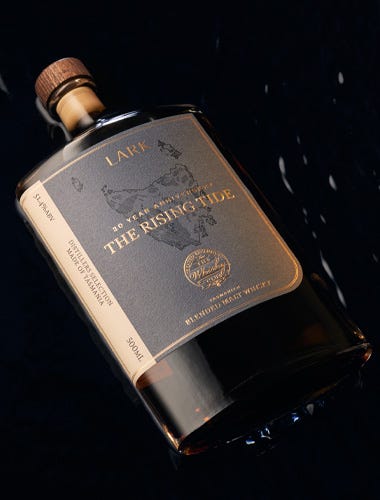 Distillery Facts
Origin: 40 Denholms Rd, Cambridge TAS 7170
Water Source: Meadowbank Dam
Washbacks: 23 x 2000L stainless steel
Stills: 4, 2 wash and 2 spirit
Capacity: 150,000 litres per annum
Stop scrolling. Start dramming.