November 2021
Lark X The Whisky Club Christmas Gift Pack
Grab the whisky lover in your life (or yourself!) a Lark X The Whisky Club Christmas Gift Pack. Includes a 100ml bottle of Lark Christmas Cask III finished in casks that have held jus for Christmas fruit mince pies, and an official Whisky Club Glencairn.
Australia
Nose Sweet mandarin and decadent caramel leads into biscuits and figs. Maple syrup drizzled over pancakes topped with cinnamon and nutmeg.
Palate Orange peel-infused caramel pudding topped with spices. Dried fruits play off the rich, earthy oak.
Finish Christmas cake in a glass.
Food Match Christmas dinner with family and friends
Overview
Lark Christmas Cask III is a whisky like no other - Hobart-based legend Jean Pascal Lepretre from Jean-Pascal Patisserie fills Tasmanian red wine casks with jus for his famous Christmas fruit mince pies. Once emptied, the fresh, festive casks are delivered to Lark Distilling Co. where they're filled with the good stuff. The result is Christmas in a glass, with nutmeg, cinnamon and vanilla custard on the nose, gingerbread, citrus peel and liquid plum pudding on the palate, and lashings of yuletide cheer in every sip.
Speaking of glasses, every gift pack also includes an official Whisky Club crystal Glencairn glass.
Bottle size: 100ml
THE SPECS
Maturation: Finished in Tasmanian red wine casks that have held jus for Jean-Pascal Pattisserie
Ready to enjoy a world-class whisky collection?
Your free Club Membership gives access to exclusive single malt from Scotland, Australia and the world's best distilleries. Enjoy the unrivalled buying power of Australia's biggest whisky club.
Lark's History
The story of Lark Distillery is, in essence, so much more than that of just the distillery itself – it forms the genesis of the modern Australian whisky industry as we know it.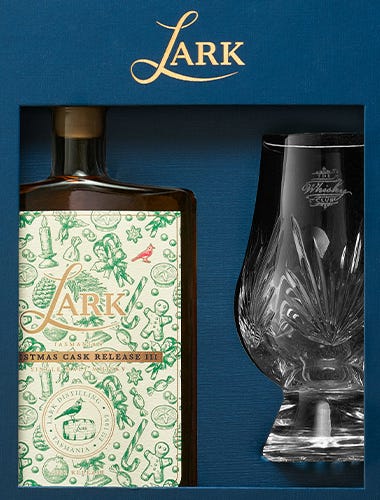 Distillery Facts
Origin: 40 Denholms Rd, Cambridge TAS 7170
Water Source: Meadowbank Dam
Washbacks: 23 x 2000L stainless steel
Stills: 4, 2 wash and 2 spirit
Capacity: 150,000 litres per annum
Stop scrolling. Start dramming.