September 2021
Launceston Distillery Distiller's Cut Double Cask
Rich, sticky and decadently delicious - Launceston Distillery Distiller's Cut Double Cask is benchmark Tassie whisky. Bold yet silky at 54.9%, with sticky toffee apple and raspberries, chewy toffee, and peanut brittle. You don't want to miss this Club Exclusive.
Australia
Nose Zesty orange and hints of toffee apple. Fresh raspberries, sultanas, walnuts and caramelised pecans settle into light wood shavings.
Palate Bright mandarin and peanut butter brittle with oven fresh muffins, chewy toffee and creamy vanilla espresso. Caramelised beef brisket brings a touch of savoury.
Finish Long and velvety. Dried fruits alongside candied citrus and toasted oak.
Overview
It's no secret that we're on a mission to bring you the very best of local distilling, and after Launceston Distillery's 2019 Muscat Cask release was such a resounding success, we just had to work with them again. The result? A superb Double Cask Limited Edition exclusive to the Club.
We met up with Head Distiller Chris Condon for a deep dive into the Launceston Distillery bondstore and emerged triumphantly, creating this delicious, balanced Tasmanian single malt that embodies the historic whisky revolution currently afoot right here on our doorstep, or as Chris put it "a true celebration and manifestation of the art of distilling".

Brewing at Tassie beer institution Boag's Distillery for years, Chris is no stranger to crafting Tasmanian icons. Using only locally sourced ingredients, he's matured Launceston Distillery's clean, fruity spirit in ex-Tawny casks and a touch of ex-Bourbon to create a decadently delightful drinking experience from the distillery that sits proudly in the heart of Tasmania.
This release is bigger than anything the distillery has released before. So big in fact, that before it was decanted, a new marrying tun had to be bought to be able to accommodate all the liquid. Our selection of ex-Tawny and ex-Bourbon casks were left to settle while Chris expertly blended the parts together, finishing with a distinctly Tawny dominant marriage.

Countless samples were tested, and we all agreed 54.9% was where the whisky popped and really opened up, showcasing Launceston at its best. With their clean fruity spirit combined with ex-Tawny casks balanced by just the right amount of ex-Bourbon casks, this whisky brings sticky toffee apple and raspberries on the nose, a luscious palate of chewy toffee, figs and peanut brittle, and a long, velvety finish of candied citrus and toasted oak. This is pure, malty bliss from the Whisky Isle.
This really is a sublime malt masterpiece from a jewel of the Tasmanian distilling scene. Our last Launceston Distillery release sold out in next to no time, so be quick to avoid disappointment: Sign Up Free now to Add In a bottle this September.
Bottle size: 500ml
THE SPECS
Maturation: A carefully balanced marriage of ex-Tawny and ex-Bourbon casks
Ready to enjoy a world-class whisky collection?
Your free Club Membership gives access to exclusive single malt from Scotland, Australia and the world's best distilleries. Enjoy the unrivalled buying power of Australia's biggest whisky club.
Launceston Distillery's History
Launceston in Tasmania's north was home to the Caledonian Distillery from 1824 and soon became one of the Colony's foremost distilleries, but its days were, of course, rather numbered and when the Distillation Prohibition Act was enacted in 1839 its doors were closed.
Fast forward to 2015 and Launceston finally had another whisky distillery to call its own, located in the rather unique location of Hangar 17 at Launceston Airport – Tasmania's oldest aviation building still standing in its original location. Built in 1933, it was home to the airline that went on to become Ansett, who occupied the building until their closure in 2001.
Launceston Distillery was founded by Head Distiller Chris Condon, who has an amazing background, having originally worked as a quality analyst in the pharmaceutical industry. He then started making beer at James Boag's Brewery in Launceston where he honed his brewing skills, and then moved on to become the founding distiller at Nant Distillery from 2008 – 2011.
With a CV like this, it's little wonder Chris has a real dedication to focus on quality, and to produce whisky that resounds heavily with Tasmania's Terroir. Not only does he use Tasmanian made equipment in the distillery where possible, he uses barley sourced locally from the barley fields of Northern Tasmania then malted just up the road at Joe White Malting house, and the purest of water directly from Tasmania's longest river, the South Esk, which springs up on the Eastern foothills of Ben Lomond and meanders right past the Distillery.
Thanks to Chris' brewing background, naturally everything is done onsite: from the milling and mashing to a 7-day fermentation that really helps with the ester production (a fancy way to say flavour molecules). Once the wash is ready it's double distilled through the 1600L wash still and 700L spirit still. Gentle heat is applied at crucial times to make sure the vapour gets plenty of copper contact. This encourages a lighter, fragrant new-make spirit at 63.4%. The cuts are made by taste and smell, to make sure only the ultimate liquid from the heart run makes it into cask.
Being in an old hangar, the bondstore experiences a multitude of temperatures throughout the year, getting up to nearly 40° in summer and well below freezing in winter.
Some whiskies are bottled at cask strength (leaving it at around 60% ABV), while most are reduced to bottle strength (roughly 46% ABV). Launceston Distillery's whisky isn't coloured and it's non-chill filtered so it retains its depth of character.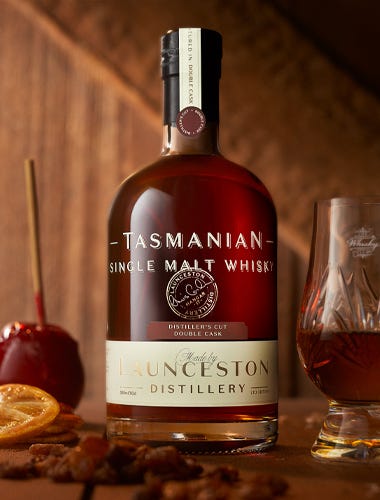 Distillery Facts
Origin: Hangar 17, 287 Evandale Road, Western Junction. TAS 7212
Stills: 1 wash and 1 spirit
Ready to enjoy a world-class whisky collection?
Your free Club Membership gives access to exclusive single malt from Scotland, Australia and the world's best distilleries. Enjoy the unrivalled buying power of Australia's biggest whisky club.
Stop scrolling. Start dramming.