April 2021
Linkwood 12 Year Old Flora & Fauna
Viscous and exquisite, from the depths of one of Scotland's biggest workhorse distilleries comes the delightful Linkwood 12 Year Old from Diageo's Flora & Fauna range. This is your chance to experience Linkwood's spirit in all its single malt glory.
United Kingdom
//= /* @escapeNotVerified */ // __('Tasting notes') ?>
Nose Fresh meringue and lemon curd jumps out in a comforting manner. Apricot filters down to dried grass and shortbread before sausage rolls and polished wood rounds out the glass.
Palate Candied lemon and dried banana makes way for buttered crumpets and thick creamy sponge cake. Salted pistachio nuts take over before Fantales and toasted oak seeps its way onto the tongue.
Finish Rich honey glazed brisket just envelops the mouth. Toffee, butterscotch and dark chocolate take hold as you start to reach for another glass.
Food Match A feta and chicken based Greek salad followed by a classic lemon tart.
Overview
You may think that Linkwood is the quintessential Speyside malt, and in terms of region and being unpeated, it is. But most of the similarities stop there. Where you would expect to find light floral notes with a touch of vanilla on the nose, you can instead expect a rich and oily mouthfeel, bursting with velvety waves of candied lemon and dried banana that make way for buttered crumpets and thick creamy sponge cake. Salted pistachio nuts take over before Fantales and toasted oak seeps its way onto the tongue. Character? It's got it in spades.
The extra-long fermentation process, and large stills running slow create a weighty, complex dram that takes you completely by surprise, but in such a good way that you'll be pouring another dram in no time.
Matured in American oak refill casks and bottled at 43%, this is the only official Linkwood bottling under 22 years of age, so you can see the Linkwood spirit in all its glory. At $115 a bottle for a distillery that never gets properly recognised as one of the heavyweights of the Scotch industry, this is a steal.
Fortunately thanks to our amazing members we've got the buying power to acquire the first official release of Linkwood Flora & Fauna 12 Year Old to be coming into Australia. Sign Up Free now to get your hands on a bottle when they become available this April.
WHISKY SPECS
Maturation: American oak refill casks
Ready to enjoy a world-class whisky collection?
Your free Club Membership gives access to exclusive single malt from Scotland, Australia and the world's best distilleries. Enjoy the unrivalled buying power of Australia's biggest whisky club.
Linkwood's History
Idyllically situated in the outskirts of Elgin, by a dam on the banks of Linkwood Burn, Linkwood Distillery was founded in 1821 by Peter Brown, manager of the Linkwood Estate. His plan was simple: put the land too better use by growing barley on site to make whisky, then use the draff to feed his cattle, who in turn would then fertilise the land for him. The perfect circle.
Of course, distillation wasn't quite legal at the time, so Brown waited until the 1823 Excise Act was signed and sealed, and in 1824 when everything was above board, he officially began production. As they say, it's better to work on your business than in it, so the distillery was left in the hands of James Walker. With two small stills it was slow going with a production capacity of only around 4,500 litres a year, but at least things were underway.
After Peter's death in 1868, his son William inherited the distillery. William was much more of a hands-on kind of guy, so took over the operation of the distillery from Walker and continued to run the distillery himself, demolishing the old and building a brand-new distillery on the same site between 1872 and 1874. This new distillery massively increased output, capable of 227,000 litres a year, and retained its independence, whilst being run by a local Elgin whisky broker.
The Linkwood-Glenlivet Distillery Company was formed by the Brown family in 1898 after William's death, and was soon floated on the stock exchange with enough capital raised to fund further extensions allowing production increases to 454,000 litres a year. In 1902 legendary whisky broker, distillery owner and generally high-profile whisky personality Robert Innes Cameron joined the board, soon becoming the majority shareholder and Managing Director, a position he held till his 1932 death. His successful management of Linkwood made it hot property and it was quickly snapped up by Scottish Malt Distillers in the same year.
World War II saw a barley (and demand) shortage, resulting in closure of Linkwood from 1941 to 1945, the distillery reopening under the management of Roderick Mackenzie. Mackenzie firmly believed in the interconnectedness of things, and that literally everything contributed to the character of the whisky, right down to the cobwebs around the building, which were not allowed to be removed under any circumstances. Funny, then, that in 1962 he oversaw another rebuild, complete with new stills, of the distillery. While the cobwebs didn't survive, the new stills were exactly the same as the old ones, which would probably do more to preserve the character of the spirit than the spiderwebs ever did… Mackenzie retired the following year. As well as being web free, the distillery saw significant technology upgrades including electrification, replacing the steam engine and water wheel of old.
By the late 60s and early 70s, the demand for whisky was growing, so a second distillery with four stills was build next door in 1971. Known imaginatively as Linkwood B, it featured steam heated stills, with Linkwood A's stills the steam heating conversion at the same time. By now, Linkwood was capable of some 2,500,000 litres a year.
Linkwood A ceased production in 1985 becoming somewhat of a science lab - a place for Diageo to research things like copper, reflux and worm tubs – before its final demolition in 2012 amidst more upgrades and expansions at the site. Six new washbacks and two new stills were added, sending production over the 5,500,000 litre a year mark.
Linkwood became part of Diageo's Classic Malts range in the late 1990s, with the 12 Year Old joining the Flora & Fauna collection as one of the few distilleries in the collection that you can actually pronounce correctly on the first go. Outside of the Flora & Fauna release, it's hardly ever seen as a single malt, even less so as an official distillery bottling.
You may be wondering why Diageo hasn't released a prominent Single Malt range from Linkwood. Well, there's good reason. One sip of the 12 Year Old highlights the many nuances that the Linkwood distillery has to offer and showcases why it's the backbone of the biggest selling blended Scotch in the world. You start to get flashbacks of Johnnie Walkers most famous blended malt, the highly regarded Green Label 15 Year Old. Why? Because Linkwood is one of the four distilleries being brought together to create this whisky.
The production process is the major reason behind why Linkwood's malt whisky is so highly sought after for blends. From the extremely long 75-hour fermentation time using a clear wort and running the steam heated stills at a slow speed, the spirit is always of the highest quality. Those stills are massive too, with the wash stills 14,250 litres in size, and the spirit still's even bigger at 17,000 litres. The spirit stills also have a wide but semi tall neck and are an onion base shape.
Linkwood is also used in the creation of both the Johnnie Walker Red and Black Label releases, as well as White Horse and other blends — this might not sound impressive at first, but consider this: a little bit of Linkwood goes a long way. Just a small amount has enough structure and balance to blend with inexpensive grain whisky to create a much higher calibre whisky.
Given the wonders Linkwood works in blends, any chance to experience its whisky in single malt form is surely one not to be missed.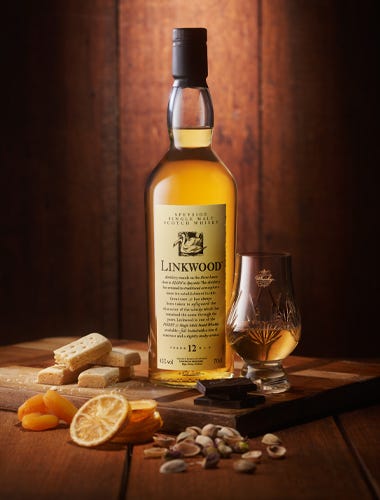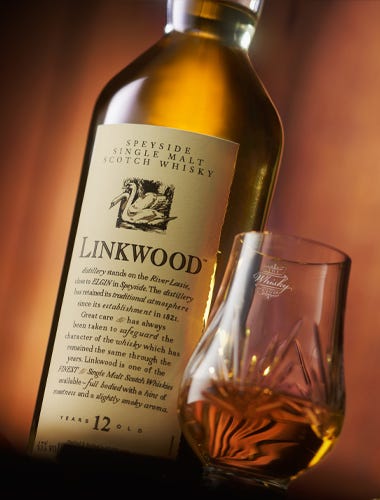 Distillery Facts
Origin: Linkwood Distillery, Linkwood Road, Elgin, Moray, IV20 8RD, United Kingdom
Water Source: Millbuies Spring
Stills: 6 (3 wash, 3 spirit)
Capacity: 5,600,000 litres per annum
Ready to enjoy a world-class whisky collection?
Your free Club Membership gives access to exclusive single malt from Scotland, Australia and the world's best distilleries. Enjoy the unrivalled buying power of Australia's biggest whisky club.
Stop scrolling. Start dramming.