April 2020
Mackey Release 7 Triple Distilled
Hot on the heels of Release 6's Double Gold at the 2020 San Francisco World Spirits Competition, all of the hugely anticipated Release 7 came to our Members, exclusive to the Club!
Australia
//= /* @escapeNotVerified */ // __('Tasting notes') ?>
Nose Lovely floral nose with hints of banana custard, poached figs, chocolate and a little nuttiness
Palate Big, luscious mouthfeel, sweet and spicy with delicate and sweet tropical fruit notes transitioning to pantry spices and white pepper
Finish Sweet sherbet and white pepper combo, summarised as long lingering and luscious
Food Match An indulgent cheese board
Overview
The April instalment of our ongoing range of hand-picked local whiskies representing the cream of Australian whisky making takes us to Tasmania's Shene Estate for the hotly anticipated Mackey Release 7. This superb triple distilled Tasmanian single malt was created exclusively for The Whisky Club by Shene Distillery's Founder and Head Distiller David Kernke and follows hot on the heels of Mackey Double Gold awarded Release 6.
The only triple distilled Tasmanian malt, it was matured in 20l French Oak McWilliams ex-Apera casks, and mashed, fermented, matured and bottled on site from pristine Tasmanian highland water and 100% Tasmanian malted barley.
The result is a sherried whisky lover's must-have: thick and luscious in the mouth with sweet and spicy tropical fruits, banana custard and poached fig, and finishing long and lingering with sweet sherbet, caramel and white pepper. Bottled at Shene's standard 49% ABV, non-chill filtered and natural colour.
As with all of our local releases numbers are very limited and stock's exclusive to Whisky Club Members only, so join the Club now to nab one of the last remaining bottles.
WHISKY SPECS
Maturation: French Oak Apera Casks from McWilliams Winery
Shene Estate's History
There are many spirits at Shene Estate - and not just the ones you can drink. The Tasmanian distillery was once home to an ostentatious colonialist, and it's even got direct links to King George III. These days though, it's home to Tasmania's only triple distilled whisky, Mackey Single Malt.
Head distiller David Kernke has always had an affinity with the past, and back in 2006 he, along with wife Anne and daughter Myfanwy, began the monumental task of restoring the Tasmanian gothic estate into the spirit powerhouse it is today.
When it comes to making whisky, Shene Estate Distillery's approach melds the old and the new. While it infuses exciting Tassie flavours through its brews, it still adheres to traditional distillation practices.
Made from Tassie grown and malted barley and highland water, Shene Estate's award-winning whisky is mashed, fermented, triple distilled and matured on site. The distillery has one of the state's largest copper pot stills. On an average day, it mashes 1250 Kgs of malted barley. And weekly, it pumps out more than 38,500 litres of wash in the fermentation brewhouse. All the draff is fed to the black Angus cattle that roam around Shene's paddocks.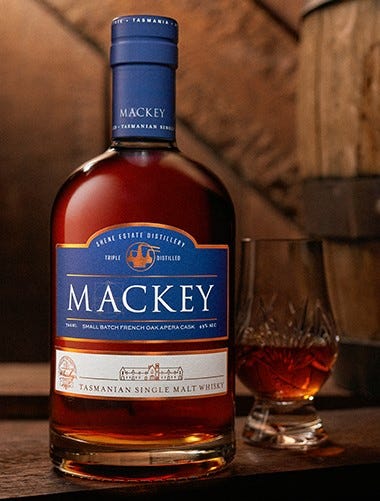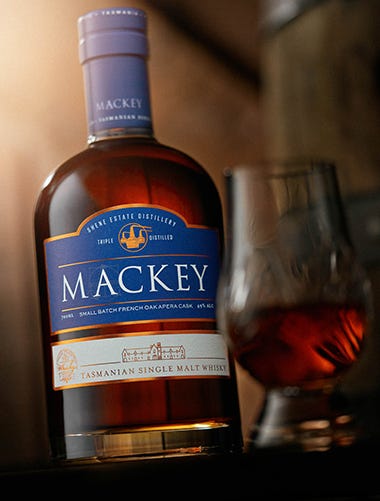 Distillery Facts
Origin: Shene Distillery, 76 Shene Rd, Pontville TAS 7030
Water Source: Highland water
Stills: 4, copper pot stills
Capacity: 38,500 litres of wash each week
Stop scrolling. Start dramming.