August 2023
Morris Inaugural Aged Port Barrel + 2012 Vintage Port
Chewy and decadent, get the Inaugural Aged Port Barrel paired with a 2012 Vintage Port from the darlings of the local industry, exclusive to Members of The Whisky Club.
Australia
Colour Maple syrup with ruby hues
Nose Soft orange, maraschino cherry and cinnamon pastry with sticky brown sugar and dark chocolate.
Palate Plump stone fruits, baked apple and dried apricots accompany bread and butter pudding with raisins and baking spice.
Finish Chewy and decadent. A combination of figs, juicy blueberries and rich chocolate add to the lingering nutty caramel finish.
Overview
Last year we launched the Inaugural Morris Tokay Barrel. It exploded into the global whisky-sphere and set the world on fire. These days, everyone's aching to get their hands on the distillery's incredible liquid.
Our Members voted our inaugural Tokay Barrel their second favourite Whisky of the Year. And it missed out on the top spot by a mere 0.9%. It was 2022's #1 Aussie whisky AND it won Double Gold at the 2022 San Francisco World Spirits Competition within a month of its release. Talk about a high achiever!
Ask anyone who tried the Tokay Barrel, and they'll tell you how good it was. And we're pretty sure anyone who tastes the Inaugural Port Barrel will tell you the same thing - this is an absolutely chewy and decadent feast of plump stone fruits and nutty caramel.
Also one of the oldest and most awarded wineries in Australia, Morris is renowned for making world-class fortified wines. So they have access to exceptional barrels for maturing whisky.
Already frothing? Listen to this. Everyone who gets the Inaugural Aged Port Barrel also gets a 375ml bottle of Morris 2012 Vintage Port. This rich and elegant Port is the perfect pairing for this whisky — a showcase of cherries, fresh berries and nutmeg on the palate and a finish of fruity toffee and dark chocolate.
It's a rare opportunity to taste a whisky and a fortified that came from the very same place and Morris is one of the few distilleries on the planet that can give us that privilege.
As much as we'd love this to be a whisky that every Member can receive, we've only got a limited amount.
Available exclusively to Club Members at $165. Not yet a Member? Join free now.
THE SPECS
Maturation: Finished in 10 Year Old Morris Port barrels
Ready to enjoy a world-class whisky collection?
Your free Club Membership gives access to exclusive single malt from Scotland, Australia and the world's best distilleries. Enjoy the unrivalled buying power of Australia's biggest whisky club.
Morris Whisky's History
North-Eastern Victoria has long been considered Australia's capital of fortified wine. It all started with the influx of people to the banks of the mighty Murray River in the 1850s for the Gold Rush. Gold mining's thirsty work, so it didn't take long for the lush, rolling hills around the town of Rutherglen to be filled with vines, and today there are 17 wineries in the area. One of them, Morris, was started by the eponymous family in 1859, and six generations on it's in the hands of head wine maker David Morris and is one of the world's most acclaimed fortified wine producers.
With a population of just over 2,000, Rutherglen takes its name from a town just outside of Glasgow in Scotland, so it's only fitting that whisky be made there. Of course, it helps that the climate is perfect for aging whisky, with hot summer days and cool nights helping the casks work their magic. The endless supply of pure, filtered water from the Snowy Mountains is also a bonus.
In 2016, Morris of Rutherglen set up their own whisky distillery at the winery. While Morris Whisky is one of the newer kids on the block, the distillery is also one that combines over 160 years of tradition, a unique vintage still, ancient fortified casks and some of the most experienced whisky makers in the country to create a truly Australian whisky.
As luck would have it, Morris just happens to have one of the oldest copper stills in the country. Built in the 1930s by Whitehill Limited in Adelaide it was installed where it sits today in 1941. A copper hybrid pot/column still, it was originally used to distil spirit for the fortified wines but had sat dormant for decades. In 2016, the still was reawakened and modified for whisky production. Following the restoration, it was named Aurora, after the princess in Sleeping Beauty.
Aurora has recently been joined by a sister still, also made in the 1930s and almost an identical twin, just a quarter inch or so smaller in diameter. Found languishing in a sister winery that Morris owns, it's been given the love it needed and aptly been named Ella, after Cinderella.
A pair of Scottish industry legends were brought in to oversee the construction of the distillery, along with Aurora's recommissioning; the late Dr Jim Swan, known as the 'Einstein of Whisky', and John McDougall whose CV shows 25 years' experience at distilleries like Balvenie, Laphroaig and Springbank. Head Distiller is Darren Peck, possibly the most experienced person in the international drinks industry in terms of category and geography. He's done it all, having made liquor on every continent except Antarctica.
The still's filled with wash made in a family-owned brewery from a blend of 100% Australian malted Westminster and Gairdner barley, which is distilled to 78% before being filled into both French and American oak wine barrels, sourced from Morris family-owned wineries in South Australia's Barossa and Coonawarra regions, and prepared to their own spec at the in-house cooperage.
The stars of the show of course are the incredible fortified wine barrels in the Morris of Rutherglen portfolio, many of which have held some of the world's most highly awarded fortified wines for decades.
With Australian whisky fast becoming popular amongst whisky drinkers, Morris is now in contention to be one of the best Single Malts produced in the country, with dedicated focus and a delicious spirit backbone that's further enhanced by the exquisite barrels they have access to from their winery.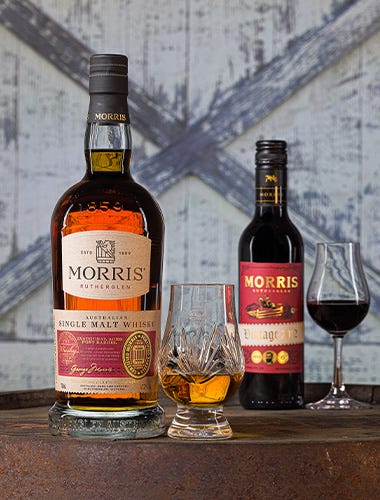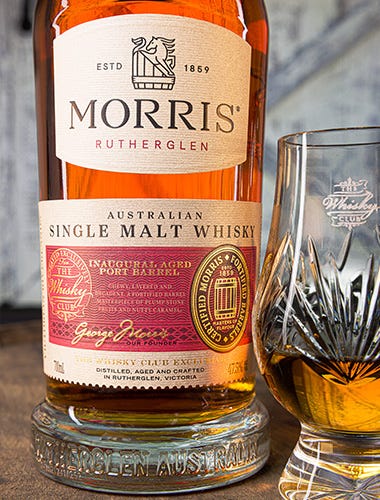 Distillery Facts
Origin: 154 Mia Mia Rd, Rutherglen VIC 3685
Water Source: Snowy Mountains
Stills: 2 (1 wash, 1 spirit)
Stop scrolling. Start dramming.